The iPad is a touchscreen tablet PC made by Apple .
The original iPad debuted in 2010. Apple has three iPad product lines: iPad, iPad mini and iPad Pro. All models are available in silver, gray and gold. They run Apple's iOS mobile operating system and have Wi-Fi connectivity with optional 4G capabilities.
The history of the iPad
Apple's work on tablets dates back to 1991, when Chief Designer Jony Ive designed the MacIntosh Folio, a prototype stylus-based slate computer. The company began work on what would become the iPad in 2004.
Apple Founder Steve Jobs publicly unveiled the iPad at a Jan. 27, 2010, event in San Francisco. The device became available for preorder that March, and it went on sale in April. The first iPad model featured a 9.7-inch multitouch screen and weighed 1.5 pounds, with an Apple A4 processor and a battery that lasted up to 10 hours. It was available with 16, 32 or 64 GB of storage. All versions came with Wi-Fi, and models with 3G connectivity were also available. The price for the first iPad ranged from $499 for the 16 GB, Wi-Fi-only version to $829 for the 64 GB version with Wi-Fi and 3G.
Apple launched the iPad 2 in March 2011 and also discontinued the original iPad at that time. The iPad 2 featured 512 MB of DDR2 RAM -- twice as much memory as its predecessor -- and an A5 processor. It also weighed less and came with a longer-lasting battery.
The 32 GB and 64 GB versions of the iPad 2 were discontinued when Apple released the third-generation iPad in March 2012. The third-generation iPad was the first to feature 4G connectivity.
Apple announced the fourth-generation iPad in October 2012 and later increased its maximum storage capacity to 128 GB; 32 and 64 GB models also remained as options.
At the same time, Apple introduced the iPad mini, a 7.9-inch version of the tablet available in 16, 32 and 64 GB models. By 2015, Apple had released three new versions, and as of 2017, the only model available on the market was the 128 GB iPad mini 4.
Apple unveiled the iPad Air, a lighter, thinner version of the tablet, in October 2013. It replaced the fourth-generation iPad, although Apple put the 16 GB model of that version back on the market for a brief period in 2014. The first iPad Air featured 1 GB of memory, an A7 processor and was available with 16, 32, 64 or 128 GB of storage. The iPad Air 2 followed a year later.
The iPad Pro -- a larger (12.9 inches), more powerful tablet closely resembling a laptop -- made its debut in September 2015. Apple also announced two peripherals built to work with the iPad Pro: a physical keyboard and a stylus called the Apple Pencil. The iPad Pro was initially available with either 32 or 128 GB of storage.
Apple announced a 9.7-inch version of the iPad Pro, available in 32, 128 and 256 GB models, plus a 256 GB model of the 12.9-inch version, in March 2016.
Apple released new versions of the iPad Pro in 2017, increasing the minimum and maximum storage capacities to 64 GB and 512 GB, respectively. The company also increased the size of the smaller versions from 9.7 to 10.5 inches.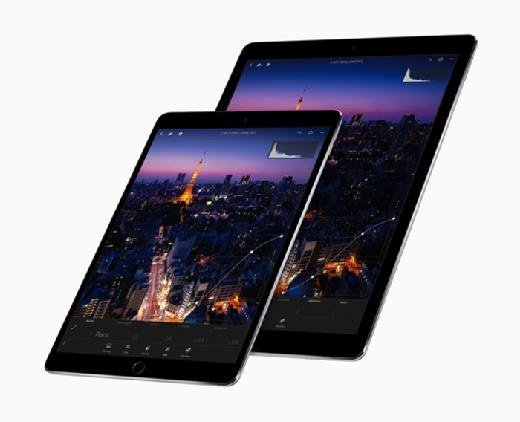 Also in 2017, Apple abandoned the iPad Air naming convention and released a new version of its flagship tablet, simply called iPad. It is officially known as the fifth-generation iPad.
Hardware and software
The fifth-generation iPad features a 9.7-inch display with 2048x1536 resolution and a 64-bit A9 chip with an M9 coprocessor. It weighs slightly more than one pound and is available with 32 or 128 GB of storage.
The iPad mini 4 features a 7.9-inch display with 2048x1536 resolution and a 64-bit A8 chip with M8 coprocessor. It weighs 0.65 pounds and is only available with 128 GB of storage.
The iPad Pro comes with a 64-bit A10X Fusion processor with M10 coprocessor and is available with 64, 256 or 512 GB of storage. The 10.5-inch model has a 2224x1668 resolution and weighs slightly more than one pound. In addition to the standard colors, it is also available in rose gold. The 12.9-inch model has a 2732x2048 resolution and weighs about 1.5 pounds.
All iPads come with front- and rear-facing cameras, Wi-Fi and Bluetooth connectivity; models with cellular connectivity are available at an extra cost. They also support Touch ID, which uses a fingerprint sensor on the home button to allow users to authenticate into their devices and certain apps.
Apple and third-party vendors sell a number of accessories that aim to increase the iPad's functionality and ease of use, including cases to protect the tablet, stands to facilitate nonmobile use and physical keyboards for easier typing.
The iPad runs iOS and ships with several popular Apple and third-party apps preinstalled, including Messages, Mail, FaceTime, Music, Photos and the Safari web browser. Users can also download additional free and paid apps through the Apple App Store. Many apps in the App Store are designed to work on both the iPad and the iPhone, but some are listed as iPhone-only. Those apps will work on an iPad, but the user must magnify them to fill the screen, which can result in some distortion.
This was last updated in
August 2017
Continue Reading About iPad
Dig Deeper on Mobile operating systems and devices