Definition
mPOS (mobile point of sale)
An mPOS (mobile point-of-sale) is a smartphone, tablet or dedicated wireless device that performs the functions of a cash register or electronic point-of-sale terminal (POS terminal) wirelessly.
mPOS is useful for businesses that will take transactions on the go. For example, any business, from market vendors to food trucks, that would interact with customers from anywhere outside the organizations' geographic location would find mPOS useful.
To implement an mPOS, a business needs an internet connection, a credit and debit card reader, and an application downloaded to whatever device it wants to use for the transactions. A user can then download a POS app and connect the reader to their mobile device. An mPOS can also be paired with additional POS hardware like a barcode scanner and a cash drawer.
Traditional POS, for comparison, will use a desktop or tablet, a cash drawer, receipt printer, credit card machine and scanner. This setup is much more stationary and cumbersome in nature. mPOS, then, allows for smaller transaction systems to be deployed wherever the business needs to move to. There are also security standards for mPOS applications.
How does an mPOS work?
Any smartphone or tablet can be transformed into an mPOS with a downloadable mobile app. Typically, when a business owner registers with an app, the vendor sends the business owner a card reader that plugs into the mobile device's audio jack to process debit/credit cards. Some mPOS software vendors also provide optional hand-held docking stations called sleds that enable the mobile device to read barcodes and print receipts.
Depending on the software, an mPOS can operate as a stand-alone device that's simply linked to the business's bank account, or it can be integrated as part of a larger, legacy POS system. To protect cardholder data, customer data is encrypted and stored in the cloud -- not on the device.
Benefits of mPOS
mPOS implementations enable service and sales organizations to conduct financial transactions in a more versatile manner without having to be tethered to a single location. This improves the customer experience (CX) by speeding up service and wait times and offering multiple payment options. It also frees up valuable real estate that would otherwise be dedicated to a countertop POS.
Because of their portability and versatility compared to traditional POS terminals, mPOS systems are ideal for businesses that are constantly mobile, such as food trucks, home and repair services, sports venues, flea markets, and market vendors, to conduct credit card and debit card transactions on the go.
With contactless payments and mobile wallets like Google Pay and Apple Pay increasing in popularity, mPOS systems are also better equipped to accommodate those customers who simply wish to tap or dip their phone to pay.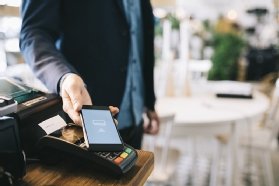 An mPOS can also be cost-effective, allowing a small business owner to conduct transactions without having to invest in an electronic register or pay to support the software. mPOS technology is significantly less expensive than a traditional POS, and it relies on cloud-based subscription models that boast low initial costs and monthly maintenance payments. mPOS systems can also lead to shorter checkout and return lines.
Even in establishments with traditional countertop POS systems, an mPOS can be deployed during rush or heavy traffic times to prevent backups at the sales registers, streamlining customer service. mPOS technology also has the potential to boost sales by allowing businesses to sell to customers anywhere in a store or exhibition area -- capitalizing on immediate excitement or interest.
Using an mPOS device limits a business's liability because transactions are encrypted and credit and debit card data is not stored on the mPOS device itself. Not only does this reduce the risk of security breaches, but this data storage method simplifies compliance with privacy and security regulations such as PCI DSS. The technology also enables small businesses to take advantage of security technologies and monitoring through their software vendors, which was once only available to large companies.
That being said, mobile devices and mPOS terminals can still be targets for theft and hacking.
Another downside of mPOS systems is the battery life of the devices. When not connected to a power source, mPOS devices usually won't last a full workday.
mPOS evolution and impact on in-store retail
Over the past few years, the mPOS market has hit its growth stride, with even larger retailers adopting the technology to help update their customer experience and improve satisfaction in the face of declining foot traffic.
A 2018 study from Juniper Research found that the adoption of mPOS devices will drive annual mPOS transactions to over 87 billion by 2023, which will represent a threefold increase over an estimated 28 billion transactions in 2018. That same study estimates that mPOS transactions will represent 24% of all POS transactions by 2023.
In terms of cost, Juniper Research predicts that the average price of an mPOS device will drop from $40 in 2018 to about $33 by 2023. The affordability will make them an even more attractive option for smaller and previously cash-driven businesses that lost customers due to singular payment options.
Another trend that can appear in mPOS is the use of biometrics -- including fingerprint and facial recognition -- to confirm identities during payments. Biometrics is considered a secure authentication method, and companies like Mastercard are running pilot projects combining the technology with existing mPOS systems. Juniper Research predicts that the number of biometric-enabled mPOS devices will reach almost 2 million globally by 2023, just under 4% of the total mPOS terminals expected to be in use at that time.
Top vendors
There are numerous mPOS offerings available to businesses. Popular mobile POS vendors include Square, Lightspeed, Shopify, PayPal Here, ShopKeep, Intuit and SalesVu.
Square is considered one of the best and most prominent free mPOS offerings for small businesses. Square is an all-in-one offering, meaning it combines a credit card processing service and a full suite of business management tools in one app.
Choosing the right mPOS vendor can be difficult. On Merchant Maverick, Melissa Johnson constructed a list of questions business that leaders should ask themselves when deciding which mPOS offering to go with.
How much can I afford to pay for software and hardware?
Would I prefer an app that has a built-in processor, or would I like to choose my own?
What features must I absolutely have?
What features would I like to have?
Does this software integrate with any other software solutions I currently use?
If not, am I willing to switch to one that does integrate with my solutions?
Is my business model compatible with my preferred payment processor?
This was last updated in
December 2020
Continue Reading About mPOS (mobile point of sale)
Dig Deeper on Digital transformation