Getty Images/iStockphoto
Microsoft releases Teams Payments app for small businesses
The tech giant brings transaction capabilities to its Teams platform, expanding digital commerce options for small businesses that offer online services through Teams.
Small businesses can now process payments in Microsoft Teams.
Microsoft added a money exchange portal, Payments, to its unified collaboration platform to give small business owners and customers an integrated online commerce option.
The Payments app is now in public preview on the Teams store. It is available only to small business owners in the United States and Canada.
Conversations and commerce in a common space
The Payments app, released on May 1, lets entrepreneurs and small business owners offering services on Teams collect for their services on the app, according to Microsoft. The Payments app is available on desktop and mobile devices.
Self-employed people or small business owners offering services on Teams and working in B2C industries will benefit from this new tool, according to ZK Research analyst Zeus Kerravala. Such professionals include lawyers, therapists and other workers who offer services online.
This is an interesting application with a fair amount of potential.

Zeus KerravalaAnalyst, ZK Research
"This is an interesting application with a fair amount of potential," Kerravala said.
Among the hundreds of applications are consulting, professional advisory services, and online events and courses, according to Gartner analyst Agustín Rubini.
Microsoft partnered with payment app vendors Stripe, PayPal and GoDaddy to construct a functional payment processor that lives on Teams.
"The new product will be useful for conducting business with less friction, as payment details will be stored in the user wallets," Rubini said.
Through these partnerships, small business owners can connect to an account from one of these vendors and then use Payments to request money from their customers in Teams, all in a matter of clicks, according to Microsoft.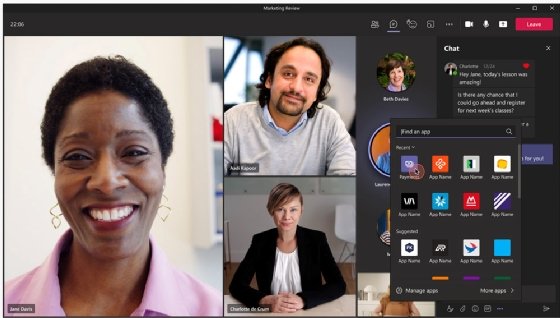 Bringing payment options closer to the customer
Several companies offer digital wallets, including Apple, Google and Venmo.
But the Payments app takes the process a step further by slicing out a series of steps -- and possible confusion -- for the customer, Kerravala said. It harpoons the specific transaction process between a customer and seller, and drops it into the seller's meeting space on Microsoft Teams.
Microsoft wants to capitalize on embedded finance, according to Rubini. Commerce within collaboration platforms is an expected trend, he added.
"More and more payments will flow through business and social networks as security is improved and cultural acceptance emerges," Rubini said.
But giving easier access to online money exchange comes with risks.
"We can expect new fraud attempts and schemes to emerge, so educating users and designing these solutions appropriately will be of paramount importance," Rubini added.
Mary Reines is a news writer covering customer experience and unified communications for TechTarget Editorial. Before TechTarget, Reines was arts editor at the Marblehead Reporter.
Dig Deeper on Communications platforms and integrations