Apple iPadOS brings new features, plus more from WWDC
At the WWDC 2019 keynote, Apple unveiled iPadOS, an operating system specifically for iPads, along with a new Mac Pro, macOS Catalina, new iOS 13 features and watchOS 6.
At its Worldwide Developers Conference 2019 Keynote on Monday, Apple unveiled a slew of new software and features to its product lineup, notably iPadOS, a redesigned Mac Pro, macOS Catalina, iOS 13 and watchOS 6.
IPadOS to contend with laptops and notebooks
Apple's iPadOS is an operating system that the company renamed and redesigned specifically for its family of tablets. Until now, all iPad iterations were operating on iOS, Apple's mobile device operating system. While iPadOS builds on the same foundation as iOS, the vendor claimed it supports new capabilities and features specific to the large display and versatility of iPad.
In attempt to make iPads more enterprise friendly, perhaps, the new operating system enables more layout customization and multitasking than before. The iPadOS allows users to view multiple windows from the same app in a split-screen view, quickly switch between apps and view open windows of the same app. A new floating keyboard lets users minimize and drag the keyboard anywhere on the screen for app visibility and one-hand typing.
IPadOS also brings an enhanced Apple Pencil experience, according to the vendor. Extended Apple Pencil integration and a new tool palette enable users to mark up webpages, documents or emails with one swipe. Apple has also reduced pen latency from 20 milliseconds in iOS 12 to as low as 9 ms with iPadOS.
Updates to the Files app brings more laptop-like functionality to the iPad. IPadOS brings iCloud Drive support for folder sharing, local storage, zip and unzip capabilities, keyboard shortcuts and highly anticipated USB and SD support for file uploads. It also brings limited mouse support; the absence of this in previous iOS iterations has been a point of criticism.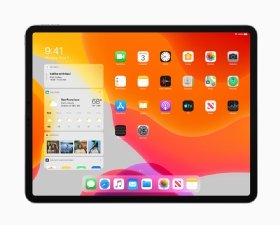 Despite these advances, the iPad still won't completely overrun the laptop business, according to Tuong Nguyen, analyst at Gartner.
"Adding features starts to blur the lines [between tablets and laptops] considerably, but they continue to be complementary," Nguyen said. "They aren't necessarily a 100% replacement. There are still things that are better-suited for laptop use, like high-powered, CPU-intensive applications."
Apple's focus on iPad support likely stems from the product line's relative success within the company. While Apple reported a decline in earnings for Q2, the iPad proved to be the company's saving grace. Apple saw a 22% surge in iPad revenue from last year -- its highest growth rate in six years -- as iPads continue to be a cost-effective alternative for PC users.
"I think budget considerations will shift away from laptop to tablet," Nguyen said. "For example, instead of buying a new laptop, they will put those funds toward a tablet."
A developer preview of iPadOS is available to Apple Developer Program members now, and a public beta program will be available next month. This fall, iPadOS will be available as a free software update for iPad Air 2 and later, all iPad Pro models, iPad 5th generation and later and iPad mini 4 and later.
Redesigned Mac Pro and new display to change creator workflow
Also new from Apple is a redesigned, high-capacity Mac Pro for professional users. Designed for power-demanding workflows like production rendering, analyzing huge data sets or running multiple pro applications, the machine features up to 28-core Zeon processors, 64 PCI Express lanes, over 300 watts of power and thermal architecture to allow the CPU to run unconstrained. The Mac Pro allows for the most memory available in a Mac at 1.5 TB.
The computer comes in a modular enclosure that allows for 360-degree access to the entire system. The housing features handles for easy moving and a lattice pattern -- which many are comparing to the likes of a cheese grater -- for airflow and quiet operation.
Apple also introduced Apple Pro Display XDR, a 32-inch Retina 6K display with P3 wide and 10-bit color, 1,600 nits of peak brightness and a 1,000,000-1 contrast ratio. In terms of graphics performance, available GPUs include AMD's Radeon Pro 580X, Radeon Pro Vega II, and, the most powerful, Radeon Pro Vega II Duo.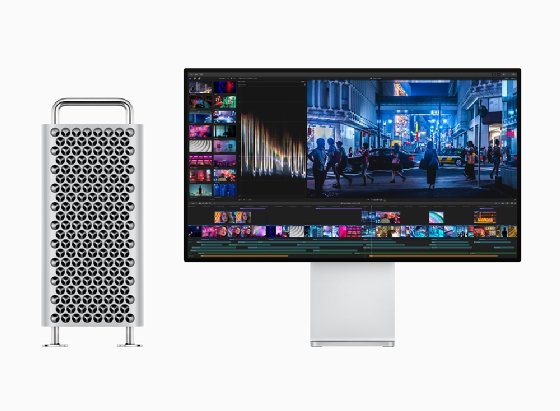 The Pro Display XDR has up to 40% more screen real estate than a Retina 5K display, according to Apple, and offers more true-to-life viewing experience crucial for video and photo editors. The display comes with an anti-reflective coating and a matte option -- nanotexture -- achieved with a glass etching technique at the nanometer level.
The Pro Display XDR and Pro Stand pair to enable users to rotate, move, tilt and detach the display. A Video Electronics Standards Association (VESA) mount adapter is also available to interchange mounting setups with other Mac products.
While powerful and adaptable, the Mac Pro setup is already receiving criticism on the price point. The Mac Pro starts at $5,999, but the Pro Display XDR starts at a similar $4,999, the modular stand rings in at $999 and the VESA adapter at $199. All will be available in the fall.
MacOS replaces iTunes and adds accessibility features
One of the most sweeping changes with macOS Catalina is the death of iTunes. Apple has replaced its once groundbreaking music and video platform with three new apps: Apple Music, Apple Podcasts and Apple TV.
Apple reassures users that they still have access to their entire music library, whether they downloaded, purchased or ripped. The iTunes Music store is still available, and will now live in the Finder app. Apple TV, in the style of Netflix, provides TV and movie recommendations across multiple user profiles.
More features with macOS Catalina including the following:
Sidecar, which allows users to extend their Mac display with their iPad;
Voice Control with labels and grid navigation, which extends comprehensive control to users who can't operate traditional input devices;
Gatekeepers, which checks all apps for known security issues;
Find My, which allows tracking of lost or stolen offline devices; and
Screen Time, which tracks the amount of time users spend on specific apps and websites.
IOS 13 brings Dark Mode, Photos improvements and more
Answering the demands of many iOS users, iOS 13 brings Dark Mode. While some third-party apps previously supported a darker layout, iOS 13 provides a system-wide dark color scheme. Dark Mode, which intends to reduce eye strain in low-light environments, can be a default setting or scheduled to turn on at a certain time, like sunset.
Apple also introduced multiple enhancements to the Photos and Camera apps. Photos uses machine learning to hide clutter -- like receipts and screenshots -- and consolidate similar photos to make browsing the library more intuitive. IOS 13 also brought support for video editing and Portrait Lighting adjustment from the Camera app.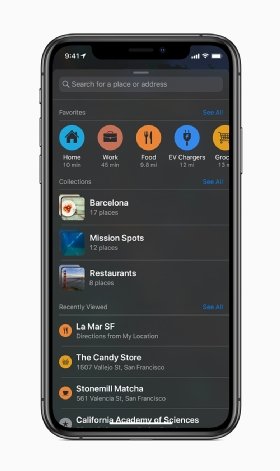 Additional iOS 13 features include the following:
Sign In with Apple, which privately signs into apps and websites with a random, unique email;
updated Apple Maps, which has broader coverage, street-level imagery and sharing capabilities;
QuickPath, which allows users to type with one hand by swiping through letters;
Gallery View in notes;
audio sharing and automatic message reading with AirPods;
voice-distinguished personalization with HomePod;
Personalized Location Services controls;
menstrual cycle tracking in Health;
USB and SD support in Files; and
enhanced scrolling, cursor placement and text selection in Text Editing.
Apple also claimed iOS 13 makes the entire system more responsive with faster Face ID unlock, up to 50% smaller app download sizes and up to 60% smaller app updates.
Apple's iOS 13 will be available as a beta program next month and available as a free software update in the fall for iPhone 6s and later.
Apple Watch seeks independence from iPhone
As part of watchOS 6, Apple introduced updates to its watch that will allow it to work independently from an iPhone. Apple Watch will have its own App Store with apps specifically for the watch.
Apple watchOS 6 brings the following:
Calculator with tip tools;
Audiobooks app;
Apple's Voice Memo app for discreet recording;
Noise app to measure harmful levels of sound;
cycle tracking in Health to log and track menstrual cycles; and
new watch faces and customization options.
Apple claimed that with watchOS 6 -- as well as iPadOS, macOS and iOS 13 -- prioritizes user privacy and does not send any audio to Apple without consent.
WatchOS 6 will be available this fall for watches paired with iPhone 6s or later running iOS 13 or later.
Dig Deeper on Mobile operating systems and devices