Ciena's Blue Planet automation suite wins TechTarget award
Ciena's Blue Planet software suite has won SearchNetworking's Network Innovation Award for enabling intelligent automation and network service orchestration across large, multivendor networks.
Ciena's Blue Planet automation technology is the latest winner of TechTarget's Network Innovation Award for its ability to support end-to-end network service orchestration and automation across multivendor environments.
Primarily geared toward network service providers and very large enterprises, the Blue Planet software suite is comprised of several complementary products that -- in addition to network automation and orchestration -- support network inventory, advanced analytics, route optimization and service assurance. Kevin Wade, senior director of product marketing for Ciena Blue Planet, said, together, the technology actively paves the way for the autonomous networks of the future.
We spoke with Wade about how the software works.
Editor's note: This interview has been lightly edited for length and clarity.
What does Ciena's Blue Planet technology do?
Kevin Wade: Our software automates and orchestrates the delivery of network services, primarily in service provider environments. And while Blue Planet is the name of the product, it's also a separate business division of Ciena -- primarily because our technology doesn't just work on top of Ciena-based networks. It also works on equipment from Cisco, Juniper, Huawei and a whole host of other niche vendors. Somebody operating a big, multivendor network wants end-to-end automation, not just on one vendor's equipment in one part of the network.
So, Blue Planet can generally be described as automation software, although there's a lot of subtlety and nuance in terms of how specific products within the portfolio enable automation.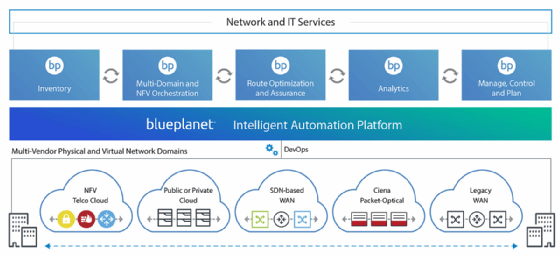 Tell me about a few specific products in Ciena's Blue Planet software suite and how they support network service orchestration and automation.
Wade: Manage, Control and Plan automates the deployment and management of services specifically in Ciena-based packet and optical networks. The Multi-Domain Service Orchestrator (MDSO) provides end-to-end automation and orchestration in multivendor environments. The MDSO creates an abstraction layer that sits on top of all of these different individual vendor networks, building models of underlying services and devices and automating configuration. Route Optimization and Assurance optimizes and automates Layer 3 networks, which are pretty much exclusively multivendor and have quite a bit of complexity.
A final piece of the portfolio -- most relevant to large service providers, but, in some cases, also large enterprise customers -- is an inventory tool we describe as a federation product. It can connect multiple inventory systems, giving a network operator an end-to-end view of what is in their network.
Understanding what you have out there is a critical step before putting an automation framework in place. And, believe it or not, that's a very big challenge for very large network operators -- like AT&T, for example -- that have had stuff in the ground for 50 years.
Autonomous networks will eventually be possible.

Kevin WadeSenior director of product marketing, Ciena's Blue Planet
So, all those individual products have different use cases within what we call the adaptive network, and they're all built and designed to complement one another and work together to support automation.
Another piece that's grown in importance over the past couple of years is network analytics and artificial intelligence. Programmable infrastructure collects big data from underlying equipment about how the network is operating -- what we generally refer to as telemetry. So, we at Ciena and Blue Planet are now actively developing applications that use machine learning algorithms to examine the data, look for trends and patterns, and then enable network optimization without human involvement. Autonomous networks will eventually be possible.
When do you think you'll see autonomous networks in production?
Wade: It will happen in stages, starting with closed-loop automation. We already have one customer using an AI-powered application to pull data from their optical network and predict how likely a port is to fail within a particular window of time.
So, next, they could create a policy saying, 'When that likelihood passes a certain threshold -- say, 85% chance of failure within one week -- then automatically move all traffic running across that port and switch it to another one that is not at risk of failure.' My guess is they'll operationalize that in their production network by the end of 2019.
So, it will happen in stages, beginning as soon as this year.
Can you tell us about any specific customers using Ciena's Blue Planet technology?
Wade: One of our big customers is CenturyLink, which is one of the three largest carriers in the U.S. -- they're using Blue Planet to orchestrate their own NFV-based [network functions virtualization] services. Orange Business Services is a big global customer; they used to be called France Telecom. CoreSite is a big data center operator using Blue Planet to automate their cloud services. Then, there's also Windstream, a major telco using our software to automate their transport networks, both optical and Ethernet.