DXfoto.com - Fotolia
Consider these 5 factors of DCI technology
This feature showcases five pieces of advice that detail what you need to know about data center interconnect, its pros and cons, and its relationship with other networking areas.
The networking world has faced an increasing need for speed, as technologies advance and change over time -- and data center interconnect is no different.
Data center interconnect, or DCI, is technology that links two or more data centers together so they can share resources. DCI technology offers many options and reacts differently with other areas of networking, such as WAN performance, optical networks and the cloud.
This compilation of expert advice explores the benefits and challenges of DCI, as well as how it interacts with other technologies.
How DCI technology shapes WAN performance
DCI technology faces technical obstacles regarding latency, congestion within the connection and TCP limitations. As such, DCI can influence WAN performance, according to Terry Slattery, principal architect at NetCraftsmen in Columbia, Md.
Understanding these effects is necessary to fully optimize DCI, Slattery said. Interconnect issues such as low latency and traffic congestion affect application performance as data travels between data centers. While advancements such as software-defined networking (SDN) and machine learning could alleviate some DCI issues, performance is often still a snag in high-speed, high-latency DCIs.
Learn more about the relationship between DCI technology and WANs.
Optical interconnect DCI frameworks need more flexibility to keep pace
Optical interconnect frameworks have the potential to support high-speed DCI deployments. Yet, to be reliable, the optical network must be programmable, said John Burke, principal analyst at Nemertes Research in Mokena, Ill.
One way to accomplish this programmability is to introduce SDN concepts to optical technologies. SDN could increase support for traffic speed, for example, and create opportunities for automated, shared edge data centers. While Burke said optical networking is favored in dense use cases, such as those of DCIs, it must become more flexible, as the market faces demands for real-time responsiveness.
See more of optical networking's effect on DCI technology.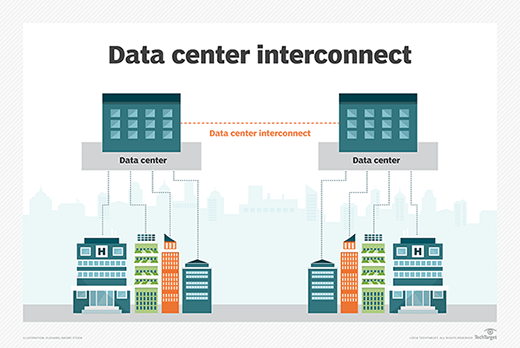 What cloud DCI technologies can do
Marrying cloud and DCI technology extends regular DCI capabilities and connects enterprise data centers to cloud resources with which they interact. In this piece, Burke defined cloud data center interconnect (CDCI), explained how it works and included features to look for.
One benefit Burke discussed was CDCI's ability to help enterprises access the cloud without involving the internet, as the internet isn't always a prime option for cloud service delivery. CDCI promises to be more reliable, affordable and manageable, and it is available in two basic models: direct cloud connection -- in a do-it-yourself or as-a-service option -- and WAN-cloud exchange, strictly as a service.
Dive further into CDCI and the benefits it offers.
Need for speed: Demand for faster DCI technology grows
With an overall increasing consumer demand for speed, DCI technology gets no lenience. IT writer Paul Korzeniowski discussed how a divided DCI market -- split between the needs of high-end service providers and enterprises -- requires faster DCIs to accommodate a barrage of traffic within the connections.
One factor of this need for speed is a changing data center design that looks toward data center consolidation. Examples of changing designs include big data, mobile systems, IoT and social media. These design changes create new traffic flows, which DCIs must account for and support. The migration to cloud also contributes to the growing market, Korzeniowski said.
Discover more about the changing DCI landscape.
DCIs rife with application challenges
The complex design of DCIs stems from application requirements, according to network engineer Russ White. He recommended network engineers start tackling DCI issues by asking basic questions -- instead of looking at the technical side of the issue -- to determine a solution.
The first question White suggested engineers ask is whether an Ethernet -- or Layer 2 -- extension is necessary. Extending Ethernet connections farther than they were intended so they better support complex DCI designs can create a stretched Layer 2. These stretched designs are more fragile and have a higher failure rate. Layer 2 mobility is also important in preserving the IP address.
Other DCI challenges include security and telemetry. To properly address the associated challenges, White said enterprises should understand tunneling and flow design and be aware of any potential delay and jitter.
Explore more about DCI application challenges.
This was last published in
January 2019