Jürgen Fälchle - stock.adobe.c
App dev focuses on low-code, Kubernetes development in 2021
Software developers in 2021 must adapt to the growth of low-code/no-code and Kubernetes development tools as more citizen developers begin to build applications for the enterprise.
Software developers in 2021 can look forward to increased support for low-code/no-code platforms, simplified Kubernetes development and the beginning of artificial intelligence systems building software for themselves.
No outlook on software development would be complete without a nod to the emergence of low-code/no-code application development platforms that enable developers, particularly folks with little to no programming experience, to easily build applications using a variety of templates or drag-and-drop interfaces.
"The rise of these low-code/no-code platforms will continue, and while they are never going to threaten the developer community, they will muddy the waters," said Roy Illsley, an analyst at London-based Omdia. "Because of the speed and simplicity of these platforms, business leaders can become lulled into a false sense of simplicity," he said.
As a former developer, Illsley said he understands that low-code/no-code systems are attractive for the time they can save and the productivity they can provide. But the complexity of code and the challenges of getting it bug-free will require "autonomous assurance," which is essentially automating the testing phase of the CI/CD pipeline, he said.
Yet low-code development will become part of the software strategy of the majority of enterprises -- up to 75% of them, according to recent research from Forrester Research, said John Bratincevic, an analyst at the firm.
"For developers -- the coders -- this means they may be asked to learn a low-code platform or will have to work with low-code developers to do extensions and customizations," he said. Meanwhile, citizen development will continue to increase and that may start to affect developers.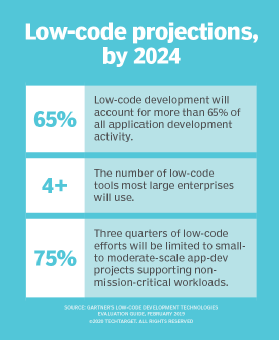 "For developers, I expect this means that at least some of their work will be offloaded to businesspeople and some of these developers will be tapped to be mentors, evangelists and coaches for citizen developers," Bratincevic said. "This will be a gradual thing, of course."
Meanwhile, the autonomous assurance concept can be linked to DevOps processes to accelerate the deployment of code, Illsley noted.
"While it will not be as quick as low/no-code it will be functionally richer and a better user experience and delivered faster than traditional methods," he said. "The other key [app dev] accelerator is the move to microservices and the use of Kubernetes and serverless; the result of these technologies will be to make the code generation simpler but the management, orchestration and correlation of these microservices more complex. That is where Kubernetes, service mesh and API gateways will come in."
Moreover, serverless is going to gain more traction with the developers as it minimizes the DevOps overhead, said Krishnan Subramanian, an analyst at Rishidot Research in Redmond, Wash. Not just function as a service but also serverless containers.
"Google Cloud Run is already a favorite of developers and we can expect other cloud providers to offer an equivalent abstraction," he said.