James Thew - Fotolia
Atlassian products aid BizDevOps, but integration work remains
IT pros have found Atlassian tools useful for BizDevOps initiatives but would like more integration and consolidated points of management among them in the future.
BOSTON -- Atlassian products have been useful for enterprises in BizDevOps transformation, and the company plans to further expand features for nontechnical users. However, IT pros say they'd also like to see refined integrations among the tools in future releases.
IT pros at the vendor's Atlassian Open conference here last week said Atlassian products such as Jira and Confluence had been instrumental in undertaking BizDevOps transformations, in which IT workflows are aligned and integrated with business needs, and judged according to business impact. Atlassian product roadmaps also feature a heavy emphasis on broadening collaboration with nontechnical business stakeholders.
"Our development teams used Jira before our transition as a company last year, but we've refined our usage," said Joseph De Jarnett, software delivery manager at Merrill Corp., a corporate mergers and acquisitions management SaaS provider that began life as a document printing company in the 90s. Last year, it divested from its legacy printing businesses to focus on its DatasiteOne SaaS product, and reorganized its product management and IT teams around BizDevOps principles.
"We now use Jira to prioritize software defects, handle incoming feature requests and for roadmap sharing with business stakeholders," De Jarnett said. "We opened up feature development to give the business an opportunity for more feedback, instead of doing 'closed door' meetings of developers."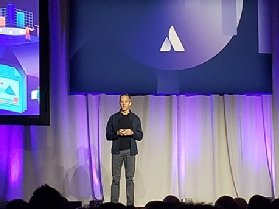 The company's pivot has meant transition for De Jarnett, who began as an IT incident management specialist two years ago. When the company transitioned last year, he joined a team of six software delivery managers drawn from various skill areas.
Atlassian products, including Confluence for documentation and goal planning and Statuspage, which alerts customers to outages and downtime, also figured in the BizDevOps transition at Merrill Corp. The company plans to evaluate Jira Align, formerly AgileCraft, which offers higher-level business views into the software delivery process.
"We're interested in how we can use it to provide more transparency to upper management," he said. "We're interested in its tree model that shows feature development plans, progress and allows executives to dig into each team, giving leadership the information it seeks, distributed in a personal database."
Users want streamlining in Atlassian products
While De Jarnett said he's glad Atlassian and his company seem to be on the same BizDevOps wavelength with Jira Align, he'd like to see more polish on the integrations among its software tools, such as the several versions of Jira currently available, which include Jira Core, Jira Software Cloud and Jira Align.
In particular, De Jarnett and other users with both classic and next-gen versions of Jira software projects said they'd like to see more alignment between the two editions of tools. In De Jarnett's case, he said he'd like the Jira "classic" product to add the Roadmaps feature rolled out for next gen this year, and to be able to share roadmap information between the two versions.
"Right now, there are discrepancies, and we're in silos with linking to stories in a traditional project from an epic in Jira next gen," he said. "We plan to shift to next gen, but it requires changes not all of our teams are ready to make right away."
The Atlassian Jira team announced at Atlassian Open that it plans to add the Roadmaps feature to classic Jira playbooks but didn't specify whether customers would still need to manage the two versions separately. Atlassian also plans to consolidate the underlying data sources among different Jira products and versions, according to Scott Blacker, a co-founder of AgileCraft who became the head of solutions engineering at Atlassian after the April 2019 acquisition.
There has to be continuity of experience. There has to be a common source of truth, especially for value stream management.

Scott BlackerHead of solutions engineering, Atlassian
"There has to be continuity of experience," Blacker said in an interview at Atlassian Open last week. "There has to be a common source of truth, especially for value stream management." Blacker did not offer any further specifics about how such an integration would happen, or when.
Better visibility and analytics across tools, as well as a centralized point of hybrid cloud management, is also on De Jarnett's wish list -- particularly a Jira equivalent to the data analytics Atlassian rolled out for the premium version of its Confluence cloud product that the company says is in the works.
Both on premises and in the cloud, users said they're waiting on small but important management features that would improve their quality of life, from federated search across multiple instances of on-premises Jira Server and Data Center deployments, to the ability to switch between cloud user identities within the same web browser. An initial version of an account switcher utility for cloud products is available, but an Atlassian spokesperson declined to comment on plans for federated search on premises.
Atlassian said users are going all in on cloud
Atlassian executives said there are no immediate plans for centralized user management between on-premises and cloud-based versions of its tools, which currently require separate products, Crowd and Access. A majority of its customers -- about 100,000 -- use the cloud versions of Atlassian products, including 90% of new customers, according to Atlassian president Jay Simons, and the company prioritizes cloud customers' new feature requests over integrating its legacy tools.
"There's a long list of things that we need to build, and we need to focus on those that will have the biggest benefit to the biggest number of customers long term," he said in a follow-up interview this week.
Some industry analysts disagreed with that approach, however, pointing out that Atlassian competitors including CloudBees, public cloud providers and CI/CD vendors such as GitLab are selling a hybrid cloud story with end-to-end DevOps toolchain integration.
Atlassian has guides to such integrations available, and plans to facilitate the sharing of data and workflow progressions among tools such as Opsgenie, Statuspage, Trello, Confluence and Jira, according to product presentations at Open. It also has prebuilt integrations available for third-party tools like Jenkins, with more on the way for business productivity tools such as Gmail, Slack and InVision. But many Atlassian products still require users to do their own configuration work or use scripting tools to link them together, said Chris Condo, an analyst at Forrester Research.
"Enterprise customers are struggling with the concept of scaling Agile to multiple teams," he said. "Atlassian could bolt together its products much more tightly so people have to worry less about integrating the tools, too."
Value stream management, in particular, requires the ability to capture metrics that span the process from idea to production, which Atlassian users can't necessarily do out of the box yet, Condo said. Atlassian also has a series of software acquisitions to integrate, from AgileCraft to last month's buy of no-code player Code Barrel, which it should focus on before acquiring any more other companies, Condo said.
"Most developers today spend little time coding, and more time answering questions and building toolchains," Condo said. "People are looking for simplicity."
Meanwhile, some customers in highly regulated environments such as government agencies said they worry about being left behind in Atlassian's cloud push.
"We'd love to have an on-premises version of Opsgenie and Statuspage," said Tanya Christensen, a senior cyber systems engineer at Northrop Grumman, who works as a contractor for a U.S. government entity she declined to name, but whose security requirements make even Opsgenie's Edge Connector out of the question for her team. "We've had to come up with our own ways to solve those problems on premises."
Some other Atlassian enterprise customers have been similarly resistant to cloud in the past, Simons countered, but they eventually made the leap. "A lot of customers say 'never'," he said. "Then there's an executive shift and they go all in on cloud."