kentoh - Fotolia
Slack integrations to form alternate UI for Atlassian tools
Atlassian plans to make Slack a full alternative interface for its software development and incident response tools, including single sign-on features.
Atlassian's Slack integrations will expand to allow operation of 11 of its software tools without leaving the chat program's interface, including single sign-on between Slack and Atlassian accounts.
The two companies revealed these plans this week following two years of marketing codeveloped Slack apps that have drawn 1 million active monthly users, the companies said.
Atlassian tools, such as the Jira Cloud software issue tracker, Trello Kanban planning app and Confluence documentation app, push live updates to Slack channels through these integrations; Jira Cloud links in public Slack channels automatically show a preview of the Jira UI that includes the title, status and owner of products.
Next, the companies will add more Slack integrations so that Atlassian customers must only rarely leave the Slack interface to use tools such as Jira Cloud, Trello, Confluence, Jira Service Desk, Opsgenie and others.
For example, Jira Cloud and Confluence links shared in any Slack public, private or direct message channel will automatically unfurl with context about an issue and receive automatic updates. Users will also be able to create and update Jira issues and Confluence wikis via Slack. Similar tie-ins between the rest of Atlassian's products are set to come next, including single sign-on support that will automatically link Slack users' accounts with Atlassian tools.
These are two of the biggest, most prominent tools in our toolchain, and it's important to be able to integrate the two. It can be faster not to have to leave your main focal point for work as much.

Kevin BurnettDevOps lead, Rosetta Stone
Some former Atlassian HipChat users turned to third-party apps that offered similar features after the product was sold to Slack and discontinued in 2018 but said they are interested in native Atlassian Slack integrations as they develop.
"These are two of the biggest, most prominent tools in our toolchain, and it's important to be able to integrate the two," said Kevin Burnett, DevOps lead at Rosetta Stone, a global education software company in Arlington, Va. "It can be faster not to have to leave your main focal point for work as much -- you're always looking at Slack, so seeing Jira updates and comments and being able to comment back in Slack … can [make a difference] in how quickly you can unblock [an issue]."
Rosetta Stone uses Slack apps from Nextup.ai that offer several of the features Slack and Atlassian plan to add, such as link unfurls and Jira issue creation via Slack. Similar features had also been available in HipChat, Burnett said, and built-in integrations could eliminate the need to manage and pay for a separate app.
"It's good that [Slack is] adding these features natively," Burnett said. "We evaluate this sort of tool on a semiregular basis, so I wouldn't be at all surprised if this integration took the place of an add-on."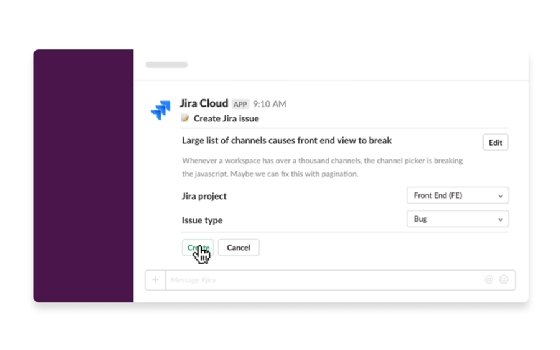 Deep Slack integrations -- predecessor to an acquisition?
Atlassian and Slack have been chummy since 2018, when Atlassian also invested in the ChatOps company. Now, they have grown even closer, and Atlassian engineers will participate in core Slack product development, the companies announced this week. Slack could also be strategically important for Atlassian to compete with bigger players, such as Microsoft Teams, in the emerging enterprise service management (ESM) market, said Charles Betz, analyst at Forrester Research.
Atlassian isn't an exact head-to-head match for Microsoft's product line -- Slack integrations, so far, constitute more of an indirect competitive strategy at this point, he said. However, that competition could be more direct as Atlassian expands beyond a software developer audience into ESM, which targets other enterprise service professionals, such as legal and HR departments, with products such as Jira Service Desk and Confluence.
"Plenty of organizations will use [a mix of Atlassian and Microsoft], but you can go all-in on Atlassian," Betz said. "They're moving more and more toward being fully featured in collaboration and broadening into ESM. It isn't just engineers Slacking each other -- it's also legal, HR and other businesspeople Atlassian is starting to strategically target."
Atlassian can do most of that with Slack as a strategic partner, rather than a subsidiary, but it could potentially offer more advanced predictive analytics features based on Slack data if the two companies merge, Betz said. Slack had a roughly $16 billion market cap at press time, compared to Atlassian's nearly $40 billion.
"I don't think it's out of the question, especially in a time of growing economic headwinds," Betz said of a potential acquisition deal. "They could look at tracking changes in Bitbucket, corresponding ticketing in Jira and consequences in Bitbucket, along with Slack messages, to offer predictive warnings about similar patterns in the future or better routing of questions to engineers."