Minerva Studio - Fotolia
Jira update flexes cloud collaboration features
Atlassian's Jira rework adds collaborative UI updates on the front end and ports Jira Software Cloud to AWS-based microservices on the back end.
An Atlassian Jira update looks to entice software developers to use its issue tracking software alongside business stakeholders and boasts a more scalable and reliable back-end infrastructure.
Atlassian Jira Software Cloud, first released in 2011, is the most recent of three available editions of Jira; Jira Software Server and Jira Software Data Center were first released in 2002. This week's update to the Jira cloud edition introduces UI features that add product roadmap visualizations which previously required additional tools, and enables developers to toggle dashboard features on and off.
"We spent the summer looking for a third-party roadmap tool and a software integrator to stand it up," said Wai Chung Hon, Agile project manager at Wave Financial, a fintech company in Toronto that has used Jira Software Cloud for seven years. "This update includes a built-in roadmap and the ability for development teams to customize workflows without a deep understanding of Jira."
All of Wave's 180 employees use Jira Software Cloud to track software features and bugs uncovered by Zendesk's customer support tool. Other users, however, had less success with developer participation before this Jira update.
Engineers historically shy away from using Jira, though our marketing and admissions team use it to power their workflows.

Johnny TrinhSenior product manager, Flatiron School
"Engineers historically shy away from using Jira, though our marketing and admissions team use it to power their workflows," said Johnny Trinh, senior product manager at Flatiron School, a web and mobile developer training company in New York. "Developers see it as more of a ticketing system."
The UI makeover will help, but improved integration between Jira and GitHub is more important to bring developers into the Jira fold, Trinh said. The refreshed integration was released in early October 2018 and correlates Jira issues with relevant branches and pull requests in GitHub's code repositories.
Built-in roadmap features for Jira are also a good start, but Hon said she'd like to see Jira Software Cloud match features, such as swimlane project tracking and project milestone documentation, which are offered by third-party add-ons, such as BigPicture.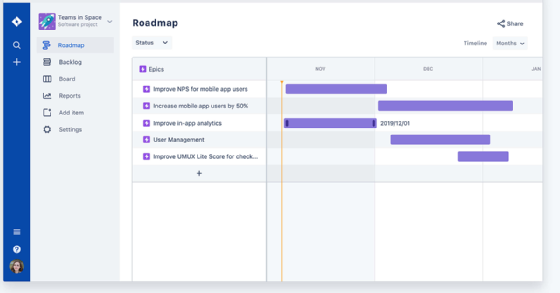 Jira update ports cloud service to microservices on AWS
Wave's Hon and Flatiron's Trinh said they had no performance or reliability issues with earlier versions of Jira Software Cloud. But Atlassian executives said the move to microservices on AWS from a self-hosted monolithic application architecture will help the company maintain performance and reliability as it grows. It should also help Atlassian add features to future versions of Jira faster.
"Our own teams can build pieces of [Jira Software Cloud] independently, with reusable components, and move faster," said Megan Cook, head of product for Jira Software Cloud. The new architecture already helped Atlassian's development teams build its Jira Ops tool in about three months.
This week's Jira update integrates Jira Software Cloud and Jira Ops. Users can create issues for software teams in Jira Software Cloud that link back to the Jira Ops incident tracker, and business stakeholders can watch the progress of work related to incidents.
It's unclear whether the move to AWS-hosted infrastructure will prompt Jira Software Server and Jira Software Data Center users to switch to Jira Software Cloud. Some Jira Software Server users, such as Zipcar, are wary of any Atlassian cloud service due to outages in 2017 and 2018. However, Atlassian's Cook said that 80% of new Atlassian customers choose the cloud editions of its products, and two-thirds of Atlassian's revenue in 2018 has come from sales of Jira and Confluence.