tiero - Fotolia
Jira Roadmaps connect to Confluence, await Code Barrel
Atlassian rolled out fresh updates to its Jira Roadmaps feature and set the stage for further workflow refinements and integrations with other Atlassian software in 2020.
Atlassian's Jira Roadmaps began to sync up with the rest of its cloud-based product line this week, and more integrations will become available this quarter, as users await further streamlining of the company's tools.
Jira Roadmaps, which offer high-level views into team projects and their projected delivery timelines, became available for the latest version of Jira Software Cloud in October 2018. Jira Software Cloud is distinct from Jira Server, a much older on-premises version of the nearly 20-year-old product.
This week's updates include several refinements to the Roadmaps workflow interface, such as clearer visualizations of dependencies between Roadmap projects, and finer-grained workflow editing features in the top-level UI. Most significantly, users can now add multiple live Jira Roadmaps images to Confluence documents that offer business managers an organization-wide view of software projects, a key component of enterprise BizDevOps strategy.
"We use Confluence for our internal wiki," said Chester Dean, director of business technology operations at Looker, a business intelligence firm in Santa Cruz, Calif. "The new integration will give us access to embedded visualizations of next-gen workflows."
Looker, which Google acquired in June 2019, uses its own project-tracking tools within the previous version of Jira, known as Jira classic, which Atlassian also offers to customers through a partnership between the two companies. Looker still uses the older version of Jira along with the latest version, dubbed Jira next-gen, as users can get started quickly on projects in the newer edition, but the company still relies on some older features.
"We get people to model what they want in next-gen, then build it in classic," he said. "Next-gen reduces the amount of admin time it takes to learn and understand how to use Jira, but it isn't yet ready to replace classic for us."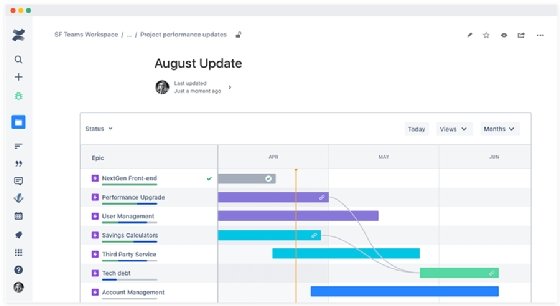 Jira Roadmaps, Code Barrel offer ease of use
One feature the latest version of Jira lacks is the ability to link workflows between different projects, but an Atlassian spokesperson said that feature is in the works. Dean said he understands that the priority for Atlassian is to keep Jira Roadmaps and the latest version of Jira Software Cloud current.
"There are a bunch of [vendors] building project management tools, and Atlassian has to be there for the next generation of developers," he said.
Next month, Atlassian will also roll out integration between the latest version of Jira and the Jira automation tools it acquired with Code Barrel last fall. Code Barrel's rules builder software automates routine tasks for Jira administrators, such as automatically pre-populating issues with associated subtasks.
Non-technical teams at Looker such as marketing and customer service have taken to the latest version of Jira because of such usability features, Dean said.
Still, Dean isn't alone in wanting more cohesion between the two versions of Jira Software Cloud, as well as between the multiple products in the overall Jira line. Jira Roadmaps for the older version of the product are not yet generally available, but were previewed at the Atlassian Open summit in Boston last October, and users at that event also said they'd like to share information more easily between the two versions of the product.
However, Jira Roadmaps workflows are fundamentally designed to be independent from one another, so that Jira administrators don't have to manage changes. This may complicate upgrades for users of the older version, but in the long run, analysts warn that enterprises should expect such disruptions.
"From one generation to another, there are new ways of working," said Thomas Murphy, an analyst at Gartner. "Customers are used to a certain way of doing things, but those features might operate differently than they expect in a new product."
Atlassian's software integration balancing act
While cloud-only users wish for more features in common between Jira next-gen and classic, enterprise companies in on-premises and hybrid cloud environments would also like to see some next-gen Jira features added to Atlassian's Jira Server.
But the company has made clear that its emphasis will be on cloud and next-gen products, and it says more than half of its enterprise customers have already moved to the cloud version. Some 45% of Jira users have also moved to next-gen as of this month, the company said. At this point, Jira Software Cloud and Server products are developed separately on different codebases, which introduce different constraints, making it unlikely they will share features.
In part, this is because Atlassian increasingly competes with Agile planning and DevOps software vendors that don't offer on-premises products at all, such as Zendesk and GitLab, Gartner's Murphy said. Another competitive product, Microsoft's Azure DevOps, offers the same features both on-premises and in the cloud, but Azure DevOps users face their own integration and upgrade challenges as Microsoft moves toward GitHub.
Meanwhile, Atlassian sweetened the cloud deal for reluctant enterprise users when it shored up its cloud security features and began offering a cloud SLA last year, after a move to AWS in 2018 improved its reliability. In November 2019, the company introduced Atlassian Forge, a framework software partners and IT pros can use to convert popular plugins available for on-premises products for use with the cloud suite, which had been another major hindrance to enterprise cloud migration.
Atlassian has pledged to streamline and rationalize all of its Jira products, which include Portfolio for Jira and Jira Align, based on Atlassian's acquisition of AgileCraft in 2019, and link them through a unified data repository. Company spokespeople said this week that work will continue throughout 2020, along with CI/CD pipeline integration for Jira, likely to be launched at Atlassian Summit in early April.
Dig Deeper on Agile, DevOps and software development methodologies