Rawpixel.com - stock.adobe.com
Atlassian Jira updates aim to democratize product discovery
Atlassian Jira's new tools help to organize projects, provide better visibility, and align the goals of software delivery, operations and product teams.
Atlassian unveiled three new Jira platform enhancements this week, giving developers increased visibility into business projects and a way for them to get more involved in product planning.
Jira Product Discovery, which dropped as an early access alpha release in April 2021, will become generally available within the next three months. The tool helps product managers align business and technical teams on ideas before developers start to code. Atlassian is also committing to a free year for all Jira Software customers of the Jira Work Management planning and tracking tool for business teams. Finally, to help customers get set up quickly with Agile or DevOps workflows, Atlassian is expanding Jira templates by adding customer-designed and best practices templates from industry leaders.
The continuous discovery capability is the most significant part of this release, said Diego Lo Giudice, vice president and principal analyst at Forrester Research. Continuous discovery supports teams in the product design process, with a better definition of the problem space when undertaking the design and development of a new product, he said.
For developers, this means they should be getting more aligned specifications on what they need to prioritize on and build, and have tighter and better communication with project managers.

Diego Lo GiudiceVice president and principal analyst, Forrester Research
"For developers, this means they should be getting more aligned specifications on what they need to prioritize on and build, and have tighter and better communication with project managers," Lo Giudice said.
Teams can custom build with Jira Product Discovery from idea to goal, including different means of prioritization, such as the RICE framework for product managers or a voting system built into the Jira Product Discovery dashboard. Once teams know what they want to build, they can go into Jira Software for the next step -- the delivery phase.
When developers prioritize different ideas, they are often thinking about the likelihood of being able to deliver the requested outcomes, said Megan Cook, head of product for Atlassian software teams. With Jira Product Discovery, developers will be able to go back and reference the original request, and tailor the SDLC accordingly. In addition, the tool integrates with platforms such as Salesforce and Zendesk, giving developers an understanding of which features are of interest to customers, Cook said.
It is this ability to incorporate user feedback into feature development that is Jira Product Discovery's greatest benefit, said Daniel Chabert, CEO and founder of PurpleFire, a web and software development agency based in Køge, Denmark.
"This helps ensure that products are continuously improved and aligned with customer expectations," he said.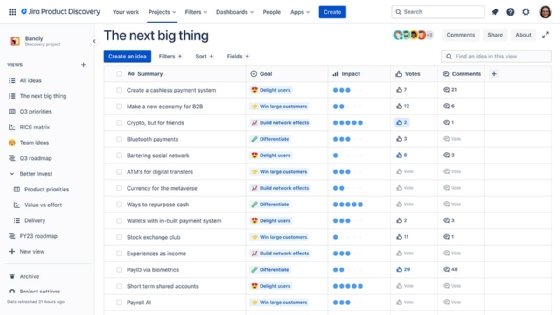 Jira Product Discovery is free for teams with up to three creators, then $10 per month for larger teams. Competitors include Azure DevOps, and there is potential overlap with Atlassian's own Trello or Confluence. But while Trello and Confluence are more free-form kanban boards and wiki management products, Jira Product Discovery is specifically built for product planning and idea management.
Teams using Jira Product Discovery can also tie an idea into Jira's epics, boards or projects and see all the issues related to its progress; on the Jira Software side, teams can link issues back to ideas.
Free Jira Work Management a welcome bonus
Jira Work Management, a planning and tracking tool designed for business users, includes features such as a kanban-like Boards view and a Timeline view. The tool now comes free with a commensurate Jira software license tier; for example, users on the standard plan for Jira Software now get the standard version of Jira Work Management for free, when it previously cost $5 per month, according to an Atlassian spokesperson.
Jira Work Management and Jira Service Management -- formerly Jira Service Desk -- make it a lot easier to manage teams and tasks, as well as provide realistic timelines and roadmaps to upper management, said Hadi Chami, developer support manager at Lead Technologies, a software development company based in Charlotte, N.C.
"Jira makes it incredibly easy to create new tasks, especially when using the Outlook and Teams plugins, since most of the tasks I create are started as part of an Outlook email or Teams message," Chami said.
However, both Jira Product Discovery and Jira Work Management could benefit from better integration with external tools such as GitHub or Google Drive, PurpleFire's Chabert said.
"This would allow project managers to keep track of tasks across multiple platforms and collect feedback from team members in real time," he said.
While Jira Product Discovery does provide a couple of ways to link specs in Google Drive to an idea, the platform only integrates with Jira Software as a software delivery system at the present time.
Stephanie Glen is a writer, software developer and YouTuber based in Jacksonville, Fla. She can be reached at [email protected] or on LinkedIn.