carloscastilla - Fotolia
Atlassian cloud woos enterprises with SLA, security boost
Large enterprise users of Atlassian's on-premises software say the vendor's cloud tools have piqued their interest with updates to security and support.
Atlassian cloud tools for software development underwent updates this week that have some large enterprise customers considering them for the first time.
Atlassian Confluence Cloud and Jira Cloud are now offered in a premium license edition, which includes a 99.9% uptime service-level agreement and premium support. All of the Atlassian cloud tools now offer data encryption at rest and in transit, except for Bitbucket Cloud, which does not include data encryption at rest. Atlassian's public cloud roadmap, another recent addition, also includes data residency controls, which will be offered in early access next quarter, and general release in the first half of 2020.
Encryption, especially, has been a weakness for Atlassian cloud so far, some users of its on-premises software say, but these updates may change that.
"The lack of encryption made it feel like Atlassian cloud was targeted at smaller organizations," said Andy Rosequist, director of IT operations at Boston-based car-sharing service Zipcar. "This tells me it's worth going through the process to evaluate it again -- one of the big roadblocks has been removed."
Atlassian cloud evolution boosts enterprise interest
Atlassian has shored up the cloud versions of its software planning and development tools, which include Confluence, Jira, Jira Service Desk and Bitbucket, over the last two years, including a move to AWS-based microservices on the back end of its Jira Software Cloud and Jira Ops products in October 2018. Atlassian also addressed enterprise customers' concerns about cloud reliability in April, when it said the back-end move to AWS had resulted in improved uptime while serving more customers, though the company declined to give specific numbers. Opsgenie, which Atlassian acquired in September 2018, reported 99.999% uptime for the year.
They've really gotten their [expletive] together. They've put in a lot of work tying together their cloud offerings with security, SLAs and support, which also helps our confidence.

Andy RosequistDirector of IT operations, Zipcar
Rosequist put it bluntly: "They've really gotten their [expletive] together," he said. "They've put in a lot of work tying together their cloud offerings with security, SLAs and support, which also helps our confidence."
Other longtime on-premises Atlassian users also say they're newly warming to Atlassian cloud with these recent improvements, especially data residency controls. Such features open up Atlassian cloud tools especially to large companies in Europe, which must abide by the EU's General Data Privacy Regulation and individual countries' data sovereignty requirements.
"These features are coming at the right moment -- they're clearly pushing enterprise customers toward cloud, but they've also learned what we need," said an IT director at a large European firm who requested anonymity because of company policy against discussing pre-contract product evaluations publicly.
The IT director said updates to Atlassian Access, a centralized security and governance tool for Atlassian cloud products that launched last year, would also appeal to his company's IT security department as the organization considers a move to cloud. These updates include integrations with Microsoft Active Directory Federation Service for single sign-on (SSO) and Google Cloud Identity for SSO and user provisioning. Integrations with cloud access security broker products from McAfee and Bitglass are on the near-term roadmap. Atlassian Access also now includes a customer-accessible audit log.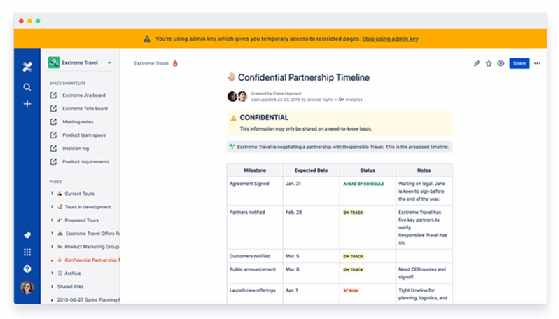 "Those features, plus the tools to migrate, and the publication of a cloud roadmap, are what we were always asking for," the IT director said. "I've started to discuss it with our security team already."
Concerns remain over custom extensions, data retention
Some of Atlassian's most recent offerings, such as Opsgenie, are cloud-only, and the company clearly looks to Atlassian cloud as its delivery mechanism for the long-term future.
"We've been in the server and on-premises business model for over a decade, but we've seen our customers want to shift to the cloud over the past few years," said Anutthara Bharadwaj, head of Atlassian cloud products. Atlassian will continue to offer on-premises software, but plans to emphasize cloud migration, with tools released this week such as a Cloud Migration Assistant, which is available now for Confluence.
Analysts see the updates as a means to offer enterprise users hybrid options for both on-premises and cloud-based Atlassian deployments, rather than a death knell for on-premises editions.
"They're solving problems that other software vendors have faced where code becomes fragmented across various managed service providers," said Charles Betz, an analyst at Forrester Research. "Atlassian also has put together all the pieces of the software delivery process, from ideation to day two ops, that no one else has."
With the long-term writing on the wall in favor of Atlassian cloud products, however, enterprise users have questions that will need answers before they move away from on-premises software -- chief among them whether Atlassian cloud products' custom extension support will match that of on-premises editions.
"Where we've built complex integrations, we need to know how we'll support them with a cloud offering," said Zipcar's Rosequist. "Right now, it seems it's harder to customize cloud instances and there are fewer extensions available."
Atlassian officials wouldn't disclose details but said more information will be provided at its Atlas Camp conference next week in Vienna about planned updates to custom extensions for Atlassian cloud in the next two months.
Rosequist said he also wants further details on long-term data retention policies under the new data residency features, but Atlassian officials said those details have not yet been worked out. For the first release, the focus will be on data residency controls for primary data.