Fotolia
Atlassian shops size up OpsGenie buy, Jira for incident management
Atlassian snapped up OpsGenie and rolled out Jira Ops as part of a shift in focus to IT incident management. Users will follow the strategy cautiously.
Atlassian has an ambitious product roadmap that folds in OpsGenie and positions Jira for incident management. But...
Continue Reading This Article
Enjoy this article as well as all of our content, including E-Guides, news, tips and more.
the company must also unload some old baggage that may dampen its appeal in the eyes of some customers.
Atlassian acquired OpsGenie this week and released a product called Jira Ops, which integrates OpsGenie's incident management tools into the Atlassian portfolio best known for software-debugging and issue-tracking features that target app developers. With Jira Ops, the company will integrate OpsGenie and other IT alert management tools, which include PagerDuty and xMatters, with Slack for incident visibility and collaboration, as well as Atlassian Statuspage to issue customer updates directly from Jira tickets.
Jira Ops will create incident timelines and automatically spin up separate Slack channels for frontline IT pros and for business stakeholders as companies respond to critical incidents. Competitor VictorOps also claims to do incident response timelines, and savvy customers can create similar connections between incident management tools with scripts.
Zipcar has already integrated OpsGenie with Jira's ticketing system via scripting tools. But the company's engineers said they will watch how the product develops over the next year before they invest further.
"It will take time before Jira Ops will be better than what people already have," said Andy Rosequist, director of IT operations at the Boston-based car-sharing service.
IT pros weigh pros and cons of Jira for incident management
For customers such as Rosequist, Atlassian's recent decision to concede the ChatOps space to Slack casts doubts on its product strategies. However, company officials said that one-time move freed up resources to focus on more promising markets, such as IT incident response.
Analysts said Atlassian's strategy remains solid, despite the demise of HipChat and Stride.
"People are making inferences from a sample of one," said Charles Betz, analyst with Forrester Research. "I'd rather see a vendor prune its portfolio and focus on stuff it really believes in than limp along in limbo with something that isn't viable."
Some Atlassian customers who already use Jira tools said they are more likely to consider OpsGenie.
"It's good to have more options," said Kevin Burnett, DevOps lead at Rosetta Stone, a global education software company in Arlington, Va. Rosetta Stone uses PagerDuty, but it will evaluate the Atlassian offerings around Jira for incident response.
But for skeptics such as Zipcar's Rosequist, Atlassian's worrisome track record goes beyond ChatOps. In the past, its cloud services have been unreliable, in Rosequist's view, though Atlassian said an infrastructure move of services such as Statuspage to an AWS back end has resulted in fewer Jira Cloud incidents. Jira Cloud did suffer an outage Sept. 3, according to Atlassian's status page.
"OpsGenie has its [stuff] together when it comes to cloud reliability," Rosequist said. "I admit I haven't looked closely at Atlassian cloud services' reliability in the past year, but I'm still skeptical based on their prior poor behavior."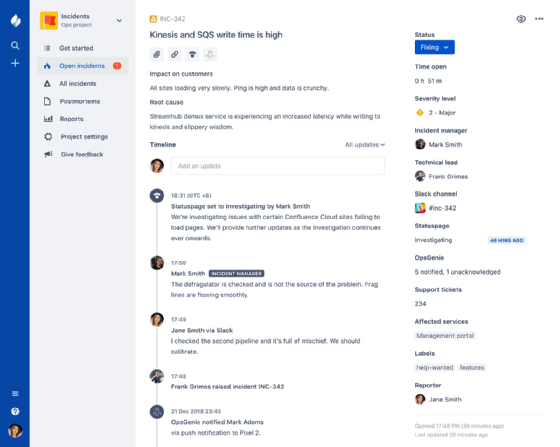 Atlassian and OpsGenie must quickly unify roadmaps
It will take time before Jira Ops will be better than what people already have.

Andy Rosequistdirector of IT operations, Zipcar
Rosequist said he also sees OpsGenie and Atlassian as different strategically: OpsGenie seems to have been built with IT incident responders in mind, while the Jira features for incident management tend to focus on managers and executives that oversee IT teams, in his view. He also questioned Atlassian's focused on B2C customers like him versus B2B customers.
"Most B2C end users aren't going to status pages unless they're dealing with an ISP [internet service provider]. Most will just go to a different store," he said.
Still, Rosequist said he plans to give Jira Ops a chance as it develops.
"The timeline view they talk about is challenging to do," he said. "If it consolidates information from multiple existing sources, it could be worth looking at. Although, if that requires Jira Ops to be the overall incident manager, I'd be less interested."
Forrester's Betz said Atlassian has more integration work ahead to strengthen the Jira Ops-OpsGenie offering, because IT managers don't want to deal with more than two interfaces in critical incident situations.
"You're dealing with the human animal in very stressful situations," Betz said. "There needs to be aggressive consolidation between these tools."
DevOps tools shift focus to incident management frontier
Atlassian shifted its focus to incident response because DevOps has changed that IT discipline, but there are gaps between existing tools. Analysts agreed IT incident response has changed in recent years, and they pointed to Splunk's acquisition of VictorOps as part of this same trend.
"The thing that distinguishes what we call continuous from traditional ticketing systems is collaboration," Betz said. "The problem at scale does need to be seen holistically, and different channels of communication with internal staff, business partners, end users and customers have to be aligned across all channels."
A sense of urgency and speed are also essential to modern IT incident management in a DevOps world. Betz predicted more M&A activity on the horizon for IT tool vendors. PagerDuty and xMatters remain potentially juicy acquisition targets for IT service management vendors, such as ServiceNow, Cherwell or Micro Focus, he said.