James Thew - Fotolia
Opsgenie integrations expand under Atlassian
Opsgenie's induction into the Atlassian fold reflects a trend of incident management tools' absorption into broader DevOps platforms, but not every user prefers a one-stop shop.
As broader DevOps software platforms enfold incident management tools, IT shops face a time-honored choice between end-to-end IT management suites and collections of specialized tools.
This week, Atlassian rolled out the Opsgenie integrations and features it planned when it acquired the incident management and notification routing company in September 2018. These include bidirectional hooks and shared data repositories between Opsgenie and Atlassian's Jira DevOps team management tools, Jira Service Desk product, Statuspage incident communication software and Confluence collaboration tool. Opsgenie Actions, another feature rolled out this week, can automatically remediate problems on AWS. Atlassian also added a consolidated incident timeline visualization to the Opsgenie UI.
As Atlassian fills out its portfolio, it encounters fresh competition with IT service management (ITSM), IT monitoring and incident management specialists, from ServiceNow to Splunk, which acquired VictorOps in June 2018, to PagerDuty, which completed a successful initial public offering (IPO) this week. These vendors will continue to consolidate and integrate, said Charles Betz, analyst at Forrester.
"A full platform like Jira can be used as a lightweight alternative to ServiceNow," Betz said. "You can now run a lot of your business on Jira."
Still, PagerDuty's IPO shows there's plenty of opportunity for incident management vendors that aren't part of a broader ITSM platform, and some Atlassian Jira users said they'll stick with PagerDuty over Opsgenie for now.
"We are pretty happy with PagerDuty, but it's great that competitors are elevating the state of the art," said Kevin Burnett, DevOps lead at Rosetta Stone, a global education software company in Arlington, Va.
There's potential value in tools such as Opsgenie that are sold as part of a larger platform, but there are also potential downsides, Burnett said.
"It could potentially be useful if PagerDuty were part of a larger platform, but it wouldn't obviously be a win for customers," he said. "Customers could pay more for a bigger platform when they only need a piece of it, and the platform maintainers might focus development efforts on areas that are less important to certain customers."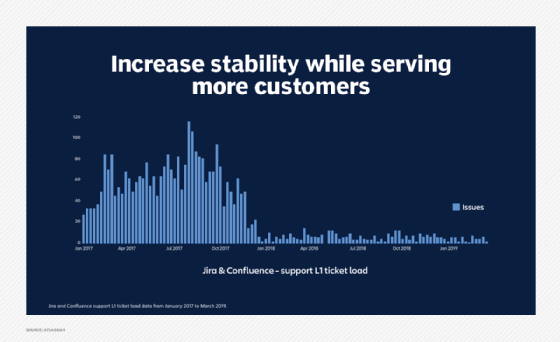 Atlassian updates improve cloud reliability
Some Atlassian shops were concerned about the reliability of the company's cloud-based services when Atlassian acquired Opsgenie, but Atlassian officials said they've improved the situation. Opsgenie has recorded 99.999% uptime in the past 12 months, and Jira Cloud and Confluence Cloud have served more customers from March 2017 to March 2019, with fewer support tickets, though Atlassian declined to provide specific numbers.
They've now got a very compelling story about how they're managing knowledge work for organizations of all sizes, starting at very early stages.

Charles Betzanalyst, Forrester
Atlassian has also polished the performance of, and added features to, its Atlassian Data Center on-premises products, though Opsgenie remains cloud-only. Improvements to Jira Software 8.0, for example, translate to 31% faster advanced searches using Jira Query Language, the company claimed, while Agile boards load twice as fast, and reindexing times are 71% faster.
Atlassian has increasingly focused on its cloud-based offerings the past two years, especially since it moved Jira Software Cloud to AWS from a self-hosted back end in October 2018. Atlassian's software products are each available separately, so on-premises users such as Rosetta Stone's Burnett don't require the Atlassian Data Center suite.*
"We evaluate Data Center every time they make improvements, but we haven't seen enough value yet to justify the upgrade," he said.
Overall, Atlassian's acquisitions -- which also include Agile planning software firm AgileCraft in March 2019 and Confluence analytics tool provider Good Software this week -- should appeal to DevOps shops from the beginning with Trello's job tracking tools, offer a more complex but similar tool in Jira as teams grow and mature, and weave Jira Service Desk and Opsgenie into its portfolio for issue and incident tracking and remediation, Forrester's Betz said.
"They've now got a very compelling story about how they're managing knowledge work for organizations of all sizes, starting at very early stages," he said. "They're trying to expand out of IT services to be used for a wide variety of workloads, [including] all forms of internal enterprise services."
* Information updated after publication. Rosetta Stone uses Jira Server as a paid standalone a la carte product.
Dig Deeper on Systems automation and orchestration