tashatuvango - Fotolia
ServiceNow vs. Jira Service Desk for ITSM workflow management
ServiceNow and Jira Service Desk are both big names in ITSM, but which one is better for your workflow management needs? Compare the two tools in terms of flexibility, integration support and more.
In software design, workflows connect distributed app components. In software development and support, workflows play a similar role, binding together IT service management tasks.
All IT service management (ITSM) and operations processes depend on proper workflow management. In this article, we compare two keystone products, ServiceNow and Atlassian's Jira Service Desk, to see how each performs for ITSM workflow management, specifically.
Editor's note: As of November 2020, Atlassian renamed Jira Service Desk to Jira Service Management.
First, what is IT service management?
ITSM envelops myriad missions, supported by a collection of standards and functions that encompass information security and governance, the ISO 20000 IT service delivery framework, ISO 9000, and even enterprise architecture models. Most of all, ITSM is linked with the Information Technology Infrastructure Library (ITIL) -- on version 4, as of late 2019 -- which formalizes the entire ITSM mission as a collection of capabilities. ITIL is a formal model for ITSM and tends to be most popular in large enterprises.
ITSM's missions are a complex and confusing set of boundaries between functions and standards -- and, in many cases, neither IT users nor IT professionals can navigate them easily. This complex situation is further complicated by IT operations management and other related missions. For most companies -- and vendors -- ITSM is a description of all necessary components to sustain IT within a company, conforming to its business mission and policies.
One approach is to link steps and processes within the entire collection of ITSM via workflows, sequences of user- or IT-initiated actions that gather everything into a useful package. This approach supports ITSM, but organizations can also use it to build workflow applications or services that have a traditional business mission. There are two approaches to IT workflow management: the ITIL approach, which is expressed in terms of the elements involved, or an approach that assumes workflows converge at a service or help desk and focus on what's present. ServiceNow and Jira Service Desk illustrate this difference.
ServiceNow leans toward the ITIL approach
ServiceNow launched in 2004 as a cloud platform to facilitate the orderly flow of business processes and information. The Now Platform is the engine that creates workflow management, providing a means to author workflows by defining a trigger and a set of steps or actions to take when the trigger is recognized. A workflow app is a defined information flow between application elements; IT organizations can treat it as an application, and build one via low- or no-code development efforts. In ITSM applications, ServiceNow seems tightly linked with ITIL thinking.
ServiceNow users can build analytics and AI into workflows, which make them even more application-like. ServiceNow also features a "mobile-first" approach to acknowledge: Mobile devices are often the link between workers and automated processes because they go where the worker does. There's a thriving partner community that builds and sells packaged workflow applications, and IT organizations can solve many workflow problems with these tools, without developing anything in house. These partner packages expand ServiceNow beyond ITSM -- and the scope of this face-off -- but help desk service is one of ServiceNow's applications, not its focus.
ServiceNow is offered as a SaaS, with licensing terms that generally favor larger businesses. And, because it's so ITIL-centric, ServiceNow fits best with companies large enough to have formal ITIL procedures in place. Smaller organizations would likely want to get ServiceNow through a partner.
Jira Service Desk focuses on help desk
Jira Service Desk was introduced in 2013 by Atlassian, a company well-known in the IT development and operations tool space for its wide range of products. Jira evolved from a developer's problem-tracking tool and still has a strong focus on development process integration. This doesn't mean it ignores ITSM issues, but rather frames those issues in a DevOps-like flow, or set of flows. Service Desk is built on the Jira engine -- the aforementioned developer-oriented problem-tracking system -- but the engine supports most ITSM workflows.
Unlike the general Now Platform of ServiceNow, Jira is relentlessly focused on development-to-operations flows and their use in linking the application lifecycle. That makes the tool easy to understand, adopt and use in that mission; Jira's use of the term service desk demonstrates this focus. Conceptually, this is a help desk product, designed to funnel support through workflows that link questions and problems to solutions. Atlassian provides templates for predefined workflows that cover nearly every possible service desk application.
Jira Service Desk is available in the cloud or on premises, and the licensing charge structure is suitable for smaller businesses. Small businesses can work with partners or with Atlassian directly, and Jira, as a system, is easy enough to use that they can expect to provide internal support -- if they have some development resources. Third-party support is available through partner programs.
Key points for ServiceNow vs. Jira Service Desk comparison
Help desk is the largest single application of ITSM workflow management -- for many businesses, it's the only app that matters. And help desk is Jira's specialty. However, the ITSM space is broader than workflow management; as ServiceNow is designed around the entire ITSM/ITIL framework, it's broader in focus than Jira, which has both pros and cons for users.
Here are some key points around which to compare ServiceNow vs. Jira Service Desk for ITSM workflow management.
Flexibility. The Now Platform approach is more malleable than Jira Service Desk. ServiceNow has an expansive set of capabilities, including the ability to build some basic applications, but its processes are complicated, relative to Jira. Jira's approach is simpler for most tasks, provided an organization employs IT technicians with the required technical knowledge. Jira approaches problem resolution from a help desk perspective -- a collected set of workflows. On the other hand, ServiceNow approaches it as a series of triggered process flows that could -- or might not -- converge in a help desk.
ServiceNow is almost a low-code/no-code package: It becomes mission-specific through the services that organizations create themselves, or from services that ServiceNow or its partners provide. This approach is powerful but relatively complex. Fortunately, partner software is well-organized and it's easy to find the necessary tools and functions for a given mission. If ultimate flexibility with ITSM is the goal, then ServiceNow wins a point for this category.
Integration. Jira Service Desk works within the broader Atlassian ecosystem, which means it has powerful supplementary capabilities drawn from other products. Atlassian provides APIs for integration, but Jira documents, and most users' Jira experiences, lead companies to stay within Atlassian's product set. ServiceNow is designed to be broadly integrated with virtually any tool, product or service presented in API form. If integration is what your organization needs, ServiceNow is the tool. Another point for ServiceNow.
Expandability and scalability. Because it's so general-purpose at the Now Platform level, ServiceNow enables users to do virtually anything involving IT workflows. It's also rated by users as being scalable to any level of use and number of users, while maintaining high availability. Jira is a bit more complex to adapt to elements beyond basic help desk missions, and users don't feel it has the same scalability and reliability. One more point for ServiceNow.
Ease-of-use. There is an enormous ease-of-use benefit derived from a help desk approach to IT workflow management. Jira offers a framework to provide help desk support, as well as the tools to link workflows from help desk triggers through the rest of the ITSM process. Many users, particularly those without any specific ITIL knowledge, find this to be an easy way to build ITSM workflows. The claim that you can get started in minutes made on Jira's webpage is valid: Jira has a superior user interface according to users, both to build workflows and to access the help and service desk. Jira takes a point for ease-of-use.
Workflow accessibility. The help desk focus, as a point from which workflows emanate, means that Jira tends to be GUI-centric. This makes Jira workflows very accessible to help desk users. With Jira, workflows support a collaboration approach to processes, which is easily understood. IT admins can easily define almost any ITSM application as a help desk -- and even build help desk ITSM workflows for things that have little to do with IT, including laws and regulations. The library of extensions isn't easy to navigate for non-professionals, but still, it's a point for Jira here.
Scope of target user. Jira also wins a point for the range of users it targets: Because of its inherent ease of use and template-driven approach to help desk creation -- and because of its pricing -- any organization can adopt Jira. ServiceNow is more complex, so organizations need IT professionals with some ITIL knowledge to get the most from it. It's also higher-priced for smaller numbers of users, making it less suitable for small, and even some mid-sized, businesses.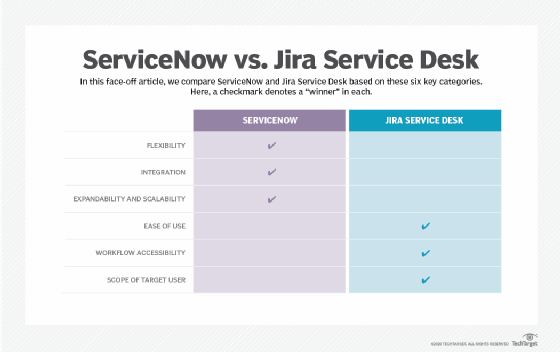 Deciding factors
At this point in a ServiceNow vs. Jira Service Desk comparison, the tools are nearly equal: ServiceNow offers greater power, and greater cost and complexity, while Jira is easier to use -- and, within the Atlassian ecosystem, it can be enhanced to nearly the power of ServiceNow.
To determine a winner, consider external factors, such as partner programs and the approach partners are encouraged to take. ServiceNow, via partner offerings, can support nearly any IT workflow management application. While the product itself doesn't have that explicit help desk focus, IT organizations can still take that approach -- or virtually any other -- from the partner library.
For small businesses, Jira is the best choice for cost and ease of use. Jira also offers more functionality for those organizations that already use Atlassian's ecosystem.
For other organizations -- in particular enterprises that want broad use of ITIL and ITSM workflows -- ServiceNow is the best option, and it's the winner of this face-off.
Dig Deeper on IT systems management and monitoring