ITIL 4 framework brings long-awaited flexibility to ITSM
After eight long years, the ITIL 4 framework finally saw the light of day in 2019 -- but what can enterprises expect to gain from the latest version, and those to come?
The IT Infrastructure Library, more commonly referred to as ITIL, is a staple for many companies in their quest for world-leading IT service management. Others have been reluctant, or slow, to adopt it -- but version 4 of the framework has the potential to broaden ITIL's appeal.
Challenges with ITIL adoption
Historically, ITIL has moved slowly and lagged behind the real-world ITSM use cases it aims to address. Prior to the launch of the ITIL 4 framework in 2019, the last update was in 2011 -- and a lot has happened since then, including major cloud, and especially hybrid cloud, adoption. ITIL's management process consisted of discussions that led to endless meetings, papers, comments and reviews, and ultimately resulted in a 2011 update that was already a couple of years out of date by release.
Some organizations avoided ITIL adoption out of fear that, if they wanted to push the technology envelope, the framework wouldn't work. In fact, ITIL does work in these environments -- as long as organizations use it judiciously.
Many viewed ITIL as a starting point -- a framework off of which to build the best ITSM model for their business. Unfortunately, ITIL was meant to be the best practice already -- better than best was not meant to happen.
ITIL has suffered from an unmanaged, mix-and-match approach: Organizations take the processes they find the most pressing and ignore the others. ITIL, at its best, needs a full implementation to manage the interdependencies between the various processes involved. For example, enterprises that want solid help desk management should implement all ITIL processes associated with that task, but if they adopt only some of those processes and mix them with existing poor processes, ITIL adoption helps very little -- if at all.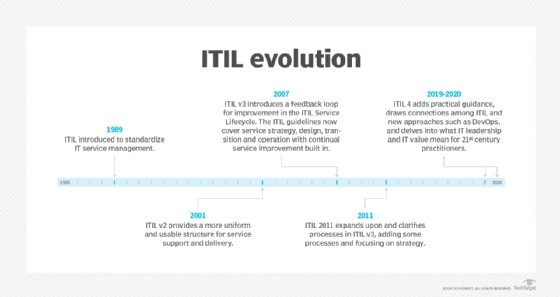 Say hello to the ITIL 4 framework
ITIL 3 still sits underneath the updated ITIL 4 practices, but the latest version introduces new approaches to integration and embraces Agile and DevOps for day-to-day ITSM processes. It also updated more quickly than prior versions did -- discussions around ITIL 4 only started earnestly in 2017; from discussions to a solidified new version in under two years is unprecedented for the organizations behind ITIL.
One of the most significant additions in ITIL 4 is flexibility. The updated framework acknowledges that a one-size-fits-all approach works for almost no one. It aims to take a holistic view of IT and focuses on desired outcomes, as well as their relative costs, risks and value.
According to Axelos -- a joint venture between the UK's Government Cabinet Office and outsourcing services company Capita, forming the official body behind ITIL -- there are seven guiding principles that shape the ITIL 4 framework*:
collaboration and transparency;
a holistic work approach;
a focus on value;
start from where you already are;
iterative progression;
direct observations; and
maintain simplicity.
ITIL is redesigned to address not just the base technology and the processes around it, but also involve all of the necessary teams -- from development through testing, operations and help desk systems -- alongside suppliers and partners to create a complete view of an organization's IT and application environments.
To prevent another eight-year drought between releases, Axelos is taking a far more iterative and continuous development approach, with additions slated to come out within months or a few years, rather than roll out a large tranche of changes for a -- much slower -- major release.
ITIL 4 adjusts IT's end goal
ITIL 4 didn't introduce the service value system, but it did refine it from ITIL v3 to be a much more flexible approach in the ITIL 4 framework versus the previous versions, and emphasizes business value over technical, IT-focused outcomes. Sets of processes -- such as the overall provisioning of a working platform -- enable organizations to achieve goals based on demand, while still responding to changes via feedback loops.
For any organization that already uses ITIL, this new approach brings welcome relief from the prescriptive and proscriptive approaches to ITIL adoption. Similarly, for those new to ITIL, v4 should provide flexibility to bring in processes that make operations, the whole IT platform and its different constituents more consistent to manage.
Moving forward, ITIL should emphasize the principle of focusing on value, and how to drive desired outcomes -- not just for IT staff, but for the business. All enterprises aim to bridge the gap between what the business wants and what IT thinks the business wants. A strong set of interlinked processes behind an idempotent approach could morph ITIL into a business investment, rather than an IT spend.
*Information corrected after publication.
Dig Deeper on IT systems management and monitoring