Kirill Kedrinski - Fotolia
Salary snapshot: Test automation engineer salaries in four cities
It seems nearly any job related to DevOps carries a higher salary, and test automation is no exception. Here's our salary snapshot of test automation engineers in four U.S. cities.
If there's a phrase that can stop a DevOps effort in its tracks, it's "test automation." It's critical to everything in DevOps, but test automation continues to be one of the trickiest undertakings of all. A test automation engineer needs to be able to write scripts -- in other words, code -- but retain the "desire to break things" mindset of a manual tester. It's not an easy combination of skills to find.
It's not a surprise, then, that test automation engineer salaries are on the rise, and job openings for those skilled in automation are plentiful. According to April 2018 data from job site Glassdoor, almost 32,000 test automation engineer jobs are on offer across the United States. Test automation engineer salaries range from $64,000 to $108,000, depending on the location in the U.S., and the average salary is $82,329.
As is typical, proximity to Silicon Valley is a boost to test automation engineer salaries. Test automation pros in San Jose have an average base pay of $100,445, but salaries can range up to $127,000 with additional cash compensation averaging $6,238. Not only are salaries higher in the Bay Area, the number of job openings is quite large, too -- 3,314 just in the San Jose area, more than three times larger than a number of other major metro areas.
But if California's not an option, no worries, as demand for test automation is high everywhere. Test automation engineer salaries in Atlanta average $77,373, though they can range up to $98,000, and over 900 jobs are open. It's a similar story in Chicago: Test automation engineer salaries average $79,038 but can go up to $100,000.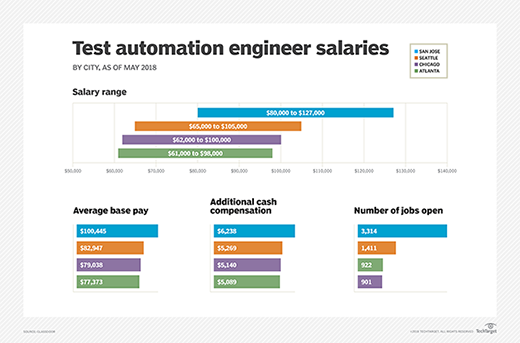 Dig Deeper on Agile, DevOps and software development methodologies