Definition
cloud storage provider
A cloud storage provider, also known as a managed service provider (MSP), is a company that offers organizations and individuals the ability to place and retain data in an off-site storage system. Customers can lease cloud storage capacity per month or on demand.
A cloud storage provider hosts a customer's data in its own data center, providing fee-based computing, networking and storage infrastructure. Both individual and corporate customers can get unlimited storage capacity on a provider's servers at a low per-gigabyte price.
Rather than store data on local storage devices, such as a hard disk drive, flash storage or tape, customers choose a cloud storage provider to host data on a system in a remote data center. Users can then access those files using an internet connection.
The delivery of IT services via the internet is broadly defined as cloud computing or utility computing. This business model first hit mainstream enterprises with the rise of application service providers.
A cloud storage provider also sells non-storage services for a fee. Enterprises purchase compute, software, storage and related IT components as discrete cloud services with a pay-as-you-go license. For example, customers can opt to lease infrastructure as a service; platform as a service; or security, software and storage as a service.
Key attributes of cloud-based IT services
Cloud-based computing services enable a customer to take advantage of a multi-tenant cloud environment without having to directly manage all the services. The level and type of services chosen are specified in a service-level agreement signed with the provider. The ability to rationalize costs by using the cloud can be especially beneficial to small and midsize organizations with limited budgets and IT staff.
The chief advantages of using a cloud storage provider are cost control, elasticity and self-service provisioning. Users can scale computing resources on demand as the need arises, and then spin those resources down after the task is complete. This removes any worries about exceeding storage limitations with on-premises networked storage.
Enterprise use cases include archive, cloud backup and long-term retention of data that is seldom accessed, but that must be readily available for competitive or compliance reasons.
The key to storing data in the cloud is ensuring that it remains available, and the required level of availability influences the cost. Rather than paying outright for server and software licenses, customers receive a monthly bill for the cloud services, thus moving the cost from a capital expense to an operational expense. Users pay only for consumed storage capacity, in a manner similar to an electric utility.
Consumer-based cloud storage providers
Most consumer-oriented public cloud providers offer free online storage with a capacity limit. Users can upload documents, photos and videos without paying until they exceed the capacity limit. The size of the files that can be uploaded may be capped, but users can purchase unlimited storage in the cloud if their budget allows. This requires buying capacity on demand, as the need arises, or paying a nominal monthly subscription fee.
Cloud services support Windows and Android devices, enabling users to create, edit and share documents across devices. Amazon Cloud Drive, Apple iCloud, Box, Carbonite, Dropbox, Google Drive, Microsoft OneDrive, Mozy, SOS Online Backup, SugarSync and Western Digital My Cloud are among the leading consumer cloud options.
Carbonite and Mozy also offer cloud storage products tailored to business and enterprise uses. In February 2018, Carbonite acquired Mozy from a subsidiary of Dell Technologies.
Although geared toward individuals, companies will sometimes use consumer clouds to store selected data in a private repository, often as a means to sync and share files across a distributed environment. Still, most organizations prefer to use either a public cloud provider or to implement a private cloud they manage on premises for their critical application data.
Enterprise cloud storage: Public vs. private
Amazon Web Services (AWS) is the leading public cloud provider, ahead of Microsoft Azure and Google Cloud Platform. AWS Simple Storage Service has aided in the rise of object storage, which presents data as unique objects with a flat address. Other cloud storage providers with an enterprise focus include IBM Elastic Storage on Cloud, based on its Bluemix and SoftLayer technologies, and Rackspace.
Public clouds provide a less expensive alternative to expanding a physical storage area network (SAN) or network-attached storage (NAS) environment, but some enterprises are wary of using them because data is sent outside of the corporate firewall. This makes public cloud storage providers potential targets for hackers, putting the onus on IT administrators to selectively choose which data to store in the cloud and to enforce appropriate measures for data protection and data security.
A private cloud is an internal system in which management of data always resides within the confines of a company's data center. It is not uncommon for an organization to use a hybrid cloud, in which certain resources are managed in house, while others are provided by one or more third-party cloud providers, with an orchestration layer between the platforms.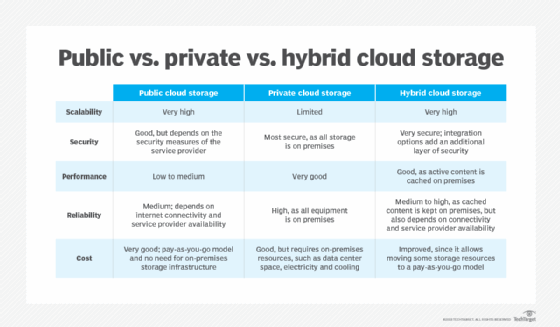 Most leading enterprise storage vendors sell services to help companies build and implement a locally managed private cloud on premises. Examples of offerings include:
Dell EMC Enterprise Hybrid Cloud.
Dell EMC Virtustream for niche verticals, including single-tenant Elastic Cloud Storage (ECS) Dedicated Cloud Service.
Hewlett Packard Enterprise no longer offers a branded public cloud since shutting down its Helion offering in 2015, but HPE ranks in the top three in sales of equipment and server hardware for building private clouds. In 2017, the vendor introduced HPE Cloud Volumes, a multi-cloud block storage service picked up in its acquisition of Nimble Storage.
Hitachi Vantara's Hitachi Enterprise Cloud with VMware vRealize.
IBM Cloud Storage for file and block, plus IBM Cloud Object Storage.
IBM Elastic Storage Server.
Microsoft Azure Stack is an in-house local cloud based on Storage Spaces in Windows Server 2016.
NetApp Cloud Ontap runs the vendor's Cloud Ontap file storage on AWS, IBM Cloud and Microsoft Azure.
OpenStack Cinder (block) and Swift (object) hybrid clouds.
Red Hat Cloud Storage/Cloud Infrastructure.
Also, after eschewing the private cloud market for years, Amazon struck a deal with VMware in 2016 to support private cloud environments with VMware Cloud on AWS.
Enterprise use cases for cloud storage
Cloud storage often provides a secondary or tertiary tier to a local disk or an internal private cloud. It can serve as an off-site vault for traditional disk- or tape-based backup. Conversely, some enterprises use cloud storage as the primary destination for backups. Although it occurs less frequently, certain companies choose the cloud for primary storage.
Disaster recovery (DR) planning is a prominent use case for cloud storage. Most storage array vendors provide the capability to replicate data to a cloud to protect it in the event of a data center outage. Typically, cloud DR involves the vendor's storage software running as a virtualized instance in the cloud.
A more sophisticated DR approach is to set up a failover cloud array at your provider's site. In this scenario, the cloud provider installs applications, storage hardware and networking connections that are identical to what is installed locally.
Some organizations use the services of more than one provider. This multiple cloud approach provides added redundancy by sending backups to multiple providers. This may also help users avoid vendor lock-in with a single cloud provider.
Running primary workloads in cloud-based block storage is another emerging use, particularly for widely used corporate applications, such as Microsoft Exchange or Microsoft SharePoint.
A growing number of storage vendors offer systems to host unstructured data in the cloud. In this hybrid model, a local appliance will cache frequently accessed data in flash, while new data is written to a primary copy hosted in the cloud.
Cloud storage concerns
Concerns regarding regulatory compliance will guide an organization's decision of whether or not to use the cloud, as well as which application workloads to include. Public clouds provide a less expensive alternative to expanding a physical SAN or NAS environment. However, customers need to address performance and security issues to prevent the compromise of personally identifiable information (PII), such as customer credit card information.
A notable example is the 2017 Amazon outage that knocked out 20% of the internet for several hours, although it's not known if any data loss occurred.
Also, the demise of cloud storage pioneer Nirvanix in 2013 left customers only two weeks to retrieve data before the vendor shut down. The suddenness of Nirvanix's departure served as a lesson for organizations to move in a more deliberate fashion to the cloud.
Not every application is suited for the cloud. Certain applications carry strict performance or security requirements. Before moving an application to the cloud, IT teams should ensure it is the best strategic option, focusing on issues related to regulatory compliance, control and cost.
Running applications in a multi-tenant cloud can result in inconsistent performance caused by the noisy neighbor phenomenon. This occurs when multiple applications compete for the same IT resources. A cloud storage provider can help address these issues by enabling on-demand provisioning of bare-metal servers or cloud arrays to dedicate the needed resources continuously to critical applications.
Security has improved as more and more customers turn to the cloud, particularly end-to-end encryption of network traffic between cloud-based applications and local users. Most cloud providers also enable a customer to opt for multifactor authentication to ensure that only permitted users can access the data.
Companies considering the public cloud need to balance their latency, performance and resiliency requirements against the amount of money they can spend.
This was last updated in
February 2018
Continue Reading About cloud storage provider
Dig Deeper on Storage architecture and strategy