kiko - Fotolia
Data storage industry trends revealed in top 2018 news stories
AI, NVMe over fabrics and the cloud were must-read data storage stories in 2018, as were Tintri's struggles and Dell EMC's product moves. See the news that mattered as the year closes.
From performance-enhancing technology to product upgrades and 11th-hour acquisitions, 2018 news stories reflected the data storage industry trends that held our readers' attention.
On the technology front, AI started becoming a must-have feature in storage products, and vendors began preparations for NVMe over fabrics. This was also a year when traditional on-premises vendors made significant moves into the cloud in ways that tightly tied their on-premises business to the cloud. We also watched as Tintri's losses mounted and DirectData Networks stepped in with a last-minute acquisition. And Dell EMC continued to grab our attention as it rebranded its high-end platform with end-to-end NVMe, while keeping multiple midrange arrays for now.
Here's a look back at SearchStorage's top news stories of 2018 and how they reflect ongoing data storage industry trends.
All-in on AI
One of the obvious data storage industry trends in 2018 was support for AI in arrays, as several vendors launched AI-ready infrastructure. Among them was Pure Storage AIRI, AI-ready infrastructure that integrates Pure's all-flash FlashBlade NAND storage blades and four Nvidia DGX-1 artificial intelligence supercomputers. AIRI's preconfigured stack is designed to accelerate data-intensive analytics at scale.
NetApp added Nvidia GPUs to its all-flash arrays to build a storage product designed for data scientists and others who would benefit from combining data-intensive analytics with artificial intelligence. And DataDirect Networks did something similar in October with its DDN A3I with Nvidia DGX-1.
Dell EMC brought out Ready Solutions for AI, machine learning and deep learning that uses Dell PowerEdge servers equipped with high-performance Nvidia GPUs and all-flash Isilon F800 in late summer, followed by an AI reference architecture bundling Nvidia DGX servers with its all-flash Isilon storage in November. IBM introduced SpectrumAI with Nvidia DGX reference architecture, which combines Nvidia's DGX-1 servers and AI software stack with IBM's flash storage and Spectrum Scale parallel file system software.
Vendors prep NVMe over fabrics gear
Vendors started to support NVMe-oF-based storage in 2018. The following are among those in on the NVMe-oF transition:
Startup Pavilion Data Systems shipped its NVMe-oF Pavilion Memory Array storage system, which supports Remote Direct Memory Access (RDMA) over Converged Ethernet and NVMe over TCP.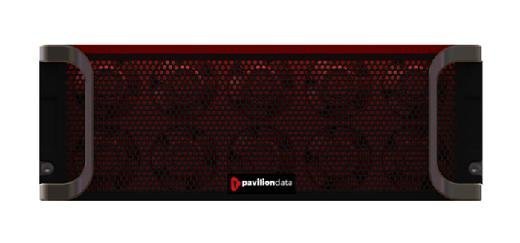 Toshiba Memory America Inc. unveiled KumoScale storage software for NVMe-oF deployments. KumoScale pools NVMe SSDs in a storage enclosure and enables their shared use. It can deliver networked storage at or near the performance of direct-attached NVMe SSDs, Toshiba said.
Broadcom released two Brocade Fibre Channel (FC) switches and SAN automation capabilities designed to ease the transition to NVMe-oF. It also increased the Brocade platform's ability to run NVMe over Fibre Channel.
NetApp rolled out an NVMe-ready All Flash FAS array, equipped with the Broadcom switches, along with 30 TB Samsung drives and 700 TB of usable storage. SAN users can upgrade to FC over NVMe on select OnTap systems.
All-flash vendor Pure Storage Inc. unveiled a native DirectFlash NVMe over fabrics hardware expansion shelf for its next-generation FlashArray//X model.
Excelero's NVMesh 2 software-defined storage extended NVMe over fabrics support to TCP/IP and Fibre Channel. The previous version supported RDMA and RAID 1.
On-premises storage vendors take to the cloud
In 2018, traditional on-premises storage hardware vendors took to the cloud at an accelerated rate. Cloud-based rollouts dominated the NetApp Insight user conference in October. The all-flash vendor expanded its cloud strategy with a focus on using its on-premises equipment as a foundation to make it easy for customers "to get to the cloud and back from the cloud," NetApp founder Dave Hitz said.
On the technology front, AI started becoming a must-have feature in storage products, and vendors began preparations for NVMe over fabrics.
NetApp's cloud strategy is built around its Data Fabric, a software-defined approach that streamlines data management between on-premises and cloud storage, and its Cloud Volumes that make NetApp file services available in public clouds. This fall, the vendor released NetApp Cloud Volumes OnTap file storage allowing its OnTap operating system to run on physical clusters in AWS, Google Cloud Platform and Microsoft Azure. The company also introduced NetApp Kubernetes Service, which automates the provisioning of federated container clusters and syncs the persistent storage in the public cloud.
Hitachi Vantara also spent a good bit of its recent Hitachi Next user conference talking about its move into the cloud. The vendor rolled out a new Amazon S3 API to Hitachi Content Platform object storage, which supports compliance and retention requirements for data stored in public clouds. Hitachi's storage innovations centered on mobility across local and cloud tiers similar to NetApp's. Its 2019 roadmap includes a storage operating system that will cover a broader range of use cases at the core, the edge and the cloud, said Nathan Moffitt, Hitachi senior director of AI operations software and infrastructure systems.
Dell EMC also launched a range of cloud-related enhancements to its products at VMworld 2018. These included a cloud version of the Unity midrange unified storage array and cloud enhancements to the Data Domain data deduplication platform. Later in the fall, the vendor announced plans to put the VMware Cloud Foundation on VxRail appliances.
DDN throws Tintri a lifeline
The industry couldn't look away from Tintri's troubles in the first half of the year. Losses, layoffs, mounting debt and revolving CEOs held our attention. Tintri's original mission was selling VMstore flash storage to enterprises running VMware virtual machines. More recently, it shifted focus to selling its EC6000 hybrid array to hyperscale organizations looking to build private or hybrid clouds.
The company went public in June 2017 with a disappointing initial public offering. By the first quarter of 2018, it was struggling with mounting losses and debt and had laid off 20% of its workforce. CEO Ken Klein stepped down in March, replaced by Thomas Barton. Barton lasted only three months, and the company said it lacked sufficient liquidity to continue operating past June 30. Two months of uncertainty followed as the company launched Chapter 11 bankruptcy proceedings and was subsequently acquired by DirectData Networks for $60 million.
DDN bought Tintri's 1,500-customer list that includes names such as AMD, Avaya, Chevron, Comcast, NASA, Sony and Toyota. It also got Tintri Analytics, a cloud management service that relies on a massive pool of telemetry data to deliver a predictive analytics product. The service can analyze up to three years of data from hundreds of thousands of environments in less than a second, incorporating metrics from a number of categories.
Dell EMC upgrades high-end, keeps midrange status quo
Tracking the latest fallout from the Dell-EMC merger was another of the attention-grabbing data storage industry trends this year. As the world's largest storage vendor, everyone is watching how Dell EMC handles its various product lines, particularly the overlapping midrange ones.
In May, at Dell Technologies World, Dell EMC unveiled a redesigned all-flash VMAX system. The high-end system had end-to-end NVMe and integrated machine learning and was rebranded as PowerMax. But things weren't nearly so clear-cut for the merged company's midrange storage products, which include the all-flash and hybrid flagship Unity arrays that EMC launched in 2016, and the SC and PS Series systems from Dell. Dell EMC's VNX storage ranges from midsize to large-scale enterprises. The all-flash XtremIO arrays fall into the midrange, too, though larger customers often use it to scale out performance-oriented block storage.
The SC Series, with its large installed base, and the Unity line each fill specific market needs. Customers with large capacity and performance requirements often use Unity in conjunction with high-end PowerMax. The SC Series typically is used in small and midsize environments that want flash storage at a lower price point.
The PS Series is the one midrange product that Dell EMC indicated this year that it would phase out. In July, Dell EMC launched operating system upgrades for the Unity and SC Series lines and hinted it may eventually converge the platforms. By fall, however, the timeline had sped up: Dell EMC midrange storage sales were lagging, and the company said it would combine engineering and launch new Dell EMC midrange storage in 2019.