Fotolia
Taking the software-defined data center market pulse
Most organizations understand the benefits of the SDDC by now, but widespread adoption hasn't hit yet. Challenges such as complexity and internal talent could be to blame.
The software-defined data center market hasn't been impressive, despite the fact that the completely virtualized...
Continue Reading This Article
Enjoy this article as well as all of our content, including E-Guides, news, tips and more.
infrastructure delivered as a service that the SDDC provides is a viable option for many organizations.
Companies are attracted to the concept of the SDDC by the dramatically higher efficiency and lower costs that virtualized IT services and automated operations deliver. Other benefits include rapid application provisioning, reliable availability, strong application security and the ability to deliver any workload anywhere.
A November 2017 Hexa Research report showed that the global software-defined data center market is expected to reach $259.10 billion by 2024, driven by its ability to optimize operations through data center management and virtualization capabilities.
An SDDC can come in many forms, but one common trait is a software stack built on top of physical resources. This provides the ability to automate data center infrastructure across many different applications, said Eric Keller, CTO of Stateless, a company that provides high-performance scalable network functions as a service for private and public clouds.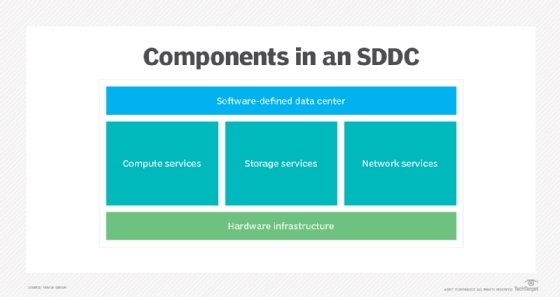 "Each aspect of the stack, including the physical resources, provides an application programming interface," he said.
Most data centers are already at least partially software-defined, said Michael Colonno, senior solutions architect at data center infrastructure software provider Computer Design and Integration.
"Virtualization is the SDDC bandwagon everyone got on and never looked back," he said. "Now, we have different flavors beyond the compute layer, such as networking, storage and now automation and orchestration."
Multiple benefits of the SDDC
The SDDC's main benefits relate to scale and management.
"Scale is fast and cheap, and management is virtualized and decentralized," said Gabe Gambill, vice president of product and technical operations at Quorum, a disaster recovery as a service provider.
When built correctly, an SDDC can eliminate resource silos and allocate resources quickly and proportionally to existing priorities.
"Automation and policy engines can better ensure SLAs [service-level agreements], security and compliance, since a single software framework can manage it all," said Jonathan Halstuch, co-founder and COO of RackTop, a data management and storage platform provider. "Additionally, the SDDC enables software to take advantage of the power, performance and capacity improvements of hardware with each iteration of hardware."
The multilayered SDDC market
Each layer of the software-defined data center market has its own tools and players. For example, public cloud storage vendors provide the infrastructure, as well as APIs, toolkits, application markets and much more.
In the software-defined data center market, Amazon Web Services and Azure are the leaders, but there are multiple contenders, said Doron Pinhas, CTO of Continuity Software, an IT resilience and service availability assurance software provider.
Leading data center cloud management platform tools for the software-defined data center market include OpenStack, Azure Stack, Cloud Foundry and VMware Cloud Foundation, Pinhas said. Among orchestration and automation tools, Pinhas named Terraform, Ansible, Chef, Puppet, SaltStack and CFEngine.
Application and container orchestration tools include Kubernetes, Docker Swarm, Apache Mesos and OpenShift. Finally, there are the core technology vendors, including Cisco, VMware, Microsoft, Red Hat and Dell EMC.
Overcoming SDDC challenges
Many organizations look to SDDCs to provide a fast, easy and simple answer to existing data center problems. Yet, such expectations are rarely, if ever, completely fulfilled.
"SDDC is not a technology that can just be ordered from a catalog without proper planning," Colonno cautioned. He pointed to software-defined networking (SDN) as an example of SDDC's sensitivity to inadequate preparation. "Proper physical switches selection and changes to configurations must be made to allow for the optimization of the rollout," he said. "Otherwise, you can have major issues or stunt the rollout."
If an SDDC isn't built or implemented correctly, it can be very cumbersome and complex to manage.
"It may also require the organization to hire new talent if they don't already possess the skills necessary to manage the new SDDC technologies," Halstuch asserted.
Keller noted that shifting to an SDDC can also affect purchasing practices and behaviors.
"It may require working with smaller vendors and startups, as they are the source of innovation in this space, whereas a traditional data center is well-suited to the legacy systems of the major vendors," he noted.
It's also important to remember that SDDCs and most cloud technologies are still works in progress.
"Quite often, we discover that required features are simply not yet publicly available," Pinhas warned. "An additional concern is that some of the technologies we choose today may not survive the waves of change and become obsolete."
Software-defined data center market outlook
According to Keller, SDDC market players must continue evolving their network offerings to keep pace with the virtualized storage and compute capabilities of today's data centers.
"Unlike storage and compute, networking is still in its early stages of an evolution toward virtualization," Keller said. The main push in virtualizing networking has been at the switching level, with an emphasis on interconnecting virtual machines through offerings such as VMware NSX. "But the network functions themselves are still run through an appliance model, meaning even virtual network functions are a large bottleneck in any SDDC environment," Keller said.
Halstuch expects overall SDDC adoption to continue slowly. But individual components will move at their own pace.
"SDN is still struggling to become a mainstream solution outside of multi-tenant, very large or complex environments, because of added cost and lack of perceived value," he said. "Software-defined storage will continue to grow, as it is proving to be a better value to customers without drawbacks in reliability, performance or management."