DXfoto.com - Fotolia
SolarWinds SRM keeps an eye on new all-flash arrays
SolarWinds updates Storage Resource Monitor to support more all-flash arrays and adds application-dependency functionality to Server & Application Monitor.
SolarWinds updated its Storage Resource Monitor software with support for more all-flash arrays, reflecting the...
Continue Reading This Article
Enjoy this article as well as all of our content, including E-Guides, news, tips and more.
growing market. The vendor also gave its Server & Application Monitor the ability to provide deeper insight into servers and applications.
The SolarWinds Storage Resource Monitor (SRM) and Server & Application Monitor (SAM) products are part of the vendor's Orion Platform of network and system management and monitoring software. Other products in the modular Orion family include the Network Performance Monitor, NetFlow Traffic Analyzer, Network Configuration Manager and Virtualization Manager.
The SolarWinds SRM 6.6 release adds support for Dell EMC Unity, Hewlett Packard Enterprise (HPE) Nimble Storage, IBM FlashSystem V9000 and Infinidat InfiniBox all-flash arrays (AFAs).
Focus on hot-selling midmarket AFAs
Ross Fujii, vice president of product strategy and management at SolarWinds, based in Austin, Texas, said the company focused on newer all-flash arrays that are "moving pretty fast in the midmarket" as replacements for older SANs and NAS devices.
SolarWinds collaborated with some of the vendors and their customers to develop a deep level of visibility for the newly supported storage arrays, Fujii said. For instance, SolarWinds worked closely with HPE Nimble's engineering team on many of its APIs to expose more data for monitoring the arrays' performance and capacity, LUNs and storage pools, he said.
The new support for HPE Nimble products is of particular interest to American Cement Co. (ACC). Jeremy Mayfield, IT director at ACC, based in Sumterville, Fla., said the company is a longtime SolarWinds customer. He said he hopes to use the Orion tools to test an HPE Nimble array that ACC is evaluating to simplify and consolidate its server and storage environment.
Mayfield said the HPE Nimble array is the front-runner to replace his company's Dell EMC VNX 5400 and HPE P2000 storage systems. With the new SolarWinds 6.6 update, ACC would be able to monitor the HPE Nimble system, along with ACC's network, business applications and databases, he said.
"The need to have SolarWinds doesn't go away. The [Nimble] system might have a very good way to monitor storage or hardware health. But it doesn't take SolarWinds long to catch up, so my investment won't be wasted moving forward," Mayfield said. The SolarWinds Orion suite has helped the 150-person cement producer to function with a two-man IT staff, he added.
SolarWinds' Orion products install on a Windows server or virtual machine and poll arrays, servers and endpoints to collect necessary data. They provide insight into configuration, performance, capacity, bandwidth and other monitoring metrics through a web-based dashboard. Its customers have the option to use software agents to gain deeper visibility into monitored systems.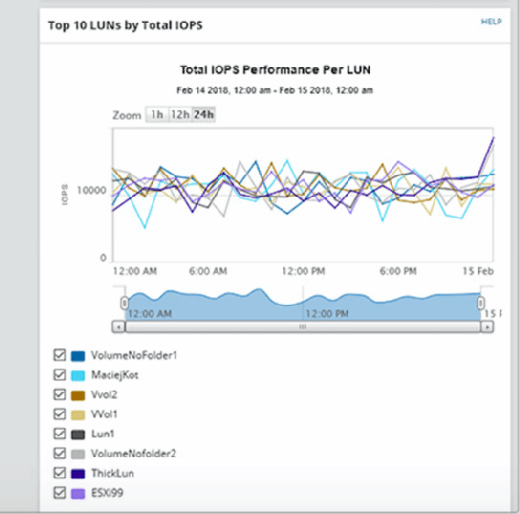 End-to-end monitoring
The SolarWinds SRM product's integration with the SAM and Virtualization Manager software enables users to do end-to-end monitoring from applications and virtual servers to storage systems. Web servers are often linked to application servers that talk to databases, Fujii said, and it's important to determine the source of the problem.
"An admin is alerted that, 'Hey, we have an issue around this application,'" Fujii said. "The next troubleshooting step is to look into layers of the stack. Is this a virtualization problem? Is it in the application? Is it with my end users? Or, is it all the way down into my data or my storage?"
The SAM 6.6 update adds deeper insight into server interactions, network connections and application dependencies. It identifies the root cause of potential issues, such as packet loss, latency and network status. SAM monitors server, virtualized and cloud workloads, as well as local direct-attached storage, Fujii said.
SAM 6.6 also broadened its support for IBM systems with the addition of a new SolarWinds Orion Agent for IBM AIX.
SolarWinds SAM pricing starts at $2,995 for 150 monitoring metrics, with the first year of maintenance included. List pricing for SolarWinds SRM starts at $2,935 for 25 disks, also with the first year of maintenance included. Potential customers can download a free-trial copy SolarWinds SRM or SAM products for a 30-day evaluation.