carloscastilla - Fotolia
Ceph-based cloud block storage service debuts from Atlantic.Net
Atlantic.Net's cloud-based block storage service is built on open source Ceph, and it includes an NVMe-based flash cache to boost performance and inexpensive HDDs for back-end storage.
Atlantic.Net launched a cloud block storage service that uses standard HDDs to keep prices down and an NVMe-based flash cache to boost performance over major disk-based alternatives.
Alantic.Net claims its Secure Block Storage (SBS) performs sequential reads and writes faster than HDD-based block storage from AWS and Microsoft Azure. The hosting provider positions SBS as a choice between HDD and SSD Elastic Block Storage (EBS) options from AWS.
The Atlantic.Net SBS service uses open source, Ceph-based block storage, with a fast nonvolatile memory express SSD cache and inexpensive 7,200 RPM HDDs on the back end. The Ceph system makes three copies of the data, but the customer pays for only one of them, said Marty Puranik, president and CEO of Atlantic.Net.
Atlantic.Net offers 50 GB free for one year from the date the customer signs up for the service and charges 7.9 cents for each additional gigabyte per month. The 50 GB promotional offer is available to current customers through June 15, 2019.
Cloud block storage pricing
On-demand pricing for block storage in the U.S. was 5.5 cents per gigabyte, per month, in the second quarter, according to 451 Research's Cloud Price Index. The index is based on the cheapest available option for a provider to fulfill a "small basket" specification of two web and two application servers, with 150 GB and 300 GB of attached storage, internet and inter-data center bandwidth for data ingress and egress, and round-the-clock support. The cloud providers generally use HDDs or SSDs for the block storage.
Atlantic.Net's pricing is competitive against SSD-backed cloud block storage, but less so against HDD-backed block services, according to Deepak Mohan, a research director in IDC's storage and infrastructure group. Much would depend on the IOPS level the provider can guarantee, he said.
Atlantic.Net offers a service-level agreement for uptime, Puranik said, but not for IOPS -- unless the customer contracts for at least a year. The company negotiates IOPS into contracts with those customers and offers discounts based on the block storage quantity and term commitment, he said.
Atlantic.Net's SBS price and performance level falls between the EBS hard-disk and SSD options, Puranik said. AWS charges 4.5 cents per gigabyte, per month, for its throughput-optimized HDD volumes; it charges 10 cents per gigabyte, per month, for its general-purpose SSD volumes and even more for provisioned IOPS SSD volumes.
"Our service gives better performance than their regular hard drives, and there's no additional IOPS charge or overages or anything like that. It's a straight 7.9 cents [per gigabyte] per month," Puranik said.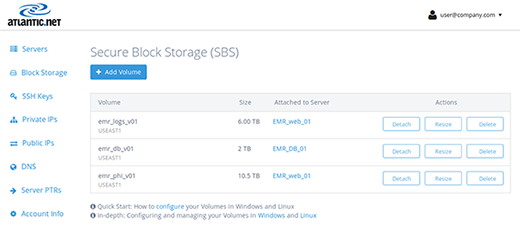 Atlantic.Net hosting sites
Founded in 1994, Atlantic.Net started out as a residential internet provider before moving to business-to-business connectivity and web hosting. The company operates out of its own data center in Orlando, Fla., and colocation facilities in New York, Dallas, San Francisco, Toronto and London. Additional options in Ashburn, Va., and Singapore are coming soon, Puranik said.
The SBS service is available only at Atlantic.Net's Orlando data center, but the company plans to extend it to colocation facilities and offer multisite replication, snapshots and backup, Puranik said.
Atlantic.Net has long offered traditional SAN and NAS storage to customers running applications at its Orlando data center. But, Puranik said, the company wanted a cloud block storage service with a higher level of reliability than the limited-capacity, RAID 10-based local SSD storage Atlantic.Net offered in individual compute servers. The SSDs were overkill in some cases, and customers wanted to scale their storage and move volumes between servers, he said.
Atlantic.Net's local SSD storage option maxed out at about 2 TB, Puranik said, whereas the SBS service enables as much as 16 TB per volume and eight volumes per server.
Atlantic.Net runs the latest Ceph release with the new BlueStore storage back end that improves performance, supports built-in data compression and provides full checksums to verify data integrity.
Atlantic.Net wrote its own control panel to simplify customers' deployment of open source Ceph, Puranik said. Users see a slider, choose the size of the block storage volume, create it, name it, mount it and point it at the desired server, he said.
"You wouldn't know Ceph is running on the back end," Puranik said.
More storage services planned
SBS is Atlantic.Net's first dedicated public-cloud-based storage service. Puranik said the company would add an object storage service later this year -- also based on Ceph -- to target unstructured data. Ceph software supports block-, file- and object-based storage, and it scales out through the addition of commodity server nodes.
Puranik said he expects most customers will use the new SBS service to provide cloud block storage for applications that also run on Atlantic.Net's cloud compute infrastructure.
"Workloads on the block side are more transactional and compute-driven, and if the compute is close to the block storage service, that would make more sense. So, directionally, Atlantic.Net is probably on the right path. But [it] will face a lot of serious competition from someone like an Amazon," said Amita Potnis, a research manager with IDC's storage systems program.
Potnis said Atlantic.Net's London colocation facility could work to its advantage, because there's considerable room for growth for a niche provider outside of North America, where Amazon dominates.