buchachon - Fotolia
Storage startup Termaxia stares at clouds
A startup claims it has pilots and production deployments in place for its petabyte-scale appliance that provides continuous availability without a cache.
Newcomer Termaxia has entered the storage world with a multiprotocol system it said is designed to tackle exabyte-scale data.
The storage startup, based in Philadelphia, is in the market with its eponymously branded Termaxia appliance, which incorporates 24 system-on-a-chip microservers and up to 48 SSDs and HDDs in a 4U rack. Termaxia supports block, file and object storage.
Customers can chain chassis to scale in linear fashion to accommodate growing data or generate higher throughput by adding larger drives. The company bills its storage as an adjunct to on-premises capacity and as a drop-in expansion for private clouds.
Termaxia focuses on organizations that must make hundreds of petabytes of data continuously available, without resorting to caching hot data. Data centers can buy the Termaxia hardware outright and license subscriptions for software, services and support.
"We primarily view ourselves as a software company, but we don't run on any run-of-the-mill commodity servers," said Boon Thau Loo, founder and chief scientist of the storage startup.
Custom object store with commodity parts
Loo described Termaxia hardware as a custom design cobbled from commodity components. Imagine an Amazon S3 object store with a Ceph-like wrapper, and you get a general idea of how Termaxia works, he said. Loo claimed his storage startup is "way superior to Ceph" in manageability and performance. He said Termaxia's storage requires significantly less power than a typical storage appliance because of how the company has optimized its software.
According to information provided to Philadelphia Alliance for Capital and Technology, Termaxia generated $100,000 in fiscal year 2018, with revenue "projected in millions" this year.
Early customers of the storage startup include hyperscale cloud providers in Asia, and Loo said proofs of concept are underway at enterprises in the U.S.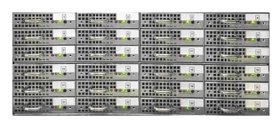 Loo founded Termaxia with Changbin Liu, a former core OpenStack developer who serves as Termaxia's CEO.
Before Termaxia, Loo was involved in the launch of Netsil -- formerly Gencore Systems -- in 2013. Nutanix acquired Netsil last March and integrates the software-defined networking technology in its hyper-converged infrastructure stack.
Termaxia faces a tough, competitive road to success as a storage startup trying to convince hyperscalers and enterprises to give it a shot. Termaxia wants to compete with other vendors pitching cloud arrays for hybrid private-public deployments -- a list that includes Dell EMC, Pure Storage and SwiftStack.
"The way I see it, Termaxia wants to sell a turnkey solution that does everything. I think that's going to be a very difficult sell," said George Crump, an analyst at Storage Switzerland.
However, Crump said he does see a path for Termaxia selling to cloud providers, who are often bigger risk-takers than enterprises and need storage built for petabytes or exabytes of data.
Acknowledging that enterprise storage is a "sticky business," Loo said Termaxia initially will position itself as a tool to expand, not displace, established players. "We can handle their growing data needs, without [customers] having to throw away their existing storage," he said.
Loo said the vendor's name is the combination of fictional planets Terminus and Galaxia found in science fiction author Isaac Asimov's Foundation series.