Denned - Fotolia
StorOne adds object, expands tiering
StorOne wants to go beyond software-defined storage by handling all types of data across any type of performance or capacity media; adds S3 support to block and file storage.
StorOne took steps to turn its S1 storage management software into a storage platform, adding object storage, while expanding its tiering and data protection features.
StorOne S1: Object was included in the latest quarterly release made available today. S1: Object uses the Amazon S3 protocol to give it object storage along with its previous support of block storage (Fibre Channel and Ethernet) and file (NFS and Server Message Block). It now supports object, block and file storage on the same drive.
StorOne S1: Tier can now move data across four tiers, enabling movement of data from high-performance media such as Optane or NVMe solid-state drives to higher-density SAS and quad-level cell SSDs, hard drives and the cloud.
S1: Snap enables StorOne unlimited snapshots to move off to less expensive storage tiers and decrease the need for a separate backup system. StorOne also added asynchronous replication to S1: Replicate, so users can survive a site loss without losing data. S1: Replicate also supports different hardware at the primary and secondary sites. That helps deliver disaster recovery, although StorOne still lacks automatic recovery.
S1: Snap and S1: Replicate are part of StorOne's data protection suite, which also includes its raid erasure coding and HA active-active clusters.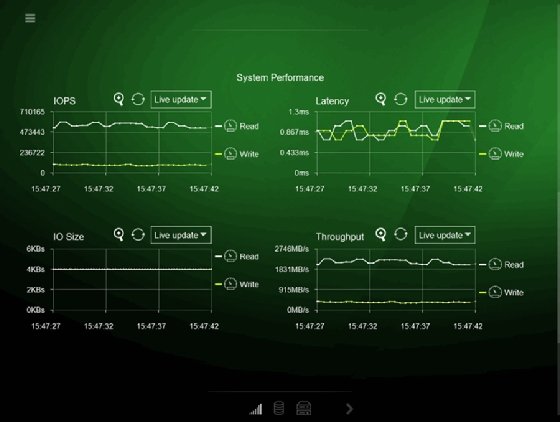 From SDS to S1
StorOne launched in 2017 as part of a wave of software-defined storage (SDS) startups. Like other SDS vendors, it delivered storage management software that used commodity hardware. But SDS never took off outside of hyper-converged infrastructure and some cloud use cases, and StorOne is now trying to make it as a full-blown storage array replacement. It still relies on off-the-shelf hardware that can be any type of performance or capacity storage.
"We say we have an enterprise storage platform that differs from software-defined storage, in that software-defined storage typically only covers one use case, maybe object or performance, but not all the use cases," StorOne chief marketing officer George Crump said. "To be a platform, we say you have to cover all the use cases. So we provide file, block and object block is Fibre or iSCSI, file is SMB and NFS. And object is S3."
S1 uses what StorOne calls DirectWrite to write directly to the media drive instead of using RAM cache or a DIMM card. That lowers the cost of the storage server because it requires less RAM.
That means S1 uses less CPU and memory than most storage systems, requiring less hardware for the same performance. Its multiprotocol capabilities also let customers expand use cases without buying a new storage system. That's especially helpful for object storage, which is rarely sold on systems with less than 75 TB of capacity. S1: Object can create a volume that supports S1 on the same system running block or file storage.
On the down side, StorOne has to rely on partners for hardware, giving it less control over its storage systems than major vendors such as Dell, NetApp, Hewlett Packard Enterprise, Hitachi Vantara, IBM or Pure Storage. S1 still lacks data deduplication and compression -- an odd omission, considering its founder and CEO Gal Naor also founded primary storage dedupe specialist Storwize and sold it to IBM. StorOne also still relies on the public cloud for disaster recovery because it lacks automated recover and any DR service. S1 does not yet run in any public clouds.
StorOne vs. competitors
Mike Matchett, principal IT industry analyst at Small World Big Data, said StorOne's tiering makes it more valuable than many of the large vendors' arrays that support one tier of flash.
"Tiering across tiers of flash is smarter than trying to use a single media type," he said. "I can recoup some savings by not having a plethora of storage solutions on the floor. At the same time, there might be people who see it as vendor lock-in if I move all my storage to that single storage array or a single point of failure, or a single vendor.
"If I were the bigger array companies, I'd look at something like this as a large threat," Matchett added. "If you're a big company, how do you compete if you have to defend your hardware sales against something like this that delivers high performance at low cost?"
Marc Staimer, president of Dragon Slayer Consulting, said StorOne's value is it can use less memory and CPU than competitors.
"Their strength is the fact that they're going to give you the IOPS and throughput performance that you need with less hardware," he said. "And that means lower cost."
Staimer said that can help overcome limitations of SDS.
"People buy storage for storage, they don't buy it for the software," he said. "So, you either play in the cloud, or you play on premises, and if you play on prem, you have to provide all the storage with it. So SDS vendors need partners because somebody has to support the hardware. StorOne is an array that does block, file and object -- big deal, plenty of people do that. But they do it with less hardware, and that's the value."
StorOne's Crump said the startup's data protection features can also provide value, judging from feedback he gets from customers and prospects.
"One of the big things I always get asked about is data protection," Crump said. "How are we taking care of data, things like that? People are always concerned about that."
S1 is priced by capacity, starting at $11,000 for up to 25 TB.
Dig Deeper on Storage architecture and strategy