valentinT - Fotolia
StorOne attacks bottlenecks with new TRU storage software
After six years of development, an Israeli startup launches new Total Resource Utilization storage software that aims to eliminate bottlenecks and improve storage efficiency.
Startup StorOne this week officially launched its TRU multiprotocol software, which its founder claims will improve the efficiency of storage systems.
The Israel-based newcomer spent six years developing Total Resource Utilization (TRU) software with the goal of eliminating bottlenecks caused by software that cannot keep up with faster storage media and network connectivity.
StorOne developers collapsed the storage stack into a single layer that is designed to support block (Fibre Channel and iSCSI), file (NFS, SMB and CIFS) and object (Amazon Simple Storage Service) protocols on the same drives. The company claims to support enterprise storage features such as unlimited snapshots per volume, with no adverse impact to performance.
TRU software is designed to run on commodity hardware and support hard disk drives; faster solid-state drives (SSDs); and higher performance, latency-lowering NVMe-based PCI Express SSDs on the same server. The software installs either as a virtual machine or a physical server.
StorOne CEO and founder Gal Naor said the TRU software-defined storage fits use cases ranging from high-performance databases to low-performance workloads, such as backup and data archiving.
'Dramatically less resources'
"We need dramatically less resources to achieve better results. Results are the key here," said Naor, whose experience in storage efficiency goes back to his founding of real-time compression specialist Storwize, which IBM acquired in 2010.
StorOne CTO Raz Gordon said storage software has failed to keep up with the speed of today's drives and storage networks.
"We understood that the software is the real bottleneck today of storage systems. It's not the drives. It's not the connectivity," said Gordon, who was the leading force behind the Galileo networking technology that Marvell bought in 2001.
The StorOne leaders are sparse on details so far about the product's architecture and enterprise capabilities, beyond unlimited storage snapshots.
Marc Staimer, senior analyst at Dragon Slayer Consulting, said StorOne's competition would include any software-defined storage products that support block and file protocols, hyper-converged systems, and traditional unified storage systems.
"It's a crowded field, but they're the only ones attacking the efficiency issue today," Staimer said.
"Because of TRU's storage efficiency, it gets more performance out of fewer resources. Less hardware equals lowers costs for the storage system, supporting infrastructure, personnel, management, power and cooling, etc.," Staimer added. "With unlimited budget, I can get unlimited performance. But nobody has unlimited budgets today."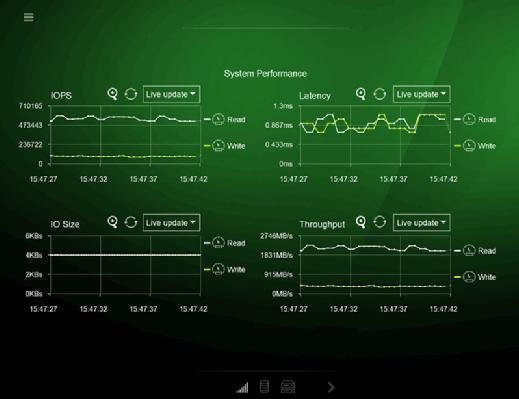 Collapsed storage stack
The StorOne executives said they rebuilt the storage software with new algorithms to address bottlenecks. They claim StorOne's collapsed storage stack enables the fully rated IOPS and throughput of the latest high-performance SSDs at wire speed.
"The bottom line is the efficiency of the system that results in great savings to our customers," Gordon said. "You end up with much less hardware and much greater performance."
StorOne claimed a single TRU virtual appliance with four SSDs could deliver the performance of a midrange storage system, and an appliance with four NVMe-based PCIe SSDs could achieve the performance and low latency of a high-end storage system. The StorOne system can scale up to 18 GBps of throughput and 4 million IOPS with servers equipped with NVMe-based SSDs, according to Naor. He said the maximum capacity for the TRU system is 15 PB, but he provided no details on the server or drive hardware.
"It's the same software that can be high-performance and high-capacity," Naor said. "You can install it as an all-flash array. You can install it as a hybrid. And you're getting unlimited snapshots."
Naor said customers could choose the level of disk redundancy to protect data on a volume basis. Users can mix and match different types of drives, and there are no RAID restrictions, he said.
StorOne pricing
Pricing for the StorOne TRU software is based on physical storage consumption through a subscription license. A performance-focused installation of 150 TB would cost 1 cent per gigabyte, whereas a capacity-oriented deployment of 1 PB would be $0.0006 per gigabyte, according to the company. StorOne said pricing could drop to $0.002 per gigabyte with multi-petabyte installations. The TRU software license includes support for all storage protocols and features.
StorOne has an Early Adopters Program in which it supplies free on-site hardware of up to 1 PB.
StorOne is based in Tel Aviv and also has offices in Dallas, New York and Singapore. Investors include Seagate and venture capital firms Giza and Vaizra. StorOne's board of directors includes current Microsoft chairman and former Symantec and Virtual Instruments CEO John Thompson, as well as Ed Zander, former Motorola CEO and Sun Microsystems president.
Dig Deeper on Storage architecture and strategy