Imagery Majestic - Fotolia
Data storage startups to watch in 2019
Failure is a more likely outcome than success for a storage startup. Still, intrepid newcomers offer innovative technologies in cloud, backup, convergence and flash.
Every year, brave souls launch storage startups, bucking great odds against their chances of making it big.
Pure Storage Inc. successfully transitioned from all-flash startup to public company. Hybrid vendor Tintri did not. Nutanix Inc. pioneered the idea of hyper-converged infrastructure (HCI) and, in the process, it became a well-known name in IT circles. But how many storage administrators even remember HCI startup Nimboxx?
The high probability of failure hasn't deterred veteran storage innovators from returning to the fray. Demand for high-performance storage gear has never been greater, fueled by increased interest in AI and analytics in core data centers and edge environments.
Even companies that don't make it big often place innovative technology into the market that larger vendors will acquire or emulate. That makes these storage startups worth watching regardless of their chances of becoming the next Pure or Nutanix.
For end users, the decision to gamble on a startup doesn't hinge on its technology. The key question is whether a new vendor is able to carve out a sustainable business and survive for the long haul.
Here are some promising newcomers we'll be tracking in 2019. They offer storage products and services that span backup, cloud, converged and flash. Most of these storage startups would fit in any general enterprise, although some are clearly targeting high-end data centers with their eyes on the cloud.
Burlywood
Burlywood Inc. gives you the tools to create your own SSD. The startup's TrueFlash has a programmable flash controller for customizing SSDs tuned for multiple cloud workloads.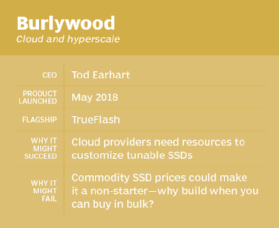 Burlywood, based in Longmont, Colo., shoves commodity NAND flash down the stack by imposing an intelligent software layer on top. The design includes a storage emulator in the controller and a method to manage defects and error rate on the media.
For most enterprises, commodity-priced SSDs will suffice. Burlywood aims TrueFlash at large data centers that depend on high-performance flash, including hyperscale cloud providers.
Burlywood writes data sequentially to page stripes and then compares it to data stored in the buffer. If a page of data fails the comparison, the data is rewritten to a different page. A signal is transmitted to the host when at least some rewrites are acknowledged by storage.
Multistream quality of service partitions a TrueFlash SSD to serve varied I/O patterns. Via firmware, Burlywood claims it can reprogram a TrueFlash-built device to quickly take advantage of next-generation flash when it's available.
Along with its flash stack, Burlywood provides a reference design to guide customers in designing an SSD, either in-house or through a contract manufacturer.
Cloud Daddy
Is there such a thing as a hip daddy? Well, when it comes to thorny issues of data protection in AWS, Cloud Daddy Inc. is hip.
Amazon shoulders the burden of providing a secure cloud environment, but it leaves the responsibility of data security to individual customers. That's when Cloud Daddy intervenes.
The Princeton, N.J., company's Secure Backup integrates APIs for Amazon Elastic Compute Cloud, Elastic Block Store, Relational Database Service, Aurora, NoSQL and RedShift. The data is replicated between AWS regions or even multiple accounts.
For security, Cloud Daddy allows users to create and apply firewall rules to associated security groups or create automated firewall rules with built-in templates.
A wizard-based dashboard flashes the estimated cost of backup jobs in real time. The cost estimator would be better with an AI engine to automate data tiering once the cost hits a certain threshold. Cloud Daddy says that feature is in its plans.
Enterprise licenses cost $749 per month for 120 users, 30 AWS accounts and 200 AWS instances. Midsize businesses pay $299 a month for 40 users, 10 AWS accounts and 50 AWS instances. A basic plan costs $129 per month for 20 users, five AWS accounts and 20 AWS instances.
HiveIO
According to HiveIO Inc., hyper-convergence doesn't have to be a hardware play. The Hoboken, N.J., company provides everything you need to build low-cost HCI -- except hardware. Hive Fabric turns commodity servers into an HCI cluster.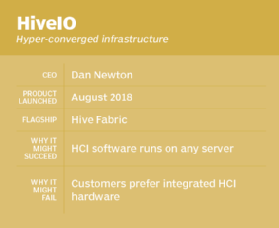 The software-only approach is similar to Maxta, which licenses its HCI software individually or as server reference architecture. Thus far, HiveIO hasn't revealed reference architecture, although it has lined up reseller deals with Arrow Electronics and Synnex.
HiveIO's name stems from the concept of swarm theory. It manages resources across multiple HCI clusters via an AI-based message bus. The company started in 2015, but emerged from the shadows last year by acquiring the assets of failed HCI vendor Atlantis Computing.
Hive Fabric is based on the open source Linux kernel machine hypervisor (KVM), although it supports VMware vSphere and Microsoft Hyper-V. (Scale Computing is the only other HCI vendor to natively integrate KVM.)
Enterprises have a longstanding bias for software bundled on hardware. If you already have VMware, why not deploy vSAN instead? Why switch to HiveIO, if you can get Microsoft Hyper-V with Storage Spaces Direct? To gain a toehold, HiveIO will need a compelling counter-argument.
JetStream Software
Tiering data to multiple clouds, hosted both on premises and by public providers, is becoming more than a talking point. JetStream Software Inc. sees this trend as a rich vein of opportunity, particularly for large virtualized environments.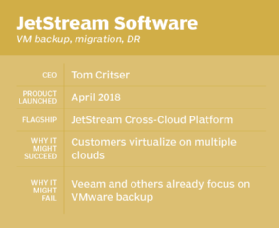 The JetStream Cross-Cloud Platform suite protects data scattered in the local data center and hybrid cloud environments. The product combines replication, disaster recovery as a service (DRaaS) and cloud-to-cloud workload migration.
Tom Critser, CEO of the San Jose, Calif., company; President Rich Petersen; and CTO Serge Shats know their way around storage startups. They were involved with FlashSoft, a flash cache vendor that was acquired by SanDisk, which is now part of Western Digital. JetStream technology hinges on special vSphere I/O filtering technology it developed in collaboration with VMware.
Cross-Cloud Platform includes Jetstream Accelerate, JetStream Data Protection and JetStream Migrate.
JetStream Accelerate alleviates I/O and writes data to a tier of non-volatile memory, designed to boost efficiency and performance scaling for large enterprises.
Jetstream Data Protection continuously replicates data to cloud-based object stores, NFS or virtual machines for business continuity and DRaaS.
JetStream Migrate runs as an I/O filter between virtual disks and VMs. The goal is to reduce overhead associated with live migration of VMs between your physical data center and the cloud.
Kaleao
Rather than use servers built with standard x86 chips like most HCI products, Kaleao KMAX appliances incorporate 54-bit silicon ARM processors. Kaleao claims ARM enables better scale-out performance and lower energy consumption than x86 hardware.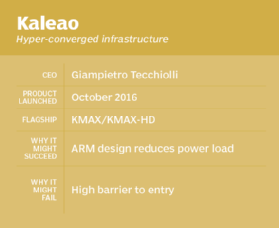 KMAX-EP is the newly designed Kaleao flagship intended for enterprises. It joins the initial KMAX-HD, which is more suited for hyperscale service providers.
Both appliances pack 370 TB of flash in 3U chassis and 192 compute nodes. That's eight CPU cores per server socket, 16 servers per blade and 12 blades per chassis. Dual Ethernet ports deliver up to 960 Gb per second with integrated 1.97 Tb switching. With the 2 GHz Cortex ARM servers, Kaleao rates energy consumption less than 15 watts per server.
Two Kaleao open systems-based hardware options are available: KMAX Server Edition and KMAX Appliance Edition. The KMAX Server Platform runs Linux Ubuntu; each eight-core server has a pair of block devices.
KMAX Appliance is managed by embedded OpenStack, using the Kaleao Microvisor for virtualization.
Kaleao is based in Cambridge, England, with U.S. headquarters in Charlotte, N.C.
Liqid
Liqid Inc. has jumped into composable infrastructure with Liqid CI, a switch based on Peripheral Component Interconnect Express (PCIe) and orchestration software to build bare-metal servers from disaggregated components.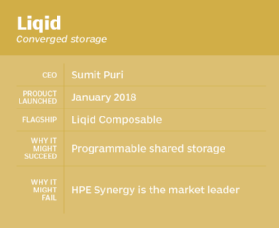 The Broomfield, Colo., company says the PCIe fabric delivers full duplex bandwidth of 192 Gbps and presents thousands of interconnected devices as a unified resource pool.
Liqid enables administrators to program physical infrastructure in the manner of software code. Compute, graphics processing, storage and network gear are presented in logical pools for on-demand access by applications. Liqid orchestrates the hardware to a dedicated set of tasks and then returns it to the pool once the job is complete.
The Liqid Powered GPU Composable Rack is a half-rack that scales to 12 compute nodes and 460 TB of flash capacity per storage node. Customers can add PCIe-connected expansion chassis containing as many as four double-wide GPU elements.
Liqid also sells high-performance enterprise PCIe SSDs. Liqid Grid intelligent switching fabric provides the connective tissue to unify disaggregated system elements.
RStor
Stealth startup RStor Inc. says it wants to fix a "broken" cloud model that allows cloud providers to exert too much control over customer data. Customers who take a chance on RStor actually will be relying on two startups in one.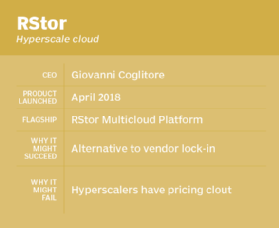 The Saratoga, Calif., company provided seed capital for Sylabs, creator of the open source Singularity container platform for high-performance computing workloads. Cisco led RStor's $45 million funding round in 2017.
The RStor Multicloud Platform processes intense big data jobs at core and edge environments. Key features are its data placement engine and Singularity-designed container orchestration.
The RStor storage network is physically separate from, yet connected to, public cloud providers. The RStor Connect network lets customers add any x86 server, ARM or GPU as a hybrid cloud node.
RStor said it reaches 10,000 large enterprises through partnerships with Equinix and CoreSite. In addition to cloud, RStor use cases include defense, life sciences, manufacturing, media and retailing. RStor lists cost at .013 cents per GB.
RStor connects storage systems and simultaneously places data in three physical data centers for redundancy. RStor founders make up the same team that launched Rackable Systems, which went public in 2005 and later acquired Silicon Graphics, now part of Hewlett Packard Enterprise.
Storbyte
After three years in stealth, all-flash storage startup Storbyte made its debut in 2018 with the Eco-Flash array. The key to Eco-Flash is the Storbyte SSD drive technology, engineered by company founder and CTO Joe Drissel while he was overseeing secure high-performance storage for defense agencies.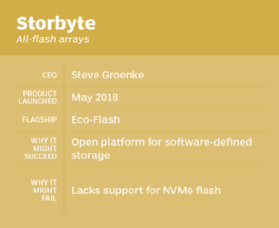 Admins are familiar with RAID striping on disk. Storbyte applies the same concept to an array of off-the-shelf mSATA SSDs. Storbyte's algorithm writes data simultaneously across 16 flash targets, providing redundancy and longer life to the flash. The abstraction layer presents striped data to users as a single, unified flash drive.
Eco-Flash storage is a modified version of the ZFS file system, powered by a custom application-specific integrated circuit seated directly on the individual drives. Storbyte plans to unveil a second file system in 2019 that will add snapshots, replication and storage tiering.
Storbyte, based in Washington, D.C., offers three appliance models. The largest is a 4U 48-drive array that scales to 8 PB of usable flash with patented data reduction. Storbyte said Eco-Flash consumes 75% less power and has a total cost of ownership that is about 200% lower than leading all-flash arrays. Those are bold claims that, if true, would interest write-heavy enterprises.
StorOne
Software-defined storage startup StorOne Inc. seeks to find all the storage you have hiding behind different hypervisor-based workloads. As other vendors' products do, StorOne's Total Resource Utilization (TRU) uses storage capacity from any storage device. Despite their differing protocols, blocks, files and objects use TRU to share drives or volumes at wire speed, with no changes to back-end applications or devices.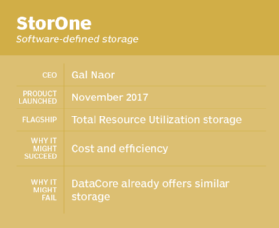 StorOne CEO Gal Naor has experience with storage startups. He helped launch data compression startup Storwize in 2004; IBM acquired it six years later. By consuming fewer resources, StorOne stakes its claim in efficiency and lower cost for software-defined storage. The proof will be in how well it competes with the likes of DataCore Software's SANsymphony product, which has grown to more than 10,000 users.
The collapsed StorOne stack runs on commodity servers and accommodates HDDs, SSDs and PCIe-connected NVMe SSDs. StorOne lets customers buy terabytes of storage per month or as an annual contract, including SAS drives and support. Nearly 370 TB of raw storage is available in a 2U all-flash JBOD cabinet.
Aside from installation on physical servers, StorOne storage runs as a virtual machine in VMware ESXi. A two-node VM is rated to deliver 500,000 IOPS. TRU's integrated data protection includes unlimited snapshots.
Dig Deeper on Storage architecture and strategy