chris - Fotolia
Cloudian teams with Seagate, VMware on new storage options
Cloudian's latest partnerships will give customers options to use the object storage in new high-density Seagate appliances and VMware-based cloud environments.
Newly forged Cloudian partnerships will give customers options next month for a high-density Seagate appliance equipped with 16 TB hard disk drives and S3-based object storage in VMware-based cloud infrastructure.
The Cloudian HyperStore Xtreme appliance, powered by Seagate server hardware, will enable users to store more than 1.5 petabytes (PB) of data in a two-node, 4-unit (4U) chassis -- or 18 PB in a full rack -- with Seagate's latest enterprise-class Exos 16 TB HDDs. Target use cases for the HyperStore Xtreme include media archives, healthcare records and video surveillance.
"You'd be amazed how many customers we get where their first order out of the gate [is] for 10, 20, 30 PB of data. That's exactly what we're going after here," said Jon Toor, Cloudian's chief marketing officer.
The highest capacity that Cloudian made available prior to the HyperStore Xtreme model was 840 TB in a 4U chassis. The new chassis holds 96 hot-swappable, 3.5-inch SAS HDDs -- 48 per node -- to store data and four 1.92 solid-state drives for metadata. Each of the two nodes has four 10 Gigabit Ethernet (GbE) ports, with options for 25 GbE and 40 GbE and potentially 100 GbE in the future, according to Toor.
HyperStore Xtreme beta testers include a financial payment processing service provider, technology companies with artificial intelligence and machine learning workloads, and a healthcare firm storing electronic medical records, according to Toor.
The modular HyperStore system is designed to scale to an exabyte of data managed under a single namespace. Cloudian currently has customers that store 100 PB of data, and most start at three boxes, according to Toor. Users can simply add more boxes in modular fashion if they want to expand, since the controllers are built into the new 4U HyperStore Xtreme chassis, Toor said.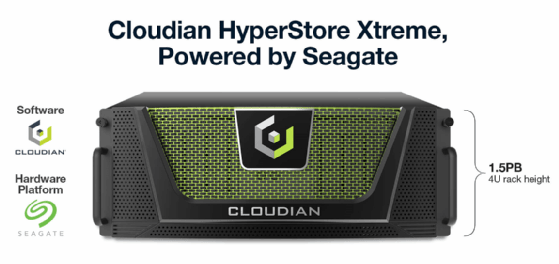 Reducing the cost of storage
"The hardware is impressive, with how much they're able to fit in 4U. But it's also the added innovations the companies are doing to streamline processes to get components out faster and to reduce the overall cost of storage," said Scott Sinclair, a senior analyst at Enterprise Strategy Group. "From a customer's point of view, it should be much more cost-effective."
Cloudian estimated the street price for a 1.5 PB system at $240,000, or 16 cents per GB. Toor said customers often compare Cloudian with public cloud providers in terms of cost. He claimed the price would translate to less than a half cent per gigabyte, per month over an unspecific time frame.
In addition to Seagate, Cloudian has hardware partnerships with Cisco and Lenovo, and Hewlett Packard Enterprise resells its software. But the Seagate partnership represents Cloudian's closest collaboration to date, according to Toor. The two vendors worked for close to a year on design and engineering, and they're co-branding, co-marketing and co-selling HyperStore Xtreme, Toor said.
HyperStore Xtreme is Seagate's first branded application platform for cloud-scale software-defined storage, according to Rags Srinivasan, a senior director of marketing and strategy at the company.
New Cloudian option for VMware Cloud Providers
Cloudian's Seagate partnership follows the vendor's recent efforts with VMware to make its object storage available for cloud providers and enterprises to manage directly through VMware's vCloud Director console. Cloudian worked with VMware for several months to tightly integrate vCloud Director and enable turnkey setup, according to Cloudian CEO Michael Tso. Users can buy Cloudian as a subscription-based service through the VMware Cloud Provider Program.
Target customers for vCloud Director-based Cloudian object storage include the more than 4,300 smaller regional and hyperscale service providers that participate in the VMware Cloud Provider Program across 123 countries, according to Ajay Patel, senior vice president of product development for cloud services at VMware. Patel said VMware's metering shows that providers run more than 10 million virtual machines for an estimated 150,000 end customers. In addition to targeting cloud providers, VMware is starting to offer vCloud Director to IT shops that behave like service providers, such as government agencies, Patel said.
Cloudian will become the default out of the box for providers to "fill a key gap" for S3-compatible object storage in VMware-based clouds they stand up using vCloud Director, according to Patel. He said they could start to offer storage, backup and archive as a service, as well as an object storage for container workloads.
Pricing for VMware's Cloudian object storage option will start at about 1.8 cents per GB per month, dropping to under a penny per GB per month for high levels of usage, according to Cloudian's Toor.
In addition to the Cloudian option, VMware plans to support Amazon Web Services S3-based object storage natively later this year when it offers vCloud Director on its VMware Cloud on AWS service, Patel said.