pixel - Fotolia
Cloudian gets analytical with HyperIQ
Cloudian's new HyperIQ tool aims to provide deeper insight into object storage to help manage installations that can run into petabytes and span locations.
Cloudian introduced new HyperIQ software that can help customers manage and monitor their object storage environments in real time using an interactive dashboard, advanced analytics and predictive maintenance alerts.
Cloudian, based in San Mateo, Calif., already had a single-pane management console for the operational data from its HyperStore object storage, which can span on-premises and public cloud sites. But HyperIQ uses a different interface and aims to provide deeper insight into the object storage and everything connected to it, including the end-to-end infrastructure, applications, services, users and security.
For instance, HyperIQ could let customers filter for a specific data center, node, user or other granular parameters to see how they're using the storage, examine performance and capacity over select time periods, click on specific data points for additional detailed information, and enforce security and compliance policies.
"HyperIQ does more than system-level monitoring and reporting," said Sanjay Jagad, senior director of products and solutions at Cloudian. "It allows you to look at all this information so you can fine-tune your performance and your infrastructure by optimizing the resources required for the services."
HyperIQ could also help customers to identify unusual activity, predict hardware failures and flag maintenance needs. Users can trigger proactive alerts via multiple notification options, including email, Slack, PagerDuty, Opsgenie and Kafka.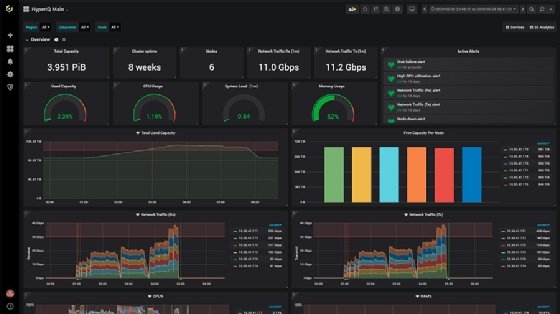 Petabyte-scale deployments
About a third of Cloudian's estimated 500 customers are cloud providers, and the rest are split between traditional enterprise, federal and state government and higher education, according to Jon Toor, the company's chief marketing officer. He said deployments could span multiple global locations and range from three devices to close to 100 nodes.
If you're investing in Cloudian, chances are you have a multi-petabyte environment.

Scott SinclairSenior analyst, Enterprise Strategy Group
"If you're investing in Cloudian, chances are you have a multi-petabyte environment. These massive environments are becoming very difficult to manage," said Scott Sinclair, a senior analyst at Enterprise Strategy Group (ESG). "So, the more intelligence that you can integrate into the box to better understand what's going on, the better off you're going to be, especially when the giant storage infrastructure is spread across multiple geographic locations."
ESG research continues to show pervasive and problematic skill shortages in IT infrastructure management, according to Sinclair. He said the low cost for HyperIQ would make it "almost a no-brainer" for Cloudian customers to use.
HyperIQ Basic and Enterprise options
A free HyperIQ Basic version comes with the HyperStore license and gives customers preconfigured real-time dashboards, application and service monitoring, performance checks of network, disk and system resources, and capacity and usage trends.
The licensed HyperIQ Enterprise edition adds customizable dashboards, user-behavior analytics, predictive maintenance alerts, compliance enforcement options, and enhanced security analysis. Customers can license HyperIQ Enterprise for a monthly fee of $25 per terabyte, or an annual cost of $3,000 per petabyte.
Amita Potnis, a research director in IDC's enterprise infrastructure practice, said other object storage vendors are working on similar features but Cloudian is one of a handful that has a head start. She said the exponential data growth across edge, core and cloud makes the advanced monitoring and management capabilities a "must have" for enterprises.
Randy Kerns, a senior strategist and analyst at Evaluator Group, said he has not seen any other object storage vendors so far make available the level of detailed information that Cloudian's HyperIQ does for administrators. Kerns said the monitoring would give HyperStore users the ability to improve their economics through better storage utilization and increase resiliency with predictive maintenance.
Access from anywhere
HyperIQ is a lightweight application that runs on a virtual machine on a separate server from the object storage, so users can access it from any location. By contrast, the Cloudian Management Console (CMC) runs on the HyperStore box, so administrators need storage system access to use it, according to Jagad.
"We want HyperIQ out of the box because we want it to be the foundation for other predictive analytics that we want to add to it," Jagad said. "It collects a lot of information from across your Cloudian nodes, your network, your usage and puts it in a database that allows us to give this information and trending and also apply newer learnings and knowledge to bring optimization and automation into the operations of the cluster."
Jagad said there initially could be areas of overlap between HyperIQ and the CMC. But he said, over time, the CMC will become more of a system manager, and HyperIQ will be the reporting, monitoring and analytics platform.
Cloudian used open source Prometheus event monitoring and alerting and Grafana analytics and interactive visualization software frameworks for the HyperIQ user interface. He said Cloudian added "smarts underneath" to pull the information from HyperStore APIs, analyze the data, and convert it into the graphics that users see in Prometheus and Grafana.
Cloudian's Smart Support also provides customers with a personalized monthly health check summary they can use to improve operations. Cloudian's support and service team analyzes all of the data collected from customers' clusters through a call-home database to spot trends and provide best practices.