The future of storage administration: 4 key questions answered
What are the best career moves a storage professional can make? Learn about the skills, technologies and strategies to focus on now for the most payback in the future.
Enterprise storage is undergoing massive changes, and those changes include the roles of the storage administrator and related jobs.
Cloud storage is taking over some of what traditional SAN technology does. That, in tandem with the growing role of automation in storage, is making many of the skills associated with traditional storage management obsolete.
However, storage technology is changing in other ways that bode well for the future of the storage administrator. Hyper-converged systems, faster SSD appliances and emerging technologies such as storage class memory, composable infrastructure and computational storage all must be deployed, managed and updated by IT pros with extensive storage knowledge. In addition, anything data-related is in demand.
The data engineer position, requiring big data and analytics skills, is the fastest growing tech occupation, with 50% year-over-year growth, according to the latest Dice Tech Jobs Report. Data science is the sixth fastest growing tech skill, with year-over-year growth of 28%, Dice said. Dice is a career hub that connects employers with IT job seekers.
To get a better feel for the future of the storage administrator career, we asked four data storage experts for their perspectives on where this role is headed and what storage pros can do now to make the most of future opportunities.
1. Which technologies are changing the storage admin job?
Cloud technology and automation capabilities are the driving forces behind the transformations that are affecting the future of the storage administration professional's job. Cloud is the biggest game changer, reducing provisioning time and speeding the ability to scale-up resources, said Stephen Engelhardt, systems architect for St. Charles County Government in St. Charles, Mo.
"Traditional skills -- such as security and firmware updates, SAN device configuration and zoning, performance optimization and data recovery -- are becoming more obsolete in cloud deployments," he said. This isn't just true for storage, but it applies across IT. You can deploy a complete virtual desktop environment in the cloud in a single day versus months to provision new hardware in a traditional data center, Engelhardt noted.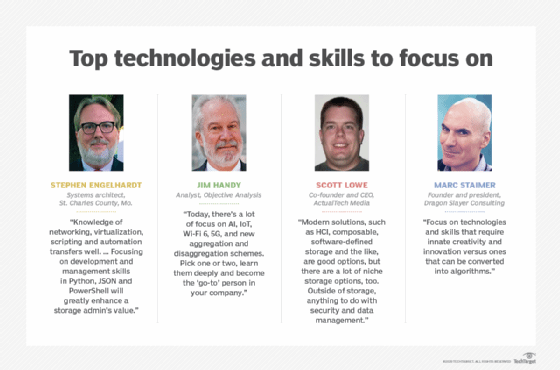 Along with cloud technology, autonomous data management using AI -- machine learning and deep machine learning -- in storage has had a major effect on the storage admin's job, said Marc Staimer, founder and president at Dragon Slayer Consulting.
Automation has turned many parts of the storage administrator's job into more of a "set it and forget it" approach than in the past, said Scott Lowe, co-founder and CEO at ActualTech Media and a former CIO. "Solutions like the AI-driven [Hewlett Packard Enterprise] InfoSight take a lot of the worry away and democratize storage," he said. "[Pure Storage's] Evergreen Storage program has the potential to eliminate routine storage migrations, [while] hyper-converged infrastructure has, for some, made storage an afterthought."
However, new technologies aren't necessarily making the storage admin job any less relevant. Instead, they're "making the job more productive, removing the boring, iterative parts of the job and freeing admins to do more of what they do best," said Jim Handy, analyst at Objective Analysis. "The healthy approach to this is to say: 'Now that 'X' is off my plate, I'm free to do what's really important.'"
2. Are some storage skills transferable to other up-and-coming tech areas?
The work storage pros have done for decades has required deep technical understanding of not just how storage works, but also how other parts of enterprise infrastructure work with storage. As a result, admins bring extensive knowledge and skills to the job, particularly when it comes to process-based issues. "Anyone smart enough to become a storage admin has the chops to do other computing tasks," Handy said.
A technical role in information security could be a natural next step when talking about the future of the storage administrator, Lowe said. "Perhaps not a CISO position, but a role focused on the tools and technical activities that help protect an organization," he said.
It's worth noting that cybersecurity engineer ranks as one of the top 10 tech occupations in the latest Dice Tech Jobs report.
Capitalizing on cloud and big data expertise is also a good idea. Analytical skills in networking and virtualization will transfer well to new roles, Engelhardt said, and for the cloud, billing, managing costs and resource utilization, storage optimization, security and contract management will be important, transferable skills.
3. Is becoming an IT generalist a good step?
Taking a broader approach to IT and becoming a generalist with multidirectional skills is a reasonable way for some storage admins to make themselves more valuable.
Whatever you're doing now will become obsolete. You need to think ahead, and broadening your spectrum helps you to adapt when the inevitable change comes.

Jim HandyAnalyst, Objective Analysis
IT generalists used to be considered less valuable, Lowe noted. However, today, the right breadth of skills can be an asset. "IT architecture was more like an erector set," he said. "You had a bunch of seemingly random pieces, and you had to make something from them. Today, IT is more like a jigsaw puzzle with a predetermined outcome. You have to ensure that all of the individual pieces fit together to show the final picture. A generalist that understands how the pieces work together is invaluable in terms of getting to that final outcome."
Becoming a generalist is a reasonable longer-term strategy, Handy said. "Whatever you're doing now will become obsolete," he said. "You need to think ahead, and broadening your spectrum helps you to adapt when the inevitable change comes."
While becoming an IT generalist offers great opportunities, it's not for everyone, Engelhardt said. Other roles to consider that capitalize on a storage background include data security and forensics; big data analytics, such as Hadoop and Apache Spark; and automation-focused development, he said. And whatever direction a person goes in, he added, focusing on business goals is an important way for storage admins to stay relevant.
4. What types of projects are best to get involved in now?
If broadening job responsibilities isn't possible now, it's important to make the storage-focused work you do today count. Volunteer for projects that will raise your profile and help hone skills that will pay off in the long run. AI, data management beyond storage and cybersecurity are all good options, Staimer said.
Cloud migrations, scripting and automation, and cloud management and optimization are also strong, visible areas worth getting involved in, Engelhardt said. Legacy skills will continue to be in demand, but building new skills, particularly cloud-related ones, will be important for a storage admin's future, he added.
Don't let your current job or job description hold you back, Handy advised. Pick a technology your organization is heading toward and develop an understanding of it that's deeper than that of your peers'. "This is homework," he said, "but the time it takes away from your hobbies and leisure will be more than made up for over the long run."
Dig Deeper on Storage architecture and strategy