Nmedia - Fotolia
Archive as a service: What you need to know
Archive-as-a-service offerings could help simplify what can be a complicated process. Make sure you do the proper research and vetting before undertaking the cloud-based platform.
There is a proliferation of "as a service" products on the market. Archive as a service is one that you should carefully consider.
Archive as a service complements backup as a service (BaaS) offerings and vice versa. It could bring significant value to your organization.
Many vendors, including the major cloud service and BaaS firms, offer the cloud-based archive as a service. Think of archive as a service as BaaS with one important parameter change: duration of storage.
Archived data is not required for daily business requirements, but organizations may need it at some point in the future. Reasons for archiving data include having it available in case of a legal need, such as responding to a subpoena, or a regulatory requirement. Aged data can still be critical in such situations and -- as such -- must be securely stored, perhaps for months or years.
Archive-as-a-service benefits
Before the advent of cloud service providers, magnetic tapes primarily stored archive data in environmentally clean and physically secure facilities, such as those still offered by companies like Iron Mountain. As time progressed, organizations also stored archived data on rotating hard drives, fiber optic storage and solid-state disks. Of great importance to IT managers is the cost for data storage, and the good news is that advances in storage technology -- especially, as provided by cloud-based data archiving companies, as well as collocation-based archiving providers -- have helped reduce the cost for archival storage.
Just as BaaS helps facilitate data backup activities, archive as a service can simplify the process of storing critical data in a secure location where it will be safe for future use. Major cloud storage firms such as AWS and Microsoft Azure offer data backup and archiving services. A cloud service provider ought to have no difficulty archiving the specific data and information safely and securely.
Archive-as-a-service keys, potential pain points
Your organization should establish ground rules in its use of archive as a service for what gets stored, where storage occurs, how data is stored, the duration of storage and special data requirements such as deduplication and formatting. Perform the necessary due diligence to ensure that you can securely transmit your data to the archive location. Also, make sure the archiving provider can encrypt the data in transit and at rest, and ensure the storage location is fully secure and can minimize unauthorized access to archived data.
You must carefully research key parameters -- data transmission media, data security capabilities, data integrity and data protection resources -- for all potential third-party vendors. If you decide to handle your own data archiving, you will probably have the same considerations but will have greater control over them. However, you could spend a lot more of your budget to do your own archiving.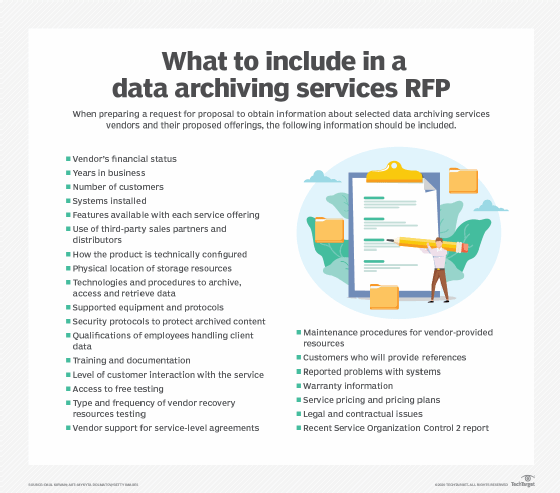 Among the downsides of archive as a service are contract issues, failure to accommodate a service-level agreement, questionable pricing arrangements, disruptions to data storage facilities and even the risk of a rogue employee causing irreparable damage to archived content.
Addressing these issues, and minimizing the likelihood of problems when archiving data, is a matter of performing proper due diligence. This includes establishing archival storage requirements, such as storage duration, storage formatting and accessing archived data. It also includes working closely with vendors to ensure their operations are secure, and their employees have been properly screened and their credentials vetted.
Depending on the amount of data and information to be archived, numerous local and third-party options are available. Research and selection processes should be the same as for typical data backup and recovery activities. Finally, managing archive as a service should have the same level of diligence as data backup and storage activities.