Fotolia
What are 5 backup management best practices?
The task of managing backups can seem overwhelming. These straightforward guidelines should help, as there are procedures and technologies that can make your job easier.
Backup management of growing data sets was already a challenge before the pandemic. Now it's even tougher, with employees working remotely and data traffic coming from many different sources.
As this is yet another way the COVID-19 pandemic is affecting businesses and IT departments in particular, in this article we'll provide five ways that IT administrators can effectively manage backup activities.
As you work on your backup management, be sure to follow the parameters specified in your organization's data backup and recovery policy.
1. Set backup schedules and follow them precisely
Modify schedules as needed to accommodate business-related changes, but try and keep on the schedule. Assuming you are using automated backups, make sure the backup technology generates schedules that administrators can use.
2. Arrange for multiple backup repositories
Backup repositories can be located on site, remotely in a cloud or with a managed data backup service provider. Costs for remote storage resources are competitive, and it behooves your organization to store data, especially mission-critical workloads, in secure locations. If you use a cloud-based platform or a managed service provider, determine if they can back up your data to multiple repositories.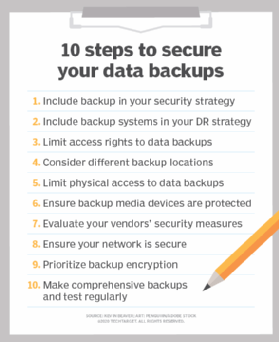 3. Set up automatic backups
Automation ensures that backups are made on time, while providing you with statistics on backup activity. Backup systems will provide data on schedules to help facilitate planning and backup management and will help you modify the schedules based on business requirements.
4. Test data backup and recovery activities
Regular testing of backup and recovery activities will ensure that the technology works, the data is available and can be recovered, and your administrators know their roles and responsibilities if a recovery is needed. Make sure the procedures and scripts used for tests are up to date and revise them based on test results. Document test plans and produce after-action reports.
5. Use technologies to free up storage space
Sufficient space for mission-critical data is essential to backup management, regardless if backups are completed on site or remotely. Depending on business requirements, free up storage space on site with such technology as deduplication, and regularly discuss current and planned storage requirements with external data storage vendors.
While data storage and recovery are fundamental IT activities, the key message here is to be proactive about protecting and securing your resources.
Dig Deeper on Data backup and recovery software
To migrate backup data from the cloud back to an on-premises environment, you should follow these steps to ensure your data will be safe and smoothly... Continue Reading
Storing data in a cloud repository makes good sense and has many benefits. However, any decision to migrate important data to a cloud service brings ... Continue Reading
With security top of mind across IT, consider best practices for safe Google Cloud Storage access. Admins should be careful about assigning roles and... Continue Reading