Definition
Veeam Backup & Replication
Veeam Backup & Replication is a software product developed by Veeam Software to back up, restore and replicate data on virtual machines (VMs). It was first released in 2008 and is part of the Veeam Availability Suite.
Veeam was among the first vendors to develop backup software tailored to VMs. Before Veeam, backup applications failed to recognize the difference between protecting physical and virtual machines.
Veeam Backup & Replication software is compatible with a variety of backup targets and can be used with VMware vSphere and Microsoft Hyper-V. The product works on the virtualization layer and is agentless. According to the vendor, the software has a recovery time objective of less than 15 minutes for all applications and uses built-in WAN acceleration to replicate data off-site up to 50 times faster than a raw data transfer.
Backups are image-based, and can be created from snapshots on Dell EMC, Hewlett Packard Enterprise, NetApp and Nimble Storage arrays.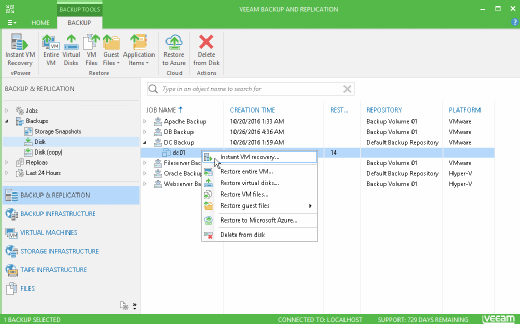 In addition to backing up and recovering VMs, Veeam Backup & Replication can protect and restore individual files and applications for environments such as Exchange and SharePoint. It can also provide transaction-level restores of Oracle and Microsoft SQL databases.
Recent developments
Veeam Backup & Replication 9.5, released in 2016, has numerous features to help with high-speed recoveries, data loss avoidance and verified recoveries. Some of these features include a scale-out backup repository, instant file-level recovery, remote office/branch office support and SureBackup technology that tests VM backups to ensure data recovery. A Veeam Cloud Connect feature provides secure cloud backups, and the software has fully integrated cloud disaster recovery.
The Veeam software is available in free and paid editions: Veeam Backup Free provides a subset of the features and functionality of the Veeam Enterprise Plus paid edition.
In 2016, the ability to protect physical servers was added as Veeam sought to expand from an SMB application to enterprise accounts.
In January 2017, Veeam Software said its move to the enterprise helped generate more than $600 million in bookings in 2016.
This was last updated in
February 2017
Continue Reading About Veeam Backup & Replication