buchachon - Fotolia
Quest QoreStor adds cloud tier, fast tier and a UI makeover
QoreStor's latest update adds many new features, including the unique ability to dedicate a high-speed disk area that can be deduplicated without sacrificing recovery speed.
Quest Software has added a Performance Tier and Cloud Tier to its QoreStor data protection software platform.
The new tiers are part of QoreStor 6. The Performance Tier allows high-speed disk to be used for fast backups and instant recovery without losing its deduplication capability. This means the high-performance tier won't take up any extra storage real estate.
Normally, data on high-performance disks is not deduplicated, because it adds time during a recovery scenario to rehydrate the data. Adrian Moir, lead technology evangelist at Quest Software, based in Aliso Viejo, Calif., said QoreStor has an algorithm that minimizes the amount of time to make deduplicated data useable again.
"Boot-from-backup kind of technology usually doesn't play well with dedupe," Moir said. "But we have a secret sauce, an algorithm, to provide minimum time for rehydration. We will dedupe that high-speed disk, but still get instant restore."
Cloud Tier moves data to and from cloud storage. This feature automatically copies idle data to Microsoft Azure or AWS, replacing local copies with pointers to the cloud, saving on-premises disk space. Deduplicating the data also reduces egress charges.
QoreStor 6 brought some other changes, as well:
an updated user interface;
more granular access controls granting role-based access within QoreStor instances; and
a feature that allows users of the discontinued DR Series appliances to convert them into QoreStor machines.
QoreStor launched in August 2018 as a continuation of the DR Series disk backup appliances, except in software-only form. Quest Software called it software-defined secondary storage, as its core functions are data deduplication and replication, and it can install on any hardware. The QoreStor software is meant to persist across multiple hardware refreshes, removing the need to purchase software alongside new devices.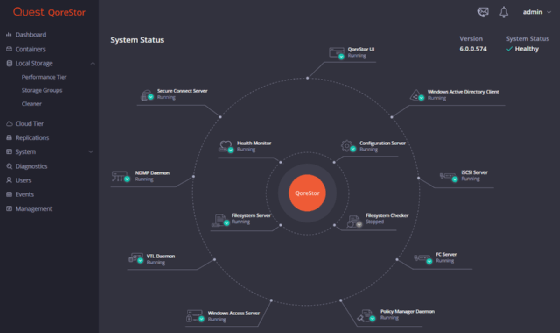 Vinny Choinski, senior lab analyst at Enterprise Strategy Group in Milford, Mass., said software-defined storage -- secondary or otherwise -- gives IT admins flexibility with hardware choices. There are a few drawbacks to using it, though, such as problems with interoperability between the software and any new hardware it's installed on and potential optimization issues. Still, he said he believes these problems are minor.
"In general, the benefits completely outweigh the disadvantages," Choinski said.
Choinski said the biggest advantage of buying software-hardware packages is the vendor can guarantee certain levels of throughput and performance. Buyers who want that peace of mind may want to consider integrated appliances.
The ability to deduplicate the same space that's set aside for instant recovery is unique and powerful, according to Choinski. Aside from the disk space saved, another benefit is it removes the complexity of setting up a staging area that is dedicated nondedupe.
"The less they have to unpack, the better off they'll be in delivering IOPS in a recovery scenario," Choinski said.
Choinski pointed out other vendors have a "virtual edition" of their backup appliance's software, including Dell EMC Data Domain, IBM Spectrum Protect and Veritas NetBackup, that is similar to QoreStor.
"Everybody in the data protection space sees the need for it," Choinski said.
Moir said Quest has found success selling QoreStor through channel partners installing the software on their own boxes to provide secondary storage services to their customers. Quest Software sells exclusively through channel partners, including managed service providers.
Moir said there are already major architectural changes planned for QoreStor 7. While he said Quest Software isn't ready to announce anything yet, he did say the next version of QoreStor will focus on granular control over data management and the movement of data, as well as add an object store component.