scandinaviastock - stock.adobe.c
Quest Software's QoreStor adds direct link to cold cloud
QoreStor 7.0's enhancements include letting customers use object storage in QoreStor's main data repository and support for cold cloud storage tiers such as AWS Glacier.
Quest Software is ready to support cloud-native storage with its latest enhancements to QoreStor.
Quest Software updated its QoreStor software-defined storage, deduplication and replication platform to 7.0 and added object storage capability. Customers can use object storage within QoreStor and tier data off to cold cloud storage in AWS Glacier. Quest will add support for Azure Blob, Google Cloud and Snowflake in a future release. Additionally, QoreStor 7.0 enables S3-compatible clouds to directly connect with QoreStor instances. Combined, these features allow QoreStor's cost-reducing deduplication to work for cloud storage and cloud-native backup.
QoreStor provides deduplication on a software layer that is separate from the underlying storage hardware. It isn't bound to any particular hardware, virtualization platform or cloud, but works with most of them. QoreStor customers can take the data deduplication and replication tool with them across architecture refreshes and overhauls. Chris DeBiase, COO at Quest Software, said object storage is the storage of choice for cloud, and the new QoreStor updates will accommodate a cloud-heavy future.
Quest Software recently combined three of its product categories into a single business unit. Quest Information Systems Management (ISM) consists of Quest Software's database management, data protection and unified endpoint management product categories. QoreStor's update was part of a series of enhancements to products in the new business unit, which included updates to Oracle database replication tool SharePlex and database management software Toad. DeBiase, the acting general manager of ISM, said the goal of the new business unit is to eventually offer a single pane of glass by which admins can monitor, manage and protect data. ISM has combined the marketing and sales across the three product categories, but the product teams are still separate.
"CFOs want to know everything about what's going on and how much it costs. We're just starting to scratch at that," DeBiase said, adding ISM is still in its early stages and won't add any new products immediately.
Outside of QoreStor's updates, SharePlex 10.0 added support for Oracle Database 19c and replication from Oracle to other database management systems, including MySQL and Postgre. Toad for Oracle 14.0 added a secure software development life cycle feature and introduced a subscription model.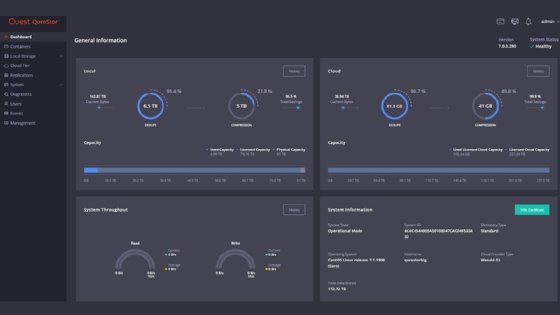 DeBiase said the updates to QoreStor, SharePlex and Toad, as well as the logic behind combining Quest Software's businesses to form ISM, stem from customers moving to the cloud more. He said customers today do their application development, archiving and backup in the cloud, so it made sense for Quest Software's tools to go where the customers are. DeBiase also noted COVID-19 played a large role in this, as it pushed people out of their data centers.
Carl Olofson, a research vice president at IDC who specializes in data management software, described Quest Software as database-centric and the formation of ISM as a logical move. With more customers using the cloud and adopting cloud-based database services, the people responsible for databases have shifted. Olofson said database management vendors are finding themselves selling to systems administrators as well as traditional database administrators.
According to Olofson, organizations are increasingly managing data in a holistic way. Operations for monitoring, moving and protecting data are getting co-mingled, and these previously separate groups are joining into the same purchasing conversation.
"It makes sense to organize your business in a way that lets you address each group in the most effective way," Olofson said.
Olofson said on the database side, Quest Software's products mostly compete with Oracle's native tools, such as SharePlex versus Oracle Active Data Guard, and Toad versus Oracle SQL Developer. DeBiase said data protection is a much more interesting and competitive space for Quest, which runs into cloud-based vendors such as Druva and Metallic, as well as established traditional backup vendors such as Dell EMC and Veritas.
Dig Deeper on Data backup and recovery software