yoshitaka272 - Fotolia
IBM Storage syncs new DS8900F array to z15 mainframe launch
New IBM DS8900F all-flash storage arrays conform to industry-standard rack size, boost performance and enhance security over DS8880 predecessors for mainframe and high-end systems.
IBM Storage launched new faster all-flash, standard-rack-sized DS8900F arrays to coincide with the release of its new z15 mainframe.
The DS8900F models use IBM's latest Power Systems Power 9 processors and an optimized software stack to boost performance over their Power 8-based DS8880 predecessors. IBM claimed users will see lower latency (from 20 microseconds to 18 μs), improved IOPS and twice the bandwidth when using the DS8900F arrays connected to z15 mainframes equipped with zHyperLink I/O adapter cards compared to using the DS8800.
IBM storage customers will note similar performance improvements when they use the DS8900F arrays with z14 mainframes that have zHyperLink cards. Those that use older z13 mainframes without the zHyperLink cards will see response time drop from 120 μs to 90 μs, IBM claims.
IDC research vice president Eric Burgener said IBM mainframe customers who use a FICON host connection and zHyperLink cards could see latency that's lower than what any other storage array in the industry can deliver, outside of host-side storage using persistent memory, such as NetApp's MAX Data.
New IBM storage array is flash only
The prior DS8880 family included all-flash, all-disk and hybrid options mixing disk and solid-state drives (SSDs). But the new DS8900F array that IBM plans to ship next month will use only flash-based SSDs. The maximum capacities are 5.9 PB for the DS8950F model and 2.9 PB for the DS8910F when configured with 15.36 TB flash drives.
Another difference between the DS8900F and its DS8880 predecessor is availability. The DS8900F offers seven 9s (99.99999% availability) compared to DS8880's six 9s (99.9999% availability). Eric Herzog, CMO and vice president of storage channels at IBM, said seven 9s would translate to 3.1 seconds of statistical downtime with round-the-clock operation over the course of a year.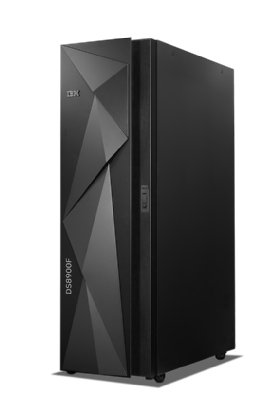 "From five-plus minutes to less than four seconds doesn't sound like much on an annual basis, but it really is," said David Hill, founder and principal analyst at Mesabi Group. "It greatly decreases the chances that a system will ever go down in a year, and that is not a bad thing."
Although the availability boost may be important for some customers, IBM partner Truenorth has found that six 9s is more than enough for its clients' needs, according to Truenorth software principal Tomas Perez.
Perez said a more important new feature is the industry-standard rack size that will make the DS8910F homogeneous with other equipment. That should be helpful as Puerto Rico-based Truenorth puts together disaster recovery (DR) systems for its customers. Truenorth's clients, including Puerto Rico's treasury department, have focused on DR in the wake of Hurricane Maria.
The new DS8900F arrays conform to industry-standard rack dimensions of 19 inches wide, 36 inches deep and 42 inches tall. Most IBM DS8880 models have a standard width of 19 inches but non-standard depth, at 54 inches, and height, at 40 inches, with expansion options to 46. In 2018, IBM added a standard-sized DS8882F model to fit into new standard-sized z14 Model ZR1 and LinuxOne Rockhopper II mainframe models released in 2018.
IBM storage security enhancements
With the latest systems, IBM is adding the ability to encrypt data in flight between the new z15 mainframe and the DS8900F array. IBM supported only data-at-rest encryption in prior models.
Herzog said the hardware-based data encryption would not affect performance because the system uses an encryption coprocessor. Prior models use the main CPU for hardware-based encryption, so there could be a performance impact depending on the configuration or workload, Herzog said.
Endpoint security is another new capability that IBM is adding with its Z, LinuxOne and DS8900F systems. Herzog described the new functionality as a "custom handshake" to ensure that the array and the Z system know they're talking to each other, rather than any spoofed system.
The DS8900F will also support previously available IBM capabilities. Safeguarded Copy enables up to 500 immutable, point-in-time snapshots of data for protection against malware and ransomware attacks. IBM Storage Insights' predictive analytics assists with capacity and performance management. And IBM's Transparent Cloud Tiering supports protecting and archiving encrypted block-based data to S3-based object storage, from providers such as AWS and IBM Cloud, without a separate gateway.
Besides supporting IBM Z mainframes, the DS8900F also works with non-mainframes such as Unix-, Linux-, Windows- and VMware-based systems. The new z15 mainframe is due to become generally available next week, and the DS8200F storage array will follow in October. The starting price is $134,000 for the DS8910F and $196,000 for the DS8950F, according to IBM.
IDC's Burgener said IBM's DS competitors, Dell EMC and Hitachi Vantara, generally support distributed systems before adding support for mainframes six to 12 months later. He said IBM's DS arrays, by contrast, always support mainframes on day one. IBM owns 40% to 50% of the mainframe-attached storage market, Burgener said.
"We should see a noticeable bump in IBM's overall storage revenues over the next 12 months as their customers go through refresh cycles, and that bump may be a bit higher, if for no other reason than the fact that they are including these new arrays on every new mainframe quote," Burgener said.