ra2 studio - Fotolia
Dell EMC Isilon tackles high-performance cloud workloads
Dell EMC Isilon release clarifies the vendor's cloud direction. OneFS 8.2 supports files up to 16 TB and Kubernetes deployments for extracting data for real-time analytics.
Dell EMC is the latest vendor to fortify its NAS systems to keep pace with managing file storage in public clouds.
The Dell EMC Isilon OneFS file system update dovetails with growing adoption of flash for scale-out file and unstructured data. Combined with Dell EMC Cloud Storage Services, OneFS 8.2.2 places Isilon storage adjacent to compute-intensive workloads for bursting in Microsoft Azure.
OneFS 8.2 supports file sizes up to 16 TB, a fourfold increase over prior versions and integrates native Kubernetes support via a Container Storage Interface plugin. The Kubernetes support allows data sciences teams using Isilon to pull data from larger files and run analytics in containers with persistent storage.
Isilon is now available as part of Dell EMC Cloud Storage Services (CSS), a consumption-based pricing model that also includes Dell EMC Unity and PowerMax block arrays. Dell CSS lets customers connect to and manage Dell EMC arrays as cloud services.
File storage in the cloud
The latest Dell EMC Isilon release is the vendor's effort to more closely tie its storage hardware to cloud services. File specialist NetApp -- one of Dell EMC's chief rivals -- offers its technologies as an integrated Data Fabric for moving local data to multiple clouds. All-flash vendor Pure Storage last year acquired file services vendor Compuverde to its FlashArray block storage.
Other NAS vendors are fitting cloud connectors on their NAS devices. These include Quantum Corp.'s F-Series and Qumulo Core, which is available as software-only, on proprietary devices or packaged on Hewlett Packard Enterprise OEM servers.
Running file storage in the cloud is challenging but necessary for a growing number of enterprises due in part to the rise of unstructured data created outside the main data center, said Amita Potnis, a research director in IDC's infrastructure systems, platforms and technologies group.
"A big trend we are seeing, especially in media and entertainment companies and hyperscalers, is how much data gets created at the edge, how much of it needs to be stored and how much is transferred back on-prem. The amount that is pushed back is definitely a smaller proportion to the data that's being created," Potnis said.
Concurrent with that trend, Potnis said, is a gradual shift of NAS systems to support NVMe flash, including NetApp FAS and Qumulo P-Series devices. Dell EMC Isilon F800 and F810 arrays support SAS SSDs, but NVMe remains a roadmap item.
Isilon and Azure
Although Dell EMC Isilon supports the three major public cloud providers, the latest features revolve around Microsoft Azure Stack APIs. Dell Isilon NAS customers include companies in media and entertainment, energy financial services and healthcare. Kaushik Ghosh, a Dell EMC director of storage product management, said Dell developed a low-latency connection in conjunction with Microsoft specifically to handle dense unstructured data sets running in Azure.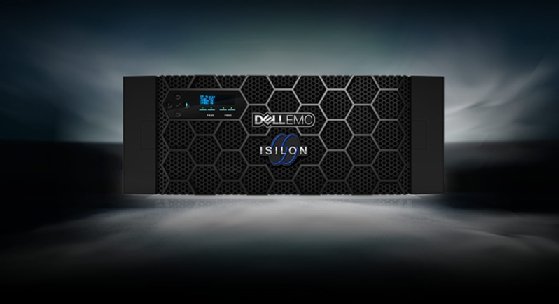 Dell EMC Isilon customers can connect to regional Microsoft data centers in Santa Clara, Calif.; Portland, Ore.; Reston, Va.; and one in London.
"The advantage is you don't have to pay an [Azure] egress fee. You can spin up servers in the cloud for as long as you need it, whereas before you would have needed to have several hundred servers," Ghosh said.
Dell EMC Cloud Storage Services allows customers to purchase storage as a utility or service without buying physical equipment on site. Dell EMC manages the racks of hardware in its data centers or in colocation facilities. The Dell cloud services mirror similar offerings by NetApp, Pure Storage, IBM and other competing storage vendors.