Petya Petrova - Fotolia
MinIO brings high-performance object storage to VMware Tanzu
MinIO brings software-defined, cloud-native object storage to VMware Cloud Foundation with Tanzu through the newly launched vSAN Data Persistence platform.
MinIO hopped on the VMware train and claimed it's the end of the line for storage appliances.
VMware launched vSAN Data Persistence platform earlier this week, which provides a way for stateful storage applications to run on VMware Cloud Foundation with Tanzu optimally. The platform connects Kubernetes operators from VMware partners with VMware vSphere.
MinIO was one of the launch partners for this new platform, providing high-performance object storage that is open source and S3-compatible. Other launch partners included competing object storage vendor Cloudian, Dell EMC ObjectScale and DataStax.
MinIO's integration with vSAN Data Persistence platform gives it direct access to the underlying storage through a technology called vSAN Direct. This allows IT administrators to create object storage clusters directly from the vCenter interface.
Abstracting the underlying storage benefits developers by allowing them to provision storage in a self-service manner, leading to faster development, according to Anand Babu Periasamy, CEO of MinIO.
Periasamy added that in the cloud, object storage is the storage of choice for all data, including primary data. The myth of object storage only being used for secondary data has long been dispelled and came from a mindset stuck in traditional, on-premises storage. Cloud users want portability, he said, and S3 has become the de facto standard for object storage. He also said MinIO's integration with VMware can achieve read speeds of 183 GB per second and write speeds of 171 GBps.
There was already a trend of customers moving to the cloud, and COVID-19 accelerated it. Abstracting storage and containerizing it means less interaction and dependence between applications and the underlying storage. This is the way the technology is headed, he said -- a world where most storage will be software-defined.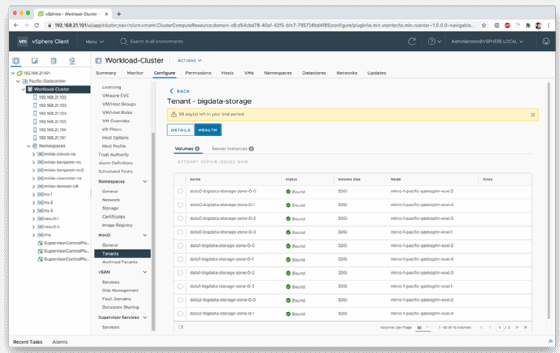 The MinIO software is available in vCenter's interface as a plug-in. Customers can get a 60-day trial of MinIO before purchasing it, which will be through MinIO Subscription Network. Support and licensing management is done through MinIO Subscription Network and not through VMware. MinIO costs $10 per TB, per month for a Standard subscription and $20 per TB, per month for an Enterprise subscription, which offers an SLA of less than an hour and better support. MinIO is also available as open source for free through its public Slack channel and GitHub.
MinIO's integration with VMware reflects growing Kubernetes adoption in the enterprise, said Enrico Signoretti, senior data storage analyst at GigaOm, a technology research and analysis company. Kubernetes is still a very small part of companies' infrastructure. Nearly every enterprise is exploring Kubernetes, Signoretti said, but very few of them use Kubernetes in production. This is poised to change, and vendors such as VMware are positioning themselves to ride that growth wave. He mentioned that data protection vendors such as Cohesity, Trilio and Veeam (through a partnership with Kasten) have rolled out Kubernetes backup for the same reason.
"Now is the time because things are more mature. We are moving from the enthusiasm phase to the application phase with Kubernetes," Signoretti said.
Object storage plays an important role in this because it's the best type of storage for developers, according to Signoretti. It's simple and portable, and through Kubernetes, the storage becomes part of the application and not part of the infrastructure. Signoretti added that he wasn't surprised MinIO is a launch partner for VMware's persistence platform for Kubernetes, since MinIO started with Kubernetes. That's what makes it stand out from the other object storage launch partners that started with on-premises object storage and may not be optimized for Kubernetes to the same extent as MinIO, he said.
However, Signoretti was quick to point out that MinIO isn't objectively better than Cloudian or DataStax for the VMware use case. He didn't argue with MinIO's claim of being the fastest object storage server and said it's perfect for customers who are looking for that level of performance. Cloudian, on the other hand, is useful for customers that have capacity-intensive workloads and need to scale out their object storage to exabytes. By launching vSAN Data Persistence platform with multiple partners, VMware is able to capture both needs.
"MinIO gives performance, Cloudian is good for high-capacity. From a VMware perspective, they cover both ends of the spectrum," Signoretti said.