HerrBullermann - Fotolia
Adoption of Intel Optane persistent memory picks up in 2020
Intel provides an update on adoption trends for its Optane persistent memory modules, showing that SAP HANA, virtualization and high-performance computing are top use cases.
The use of Optane persistent memory is starting to pick up -- although not in all the places Intel originally thought it would.
For instance, Intel expected cloud service providers would use its Optane persistent memory (PMem) for IaaS purposes. Instead, the providers more commonly utilize the technology internally to enable real-time video or shopping recommendations, according to Kristie Mann, the company's senior director of Optane persistent memory products.
"What we've learned in the year or so that we've been in the market is that it doesn't work for every single workload," Mann said.
Intel began shipping Optane PMem DIMMs in 2019 -- then called Optane DC persistent memory -- about two years after making available Optane SSDs. The Optane memory products use 3D XPoint technology that Intel co-developed with Micron Technology to fill the performance gap between DRAM and NAND flash.
Most popular Optane memory workloads
The workloads for which Intel has seen the greatest number of Optane PMem proofs of concept (PoCs) and production deployments are SAP HANA (23%), virtualized infrastructure (22%), high-performance computing (18%), and AI and analytics (13%), according to Mann. She said Intel defines high-performance computing (HPC) broadly to include visualization, animation, simulation and financial services, such as credit card fraud detection and real-time trading, in addition to the classic supercomputing workloads that most people associate with HPC.
The remaining 24% of the Optane PMem workloads include database applications. One prominent example is the Oracle Exadata X8M appliance designed to accelerate the performance of the company's databases. Oracle had to adapt the Exadata software to use Optane PMem in App Direct Mode to store data.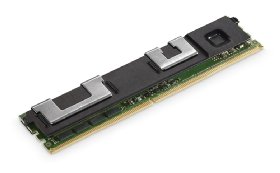 Optane PMem offers two modes of operation: App Direct and Memory. In App Direct Mode, the applications can access Optane as a tier of non-volatile persistent memory to store data permanently and DRAM as a tier of volatile memory for the hottest data. In Memory Mode, the applications see the DRAM and Optane PMem as a single pool of volatile memory, with the DRAM caching the most frequently accessed data and the Optane expanding the memory capacity.
"Memory Mode is great if you want large capacity and you don't want to optimize your system," Mann said. "But you don't get the benefits of the persistence and the maximum usage of the technology so that the data is intelligently placed."
Mann said Intel is convinced that App Direct will, ultimately, be the most popular mode for Optane PMem, "but it takes years for the whole industry to start programming for this new tier of memory that didn't exist two years ago."
Optane memory PoC stats
Intel currently has 582 PoCs in the Optane PMem pipeline, compared with 308 PoCs at the same time last year, according to Mann. She estimated that 60% use Optane PMem in Memory Mode and 40% modify their systems to use it in App Direct Mode. Intel's efforts to jumpstart the optimization work needed to use Optane PMem App Direct Mode include partnerships for SAP HANA and internet service providers, Mann said.
MemVerge stands as an example of a startup that built a business model around persistent memory without assistance from Intel. MemVerge's recently released Memory Machine software virtualizes DRAM and persistent memory into a single pool and provides data services such as replication, snapshots and storage tiering. The product can enable customers to use Optane PMem in App Direct Mode without changing their applications.
Some early Optane memory adopters start with a test case in Memory Mode and then consider potential additional workloads where the Optane PMem might be a good fit. For instance, Munich-based Gportal tested Optane in Memory Mode on servers that it rents out to host online video games. Gportal had to pack its servers with expensive DRAM to deliver the performance that CPU- and memory-intensive games such as Minecraft require.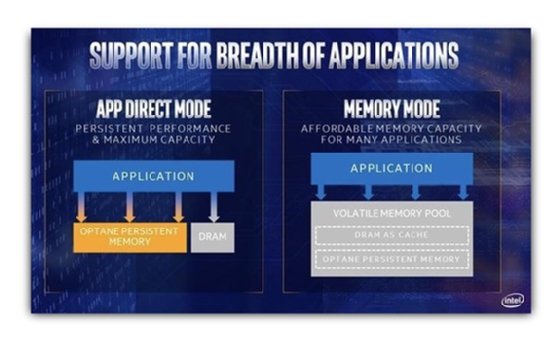 Optane DIMMs enabled Gportal to double the memory capacity to 1 TB for roughly the same price that it paid for 512 GB of DRAM, with no discernible performance difference to its demanding gaming customers, according to CEO Roberto Omezzolli. The test case went so well that Omezzolli is now considering using Optane PMem in App Direct Mode to accelerate Gportal's MariaDB database servers once a stable driver becomes available.
Optane revenue remains murky
Mann estimated that 85% of the organizations that test Optane PMem convert to actual deployments, but it's hard to get an accurate gauge of how many early adopters use the memory technology in production. Intel doesn't break out its Optane memory revenue, which spans more than one business unit, because the technology is available for client, data center and edge use.
Intel provided a glimpse of a portion of the revenue for its Optane SSDs last week when it announced the sale of its NAND flash memory business to SK Hynix. NAND businesses represented $2.8 billion of the revenue for Intel's Non-Volatile Memory Solutions Group (NSG) for the six months ending on June 27, 2020, and Optane accounted for the remaining $200 million. But Optane revenue is also captured in Intel's data center group, and Intel declined to specify the amount. Intel's PMem revenue is not reported in the NSG business unit.
Jeff Janukowicz, a research vice president at IDC, said the market is still small for Optane memory. He expects revenue for storage class memory, which most prominently includes Optane persistent memory and SSDs, will exceed $200 million this year and shipments will increase by more than 100% compared with 2019.
Dig Deeper on Flash memory and storage