Video game hosting company uses Optane memory to cut costs
Intel's Optane persistent memory modules enable a global online game hosting provider to expand memory and lower costs over DRAM with negligible performance difference.
The decision to use Intel Optane memory was an easy one for Gportal CEO Roberto Omezzolli.
Munich-based Gportal, a subsidiary of Ociris GmbH, rents out servers for customers to play video games online with friends. The company offers more than 100 games and owns 6,800 servers that run globally in 12 data centers, including three colocation facilities in the United States and others in Canada, Brazil, Germany, the United Kingdom, Russia, Japan, Taiwan and Australia.
Gportal had to pack those servers with DRAM modules to deliver the performance that gaming customers demand with its most popular games, such as Minecraft, Ark: Survival Evolved, and Conan Exiles. But DRAM had two strikes against it in Omezzolli's eyes: high cost and limited capacity.
New Optane modules that use the 3D XPoint memory Intel co-developed with Micron offered an interesting alternative for Omezzolli, because they could boost capacity at a fraction of the cost. Gportal tested the Optane memory modules last November and deployed them in production by year's end.
Price of Optane memory vs. DRAM
Omezzolli said his company now pays roughly the same price for 1 TB of Optane memory that it would pay for 512 GB of DRAM. Plus, Gportal can host 450 gamers on each Optane-equipped server, compared to only 160 with the older DRAM-based configuration, he said.
"The CPU has never been the bottleneck," Omezzolli said. "The bottleneck has always been the memory. So with the double amount of memory, we can have way more customers on the same bare-metal system as before. This, of course, reduces the costs overall for the same amount of customers."
Another critical part of the equation for Gportal was performance. Omezzolli said Intel told him the performance would be about 10% less than DRAM, yet he saw no discernible difference. He said he received no complaints from customers, so he saw no need to test the speed of Optane versus DRAM.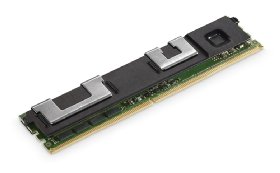 Needed to buy new servers
Gportal had to purchase new Dell EMC servers with Intel's second-generation Xeon Scalable processors to run the Optane persistent memory (PMem) modules, also known as dual in-line memory modules (DIMMs). The company uses a mix of different Dell EMC PowerEdge servers and Xeon processors, because not all games have the same CPU requirements.
Gportal also has less than 200 servers with AMD processors, but that hardware can't run the Optane DIMMs, which are supported only on the latest Intel Xeon processors. Omezzolli said the AMD-based servers also lack the frequency per CPU core that performance-hungry games require.
Minecraft, the most popular game that Gportal hosts, runs on Linux and has especially high CPU and memory needs. It uses Intel's Xeon Platinum 8268 processors with a dozen 128 TB Optane DIMMs on Dell PowerEdge R640 servers. But Omezzolli said Gportal currently uses Optane DIMMs with fewer than five games at this point.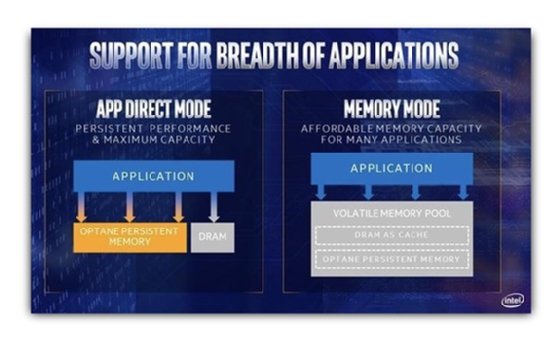 Memory and App Direct Mode
Intel gives customers the option to configure Optane PMem modules in Memory Mode or App Direct Mode. Memory Mode enables applications to access the Optane DIMMs only as volatile system memory, so the modules do not retain data when the server's power is off. But Omezzolli said it's convenient to use and requires no changes to applications. The Optane boosts the memory capacity, while the DRAM serves as a cache for the most frequently accessed data.
In App Direct Mode, applications have access to Optane as a tier of non-volatile persistent memory that can store data permanently and to DRAM as a tier of volatile memory. But the applications, operating system or virtualization environment require modification to recognize the persistent memory.
Gportal currently uses Optane DIMMs in Memory Mode with some games and in "dual mode" with others. Dual mode combines volatile memory and non-volatile storage and enables Gportal to save files so gamers don't lose their progress during maintenance windows.
Based on Gportal's early experiences with Optane PMem, Omezzolli plans to consider using the technology in App Direct Mode with his back-end infrastructure, once a stable driver is available for the company's open source MariaDB database servers.
"Persistent memory means any outage will not impact the integrity of the database," Omezzolli reasoned, "and it can run fully in memory, so the speed would be better."