Definition
colocation (colo)
A colocation facility, or colo, is a data center facility in which a business can rent space for servers and other computing hardware.
Typically, a colo provides the building, cooling, power, bandwidth and physical security, while the customer provides servers and storage. Space in the facility is often leased by the rack, cabinet, cage or room. Many colos have extended their offerings to include managed services that support their customers' business initiatives.
There are several reasons a business might choose a colo over building its own data center, but one of the main drivers is the Capex (capital expenditure) associated with building, maintaining and updating a large computing facility. In the past, colos were often used by private enterprises for disaster recovery (DR). Today, colos are especially popular with cloud service providers.
For some organizations, colocation might be an ideal solution, but there can be downsides to this approach. Distance can translate into increased travel costs when equipment must be manually handled and colo customers can find themselves locked into long-term contracts, which might prevent them from renegotiating rates when prices fall. It's important for an organization to closely examine their colo's service-level agreements (SLAs) so as not to be surprised by hidden charges.
Colocation features
Every colocation provider has its own way of doing things, so features tend to vary from one colocation hosting company to the next. Even so, there are features that are relatively common among colocation providers. Some of the features that colocation data centers commonly provide include:
Physical security
Physical durability
Guaranteed reliability
Cross connectivity
Redundant internet connectivity
Redundant power
Compliance with various regulations
On-site technical support
Advantages of colocation
Businesses can capitalize on several benefits by taking advantage of colocation services. Some of these benefits include:
Leasing space in a colocation facility is less expensive than building or expanding a data center.
Colocation facilities allow tenants to use server and storage hardware of their own choosing.
A colocation data center adheres to strict physical security protocols and might also offer protection against cyberattacks.
Colocation facilities almost always provide on-site technical support services.
Additional data center space is usually available if you need it, which means that a colocation data center can accommodate growth.
Building and facilities
Just as there are differences between office buildings, there are also differences between data centers. Some of these differences are related to the way that the data center was constructed, while others have more to do with the data center's operational efficiency.
Typically, a colocation data center will provide its tenants with an SLA guaranteeing a specific amount of availability. Although a data center might simply guarantee a specific amount of uptime -- such as five nines of uptime -- data center uptime is more commonly expressed in terms of these four tiers:
Tier 1. Nonredundant power, cooling and network connectivity
Tier 2. At least some redundancy for power and cooling
Tier 3. Able to withstand a 72-hour power outage
Tier 4. Able to withstand a 96-hour power outage
Data centers commonly express their efficiency through a score known as their power usage effectiveness (PUE). This score reflects how efficiently the data center uses power. Those data centers with a good PUE score are friendlier to the environment and, generally, charge their tenants lower rates for power consumption.
As previously noted, it's also important to consider how a data center was constructed. Every location in the world is susceptible to at least one type of natural disaster, so it's necessary to make sure that a colocation provider's data center was constructed in a way that will help it to survive such a disaster. Data centers in hurricane-prone areas, for example, are often rated to withstand 150 mph winds.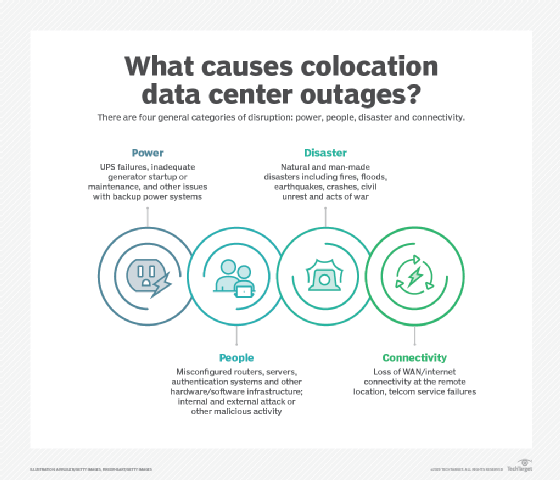 Security
Just as security is of paramount importance to cloud providers, good security is also essential to colocation providers. Colocation providers go to great lengths to ensure the physical security of their data centers.
Some colocation providers erect fences in the data center as a way of isolating their tenant's hardware. Each fence has a locking gate so that tenants are only able to access their own data center hardware.
Security also tends to be implemented in such a way as to require tenants to pass through multiple security checkpoints prior to being able to access data center hardware.
Some colocation providers, however, don't allow their tenants physical access the facility. All hardware maintenance and installation is performed by data center staff through a process known as remote hands.
Pricing
Each colocation provider has its own pricing model. Some, for instance, bill their tenants based on the amount of rack space that they consume. Other providers lease data center floor space by the square foot. The pricing model isn't the only factor that determines the overall cost of leasing space in a colocation facility. Some of the other factors that can influence the total cost include:
Bandwidth usage
Power consumption
Geographic location
Technical support incidents
A support contract
A required power distribution unit
Colocation vs. public cloud
There are major differences between a colocation data center and a public cloud provider, even though both enable businesses to run workloads in a remote data center.
Colocation centers provide businesses with physical data center space. These facilities provide power, cooling and network connectivity, but it's up to the tenants to provide their own hardware such as servers, storage and supporting infrastructure.
Cloud providers, on the other hand, use their own hardware. Tenants run workloads on the cloud provider's hardware, which is in a cloud data center. The cloud provider then bills the tenant for the compute, storage, network and other resources that their workloads have consumed.
Public clouds are the preferred option for organizations that want consumption-based pricing and that would prefer not to have to purchase or maintain server hardware. Colocation facilities are geared toward organizations that want to run workloads on their own hardware but in a remote data center.
Colocation vendors
There are numerous colocation vendors, both in the United States and around the world. Some of these vendors are small boutique vendors that operate only one or two data centers. Others are massive, multinational providers with dozens -- or even hundreds -- of data centers and tens of millions of square feet of leasable data center space.
Five of the largest and most well-known colocation vendors are:
CoreSite
Cyxtera Technologies Inc.
Digital Realty Trust
Equinix Inc.
NTT Ltd.
This was last updated in
December 2020
Continue Reading About colocation (colo)
Dig Deeper on Data center ops, monitoring and management