Kit Wai Chan - Fotolia
Gen 2 Intel Optane memory modules claim bandwidth boost
Designed for use with Intel's new Cooper Lake Xeon Scalable processors, the next version of Optane memory modules is expected to ship in servers in late 2020.
Intel claims its newly launched second-generation Optane persistent memory modules provide a 25% bandwidth boost, on average, over the first generation for high-performance workloads such as in-memory databases, analytics and virtual machines.
The Optane persistent memory (PMem) 200 series modules are designed for use with third-generation Xeon Scalable processors -- code-named "Cooper Lake" -- that Intel introduced last week. Intel said the new Xeon Scalable processors and PMem 200 series modules are shipping and should become available in servers in the second half of the year.
Optane PMem modules use 3D XPoint non-volatile memory that Intel developed with Micron to fill the performance gap between cheaper NAND flash and more costly DRAM. Intel launched Optane SSDs in 2017 and followed up with first-generation persistent memory modules last year.
For Intel customers, the main advantage of using Optane PMem modules is the ability to expand the memory capacity per server socket at a lower cost. For instance, six 512-GB Optane PMem modules can combine with six 256-GB DDR4 synchronous DRAM dual in-line memory modules (DIMMs) to provide up to 4.5 TB of memory per CPU, or socket, or 18 TB in a four-socket system.
Jim Handy, general director and semiconductor analyst at Objective Analysis, said Intel sells the 512 GB Optane PMem module for about the same price as the highest capacity 256 GB DRAM DIMM from Samsung. Users can save money by using Optane in one DIMM slot and faster DRAM in the other, Handy said.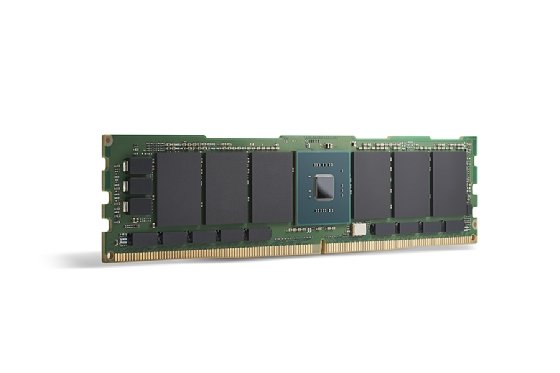 Memory vs. App Direct Mode
Customers have the option to run Optane PMem modules in Memory Mode or App Direct Mode. Memory Mode requires no changes to the host application, but the Optane module is accessible only as volatile system memory, and data would not be retained when the power is off.
App Direct Mode gives users access to two tiers of memory -- non-volatile Optane for persistent storage and volatile DRAM. But App Direct Mode requires modifications or optimizations to the applications that use the Optane PMem.
"There are not many programs that use App Direct Mode, but those programs that do -- especially at hyperscale data centers that design their own custom software -- will use App Direct Mode right away," Handy said. "Intel's working hard with major database companies to get application software developed to use App Direct Mode, but today, the easy way for anybody to use [Optane PMem] is to use it in Memory Mode."
Optane PMem modules can be useful in Memory Mode. Handy cited the example of virtualization customers that can reduce the number of servers they deploy, because the number of virtual clients a system can run is proportional to the size of the memory they use.
"I expect Memory Mode to be popular at the outset, just because software doesn't exist for [App Direct Mode]," Handy said. "Over time, software will be rewritten to take advantage of App Direct Mode, and eventually App Direct Mode should be the more popular of the two. But it's probably going to take 10 years before App Direct Mode is used in more systems than Memory Mode."
Useful with SAP HANA
Juan Orlandini, chief architect for the cloud and data center transformation division at IT consultancy Insight Enterprises, said in-memory databases such as SAP HANA are becoming more important and more common, but 4.5 TB of DRAM can be cost prohibitive. He said Optane PMem modules give users a huge amount of RAM space at a fraction of the cost.
"They're not as performant as RAM, but their performance is more than enough to meet the needs of the database, especially if it's architected properly," said Orlandini, who serves on Intel's solution advisory board. "For in-memory databases, it's awesome."
Orlandini said Optane is more expensive than NVMe-based NAND flash storage, but its lower latency and higher throughput will more than offset the dollar-per-capacity cost for I/O-bound workloads.
Lower power consumption
Intel attributed the PMem 200 series' performance increase to improvements in the module's memory controller and manufacturing optimizations. The new Optane memory modules are available at capacities of 128 GB, 256 GB and 512 GB and thermal design power of 12 W to 15 W. The first-generation Intel Optane PMem modules that Intel launched in 2019 offered the same capacity, but the power level options were 12 W to 18 W, at 0.25-W increments.
An Intel spokesperson said the change from the 18 W upper limit to 15 W would reduce overall system power consumption for customers. A fully populated four-socket system has 24 modules, so the power savings per module can add up, especially at the rack level, the Intel spokesperson said.
Intel's data sheet for the Optane PMem 200 series shows the maximum read bandwidth at 8.1 GB per second with a 256 GB module using 15 W of power. The prior PMem 100 series achieved a comparable maximum bandwidth, at 8.3 GB per second, only at 18 W of power with the 256 GB module. Intel product briefs show the older PMem 100 series testing out at 6.8 GB/s at 15 W of power.
Intel currently supports second-generation Optane PMem with Xeon Scalable "Cooper Lake" processors in four- and eight-socket systems. Support will follow in the fourth quarter with third-generation Xeon Scalable "Ice Lake" processors in one- and two-socket scenarios.
Intel's Select Solutions portfolio of pre-verified options to speed up IT deployments added new options for VMware Horizon VDI on vSAN, Nutanix HCI and Transwarp Argo DB. Intel also enhanced the Select offerings for SAP HANA, Microsoft SQL Server, media analytics and genomics analytics.
Dig Deeper on Flash memory and storage