Getty Images/iStockphoto
PeerIQ peers into NAS software across vendors, clouds
NAS storage analytics can be viewed in a single place with Peer Software's PeerIQ, bringing different vendors and on-premises and cloud storage analytics together.
Peer Software has a new service that provides observability data from across storage vendors and environments in a single view, helping customers better see infrastructure anomalies and check on the health of storage data.
PeerIQ lets users send information to a self-hosted, virtual appliance for analysis. Founded in 1993, Peer Software made a name for itself with its distributed file service, PeerGFS, which can reach across heterogenous file systems on premises and in the cloud. Using the same model PeerGFS is built on, including API integrations, PeerIQ is available now with PeerGFS or as a standalone service.
The new service works with partner NAS devices to provide storage observability and analytics rather than the single-vendor features provided by individual companies, according to Jimmy Tam, CEO of Peer Software.
"We are able to create a heterogeneous, hybrid or multi-cloud storage observability, monitoring and analytics offering using the framework we've built," Tam said.
One place to view all storage
There aren't many offerings that look across the storage vendor landscape, according to Dave Raffo, an analyst at Futurum Group. PeerGFS is a file service that brought management across different vendors file systems and now PeerIQ brings observability, monitoring and analytics, as opposed to an offering for each type.
"The problem [with cross platform analysis] is that the big [storage] vendors … are just going to support their own products," Raffo said.
To use PeerIQ, customers would install software agents on NAS devices that feed information back to PeerIQ's virtual appliance, Raffo said. These agents can only be installed on NAS devices from Peer's partners: Dell, NetApp, Nutanix, Windows and the three major public cloud vendors.
Instead of going to separate GUIs for each system, storage admins using PeerIQ need to only check one place, according to the company. PeerIQ receives the information about the files systems and creates a snapshot, report or title based on the data. From here, customers can monitor the health of storage data, the performance of storage systems and anomalies in how storage infrastructure is operating.
While anomalies are sometimes thought of as security issues, that isn't always the case, according to Brent Ellis, an analyst at Forrester Research.
"[PeerIQ] is not quite at the point of being security detection but storage analytics and anomalies," Ellis said.
Instead, PeerIQ is keeping tabs on parameters such as latency threshold, he said. Customers using PeerIQ and PeerGFS are alerted to the issue and programmatically migrate it to a proper tier.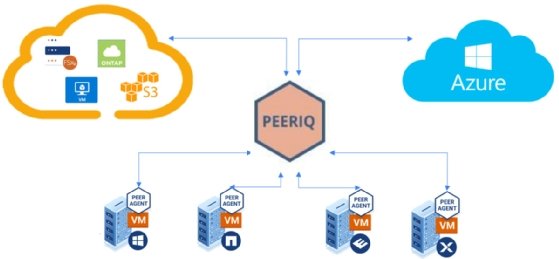 Observing heterogeneous storage
There are several areas where PeerIQ brings benefits and others where it can improve.
Observability of heterogenous storage environments may be more beneficial after an acquisition, Raffo said. The acquired company can have a different NAS platform, and Peer Software's virtual appliance can now monitor both together, he said.
While it is not unheard of to have multiple storage vendors in one data center, the integration of different systems of a similar type, such as NAS, is less common, Ellis said.
"Organizations tend to organize their storage with the workloads [that storage] supports," he said.
If companies are working with different types of storage workloads, file and block for example, an organization may choose one vendor for file and another for block depending on workload needs, Ellis said.
Another benefit is for hybrid cloud storage, where PeerIQ can run storage analytics in the cloud and on premises, Ellis said.
"That could be very valuable, because currently the only way to get hybrid analytics is by buying a vendor's on-premise and cloud offering," he said.
Currently, PeerIQ doesn't analyze hardware metrics.
Adam Armstrong is a TechTarget Editorial news writer covering file and block storage hardware, and private clouds. He previously worked at StorageReview.com.