vali_111 - Fotolia
Hyper-convergence meets private cloud platform requirements
Infrastructure choice and integration are fundamental to capitalizing on all that a private cloud environment has to offer your organization.
Enterprises looking to benefit from the cloud are often reluctant to deploy business-critical apps and data in the public cloud due to concerns about availability, security and performance. Most IT managers consider a private cloud platform a more comfortable choice, given the superior visibility into and control over IT infrastructure and peace of mind that comes from housing critical assets on the inside.
Application owners are often skeptical about whether a private cloud platform will really provide the increases in business agility promised by vendors, however. In a similar vein, they're also wary about whether, and over what timeframe, they'll realize the ROI required to make deploying a fully functional and expensive private cloud platform worthwhile. Meanwhile, most companies aren't willing or able to build their own private cloud infrastructure due to a lack of skilled resources and the perceived risk involved. So they turn to vendors. Unfortunately, until recently, most vendor offerings provided some but not all the pieces and capabilities required to deploy a fully functional private cloud platform.
For example, basic open source software stacks deliver a private cloud framework that generally includes virtualization, compute, storage and networking components, along with security (identity management and so on), management and orchestration functionality. These layers are loosely integrated at best, however, which means the heavy lifting of integrating and testing components to make them work together is left to the customer (or third-party consultant). Similarly, most vendor-specific products have taken a mix-and-match approach, enabling customers to choose from among different modules or capabilities -- again, necessitating integration on the back end.
Consequently, enterprises that want to avoid the large investment of time and money required to build or integrate private cloud stacks are now looking to adopt preintegrated products based on infrastructure platforms designed to support cloud-enabled apps and data. And, as our recent research reveals, these organizations prefer converged and hyper-converged infrastructures (HCIs) to traditional three-tier architectures to host their private cloud environments.
Hyper-convergence well-suited to private clouds
As companies transition away from the inherent complexities of traditional IT architectures, we are starting to see Hyper-converged infrastructure and -- to some extent -- converged-infrastructure providers fully integrating private cloud platforms into what was previously only a foundational infrastructure for server virtualization. This development is a natural maturation along the journey toward data center simplification.
"Born-in-the-cloud" application workloads -- those purpose-built for cloud delivery -- are leading the way for private clouds that play nice with public clouds -- private clouds of this type will be predominately based on HCI architectures. Mission-critical legacy applications will continue to lag in private cloud adoption, though, as these tend to function perfectly well as they sit nicely on top of traditional or converged infrastructures. Over time, we expect almost all workloads will transition to a private cloud platform. But for this article we keep our focus on the applications best suited for HCI architecture today.
At the core of all HCI architectures are software-defined (SDS) storage services that enable flexible and modular scalability, which endears this type of infrastructure to cloud service providers. This ability to add just what you need when you need it is critical to a cost-effective approach to building a private cloud platform as well. Moreover, placing data closer to where the application resides usually enables a higher quality of service.
The battle for the data services (SDS) layer of the software stack -- the stack that enables workload mobility between private and public clouds -- is just beginning. Will the winners be full private cloud providers such as Microsoft's Azure Stack or VMware's Cloud Foundation? They recognized the need early on to invest heavily in SDS technology that's tightly integrated into their server virtualization technology. Or will the winner be based on a version of OpenStack or a combination of the myriad of other startups and legacy SDS providers too numerous to list in this article?
What customers want
The graph (Most important IaaS private cloud attributes) lists the attributes our research tells us are most important to would-be infrastructure-as-a-service private cloud customers.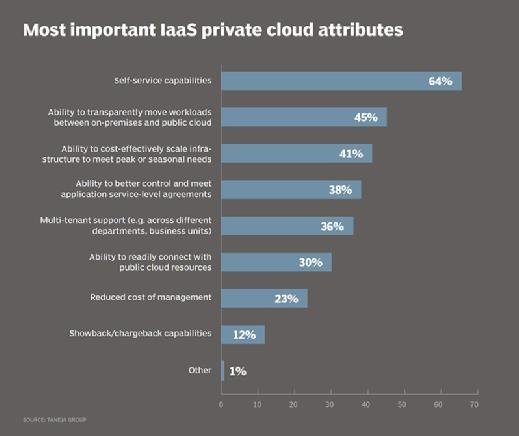 Once you get past self-service capabilities at the top, the majority of the remaining attributes place a heavy burden on the SDS technology underpinning the private cloud platform. That's why it is crucial the data services layer of the private cloud software stacks provide the following critical capabilities:
It must assist in the ability to move workloads between private and public clouds -- ideally between disparate public and private cloud providers such as between Amazon Web Services (AWS), Azure and VMware.
It must provide a high degree of quality of service across the broadest range of workloads, by enabling the transition of a broader set of workloads into a private cloud environment.
And it should reduce management complexity through seamless integration within private and public cloud orchestration frameworks.
We already see that some vendors recognize this need for cross-platform support.
Startup Hedvig is building its Universal Data Plane for cross-platform support, including containers, while Nutanix is investing in its App Mobility Fabric, for example. Hewlett Packard Enterprise, in the meantime, supports all the leading private and public cloud vendors (AWS, Azure, OpenStack and VMware) with HPE Operation Bridge, and has a long-term strategy of data mobility using its Composable Data Fabric based on StoreVirtual VSA. Will AWS, Microsoft and VMware recognize the need for cross-platform support, or will they leave it to others like the vendors listed here to fulfill that promise?
Our customers tell us vendor lock-in is the number one reason they're concerned about buying technology that goes into building a private cloud platform from a single company. While it will be years before the final winners shake out, we believe those that seamlessly allow workloads to move across platforms -- not including their own -- will be the ones to come out on top.
Next Steps
Private cloud storage can boost data center energy efficiency
How eBay benefits from OpenStack private cloud platform
How to lower private cloud storage costs pre/post-deployment