GP/stock.adobe.com
Time to rethink IT for containerized workloads
Employing IT tools that span on- and off-premises hybrid environments is a first step toward optimizing infrastructure design and management for container-based environments.
The rise of the digital economy has compelled businesses to change their approach to data and, by extension, IT infrastructure design. This trend isn't going to slow down anytime soon. According to Enterprise Strategy Group research, more than six of every 10 organizations expect to develop and offer new data-centric products and services in the next 24 months.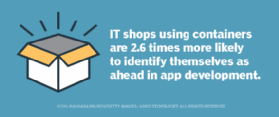 Data strategy and business strategy have become intertwined, and this shift is redefining IT design concepts. One of the most obvious examples of where a need for change exists relates to the impact containerized workloads have on IT infrastructure design. Container adoption continues to rise, especially among digital businesses. Among surveyed IT organizations that expect to develop and offer new data-centric products and services in the next 24 months, almost nine out of every 19 use containers, and more than half use containers in production.
Based on the benefits received with container-based development, it is easy to see why usage is rising. According to ESG research, IT shops using containers in production were 2.6 times more likely to identify themselves as being ahead or significantly ahead of their application development schedules than those not using containers in production.
Part of the attraction of using container platforms stems from an ability to accelerate development, which, in turn, helps the business continuously and quickly adapt to evolving markets. This constant evolution puts pressure on IT, however, as infrastructure-related demands become more immediate and less predictable. As the demand for persistent data increases, the pressure will only increase.
Multiple infrastructure types support container-based environments and Kubernetes orchestration. But support is not the same as delivering an IT environment that enables containerized workloads to thrive. Containers are not VMs. The differences are not limited just to technical requirements either. To put it another way, the entire way the IT infrastructure is designed, managed and supported must evolve.
To understand what needs to change, it is important to appreciate not only what is different about containers, but to investigate the approaches being used by digital businesses that have containers working in their production environments.
Hybrid cloud by design
According to ESG research, seven out of every 10 IT organizations say the preferred environment for containers is a combination of on-premises data center infrastructure and public cloud services. In other words, when designing for containerized workloads, IT should not only expect to use both on- and off-premises resources, but anticipate that data and apps will move between locations on a regular basis.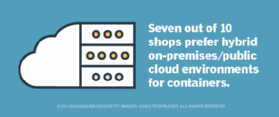 It is this requirement for portability that places a premium on standardization. Without standardization, porting containerized applications across a wide variety of environments, including public clouds, private clouds and traditional data center infrastructures, would be too cumbersome to be viable. The challenge to achieving standardization, though, is that it must also support multiple diverse use cases and ecosystems.
While much of the focus of hybrid cloud standardization is, and should be, on how the container environment interacts with the infrastructure. This need for standardization and simplification must extend to the management layer as well.
Container management must support hybrid cloud
Architecting for container-based environments and Kubernetes should not be done in a siloed manner. Expect infrastructure movement and change with orchestration and infrastructure management having to span on- and off-premises by design. Also, and possibly more importantly, structure IT organizations to combine off- and on-premises resource management under the same teams.
The challenge with this consolidation is that using multiple native management tools across on- and off-premises resources has a price in terms of time, training and education. Risks also rise. Context switching between disparate systems creates unnecessary complexity, slowing processes and increasing the likelihood of errors.
The importance of having the right management in place increases as the demand for persistent storage for containers increases. And since container-based development is about speed, developers need to have access to persistent storage quickly across the entire hybrid cloud ecosystem. Traditional bureaucratic ways of approving, deploying and provisioning new storage are not viable for the speed at which containerized application development and use are supposed to operate.
Innovators such as Red Hat, Google and VMware offer multiple products that deliver the necessary standardization and abstraction across a hybrid cloud environment. They also offer tools for developers who are using infrastructure and persistent storage resources.
Innovation in hybrid cloud management for container environments continues. For example, VMware recently announced Cloud Native Storage, which improves visibility, management and automation of persistent storage activities for Kubernetes environments in vSphere. This type of integration can ease container adoption by allowing for the use of existing and familiar on-premises tools.
Containerized workloads comprise a significant portion of the modern application landscape. IT needs to shift design and management to optimize infrastructure for container-based environments. That effort starts with tools designed to span on- and off-premises environments.