Sergey Nivens - Fotolia
Container adoption stats reveal a ramp up in production
There's a 50/50 chance your IT organization will provision and support container-based applications by 2020. See how organizations approach container deployment, including how much they need to spend.
Containers have captured the imagination of the IT sector since Docker came on the scene in 2013. But it wasn't until container adoption took off that imagination turned to reality for many enterprise IT organizations.
Container benefits are clear: The image format makes it easy for developers to build and distribute application code and dependencies, and IT operations can deploy that code in a consistent manner on VMs, bare metal and diverse cloud instances.
Container adoption changes how IT works on the back end. Persistent data storage is a challenge with inherently stateless containers. Security and isolation work differently for containers than for VMs, which are the most common form of abstraction between app code and IT infrastructure. Containers in development are an easy fit, but as container adoption moves to production, it requires new skills to manage provisioning, network setup and monitoring.
By the year 2020, more than 50% of companies will use container technology, up from less than 20% in 2017, according to research firm Gartner. Container adoption and the enthusiasm for the technology show a move from pilot projects to larger-scale deployments.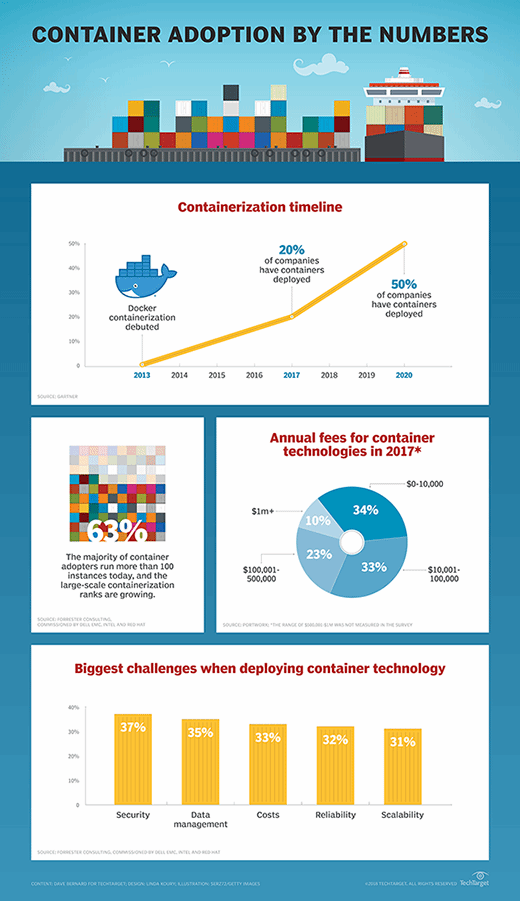 Among enterprises that use containers, 63% have more than 100 instances deployed, and 82% expect to have more than 100 deployed within the next two years, according to "Containers: Real Adoption and Use Cases in 2017," a Forrester report commissioned by Dell EMC, Intel and Red Hat.
Container adoption is also measured in dollar amounts. Nearly 70% of the companies queried in the Portworx "2017 Annual Container Adoption Survey" invested financially in containers at some level in 2017, leaping from 52% in 2016. The survey data shows that 32% of companies spend more than $100,000 on license and usage fees for container technology, and 10% of those big spenders are making million-plus dollar investments. Portworx reported this is a significant jump in sizeable investments from the previous year. The survey included responses from 491 IT pros across a variety of industries and company sizes.
Editor's note: The spending range of $500,001-1 million on container license and usage fees was not tracked in the Portworx survey.
As production container adoption ramps up, the operations side of the IT organization must address concerns. The biggest roadblock to container technology deployment is security (37%), followed closely by data management (35%), cost (33%), reliability (32%) and scalability (31%), according to 195 qualified Forrester survey respondents.
While container use targets new and cloud-native app deployments as well as the modernization of existing ones, "application transformation is still in its infancy," according to Forrester analysis.
Container technology is increasingly in use across enterprise IT organizations -- underpinning cloud-native, mobile and cross-platform apps, as well as legacy ones. Although this story is still unfolding, it's clear that you'll deal with containers soon -- if not today, then in the future.