Survey finds cloud storage implementation growing but cautious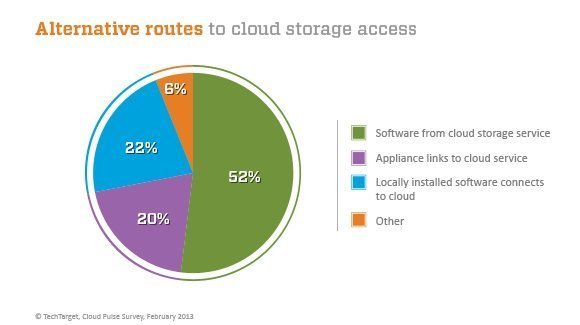 There are a variety of ways companies can access cloud storage services depending on the cloud storage implementation, with each cloud storage access method allowing a different degree of integration with on-premises resources. More than half the surveyed companies run the software the cloud storage service provides on their servers to move data into the cloud. Typically, the software is specifically for backup or a related data protection app, and it usually runs on its own without any integration with installed systems or applications. This alternative is easy, straightforward and often the choice of smaller companies with limited IT resources.
One-fifth of storage cloud users have opted for a specialized on-site cloud storage gateway appliance that stores data locally before shipping it to a cloud service. The advantage to this kind of cloud storage access is that recent data is available on the appliance and can be restored quickly, while older data will take a little longer to retrieve from the cloud. These appliances, from companies such as Ctera, Microsoft's StorSimple, Nasuni, Panzura, Riverbed and TwinStrata, effectively create a new storage tier using the cloud storage service.
Similarly, some software -- primarily backup and archiving applications -- can continue to operate normally on a local basis while also providing access to cloud storage services. So, a cloud-enabled application might keep an eye on backup or archive data to keep track of its aging or access activity; when the data reaches predetermined thresholds, the app can then spin it out to a cloud storage service.
Companies employing cloud storage services currently use the cloud as a data repository for an average of 31% of their business applications.
View All Photo Stories