Survey finds cloud storage implementation growing but cautious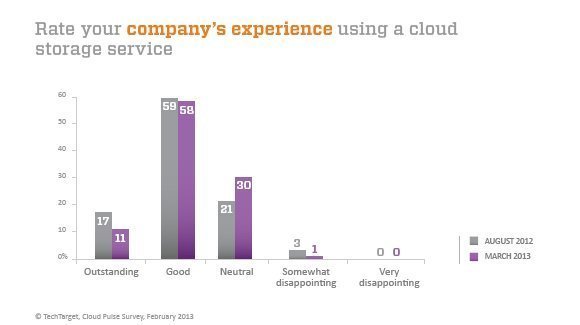 Six months ago when we asked cloud storage users if they were satisfied with their cloud storage service, approximately 17% described their experiences as "outstanding." That number has dipped a bit this time, coming in at 11%, but the level of satisfaction is still very high, with 58% calling it "good" and another 30% giving their experiences with cloud storage a neutral rating.
With 69% on the positive side of the scale and 30% smack in the middle, that left 1% who noted their forays into cloud storage left them "somewhat disappointed." None of the 413 users who responded to the question said they were "very disappointed."
Given the positive reaction to cloud storage services and their widening use for non-backup applications, it's expected that cloud storage will become another tier in most companies' data center storage infrastructures, especially as more organizations adopt the software and hardware products that ease integration of the two environments.
View All Photo Stories