News
Stay informed about the latest enterprise technology news and product updates.
Cloud survey uncovers seven storage services trends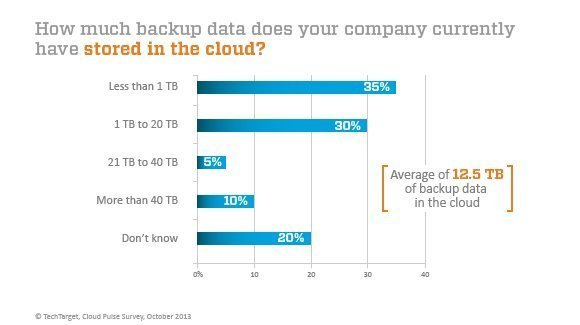 Source:
TechTarget Graphic: Brian Linnehan/TechTarget
Companies using cloud backup services have an average of 12.5 TB of backup data stored in the cloud. That's a relatively modest amount given today's data center capacities, but because virtually all cloud backup services use data deduplication and compression extensively, that average is likely to represent 10 times or more backup data.
As evidence that the use of cloud backup is growing, the average amount of backup data a company has in the cloud has grown steadily over the course of our three CloudPulse surveys to date: from 8.5 TB in August 2012 to 9 TB last spring, and the jump to our current average of 12.5 TB.
In our Fall 2012 and Spring 2013 surveys, 11% and 12% of those surveyed, respectively, said they had more than 20 TB of data stored in the cloud. That number has slowly but steadily climbed to 15% in the current survey.
View All Photo Stories