News
Stay informed about the latest enterprise technology news and product updates.
Cloud survey uncovers seven storage services trends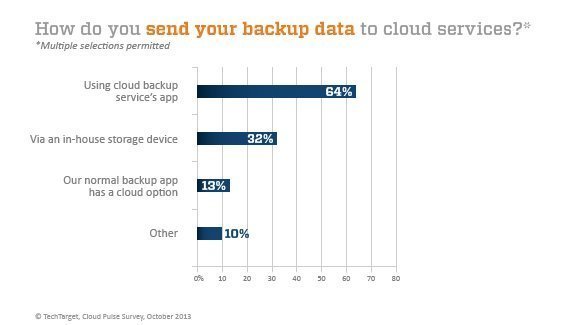 Source:
TechTarget Graphic: Brian Linnehan/TechTarget
With nearly half of an average company's applications using some form of cloud storage, it's likely that backup to cloud storage accounts for a big slice of that pie. With so much emphasis placed on data protection, having a reliable method of transferring data to a backup cloud service is vital.
Many traditional backup applications -- and newer virtual server-specific backup applications -- have built-in hooks to some of the major cloud storage providers or their own cloud storage services. But despite the fact that backup admins are already juggling multiple backup applications, most will eschew their familiar backup software when it comes to backing up data to the cloud.
Nearly two-thirds (64%) of companies employing cloud backup use the software the cloud backup service provides; only 13% leverage the cloud storage hooks their "normal" backup software vendor added.
Thirty-two percent use an in-house appliance or gateway as a backup target that sends backup data to a cloud storage service based on pre-set policies.
(Note: Some companies use multiple methods to access their cloud backup services.)
View All Photo Stories